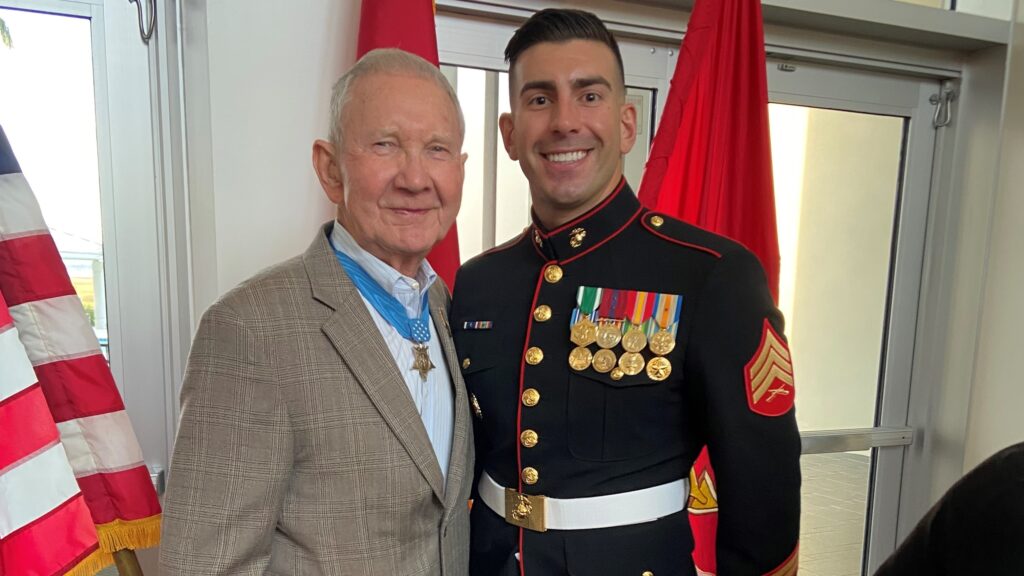 In honor of Veterans Day on Nov. 11, The Citadel is featuring some of the college's outstanding veteran and active-duty students representing different branches of the U.S. Armed Forces.
There are more than 330 veterans and active-duty students currently studying at The Citadel as either undergraduate or graduate students. They can take classes as day students alongside the Corps of Cadets, evening students with other non-cadet students or online. The Citadel's Veteran Student Success Center also offers resources to these students to ensure they have an easy transition and excel here.
Named #1 Best College for Veterans in the South for six consecutive years, the Military College of South Carolina is honored to help our nation's heroes advance their education.
Q&A with John Bauman, Class of 2025
John Bauman is an active duty, undergraduate student at The Citadel majoring in Mechanical Engineering. Originally from Chicago, Illinois, Bauman joined the Marine Corps when he was 17. After 10 years of service in the Marine Corps, he is currently a Ground Support Equipment Mechanic.
What is your current rank in the military? How long have you served? What has your time in the been like so far?
I am a Staff Sargeant in the Marine Corps, which is an E-6. I enlisted right out of high school in 2013. On my dad's side, my great grandfather was in the Navy, my grandfather was a Marine and my dad was a Marine, so I guess I had a bias towards joining the Marine Corps — and because they're the best. The Marine Corps has taken me to many places around the world. I've had training on both coasts of the U.S. My first duty station was Beaufort, South Carolina, where I was deployed twice on Navy carriers. My two deployments allowed me to visit some cool countries along the way — we stopped in London, Bahrain, Syria, Dubai, Korea, Singapore, Philippines and Guam. My last duty station was HMX-1 in Quantico, Virginia where our mission was to fly the President along with many other VIPs. I was able to make many important connections to benefit me in my career and do things some Marines would never get a chance to do without a top-secret clearance. I guess you could say my time has been very busy.
Are you currently working now?
No, fortunately, a benefit to the Marine Enlisted Commissioning Education Program, or MECEP, is that you get paid still as a full-time active-duty Marine, to include a housing allowance.
How did you hear about The Citadel?
I actually never looked into any military colleges before in my life, so I hadn't heard of The Citadel, but I came across it on a random Google search by accident. I decided to apply to a different college but got denied because my application was bare bones. My wife suggested that I circle back to The Citadel because she loved being in Charleston during the times we visited when we were in Beaufort. After looking into it more, I realized that the MECEP program was not like the cadet program, so I gave it a shot.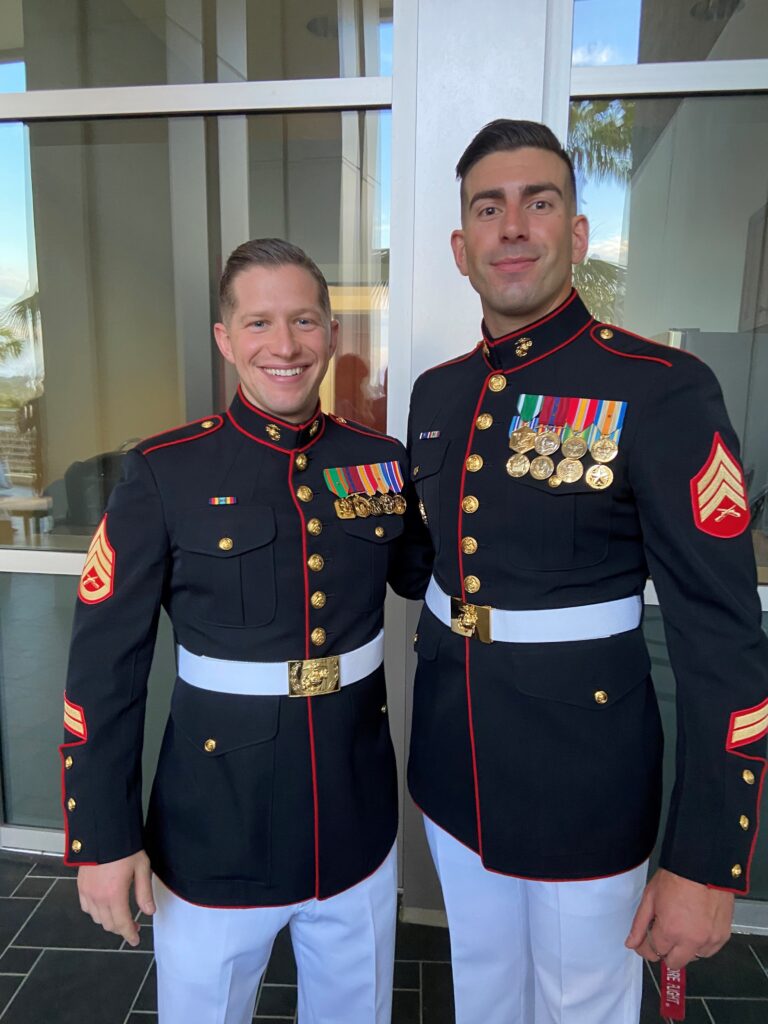 What are you studying at The Citadel? What do you want to do after?
I am studying mechanical engineering. Once I graduate, I will still owe some more years to the Marine Corps as an officer. I recently passed a prerequisite pilot application test called the ASTB-E and am working on a package to become a Marine Officer aviator. My second option would be to strive to be a combat engineer. A USMC Combat Engineer is a highly trained and versatile member of the Corps who specialized in a wide range on construction and demolition tasks.
What experiences from your military service have prepared you to be a better student and citizen?
The leadership traits that I developed, such as integrity and initiative, have helped me as a student. I am usually a procrastinator, I have little internal battles where I tell myself, "Just get it done." Unfortunately, it doesn't seem to stop when it's done. Something else always pops up in my to do list on Canvas. Integrity helps me not give in to taking the easy routes on homework or tests.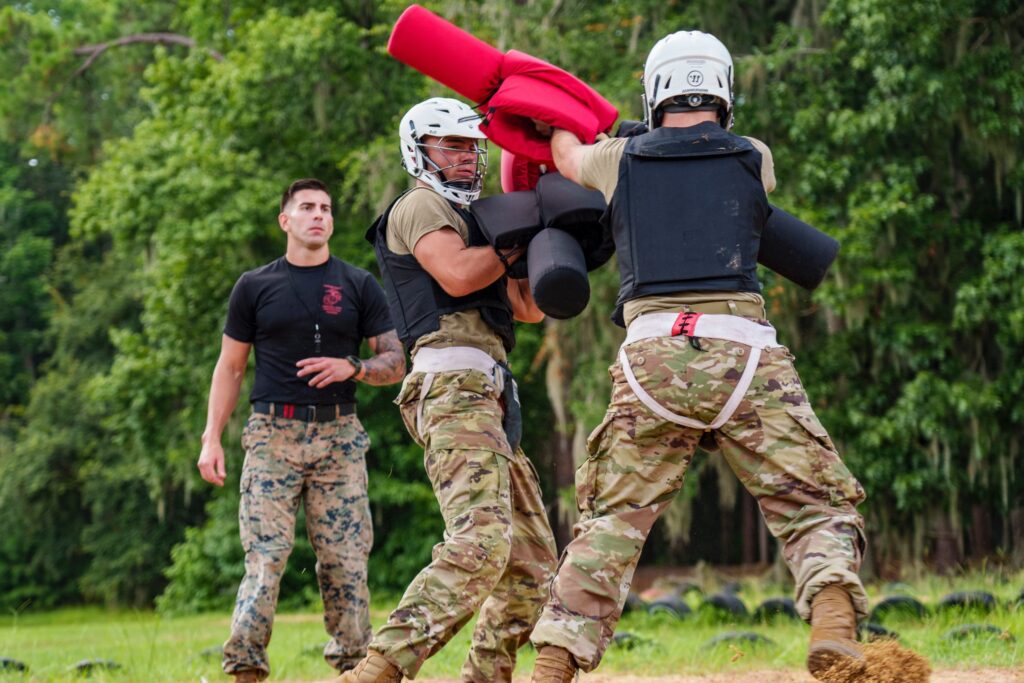 Are there any advantages to being a active-duty student at The Citadel?
The major advantage to being an active-duty student at The Citadel is being able to still hold onto the mentorship piece that we have as an active-duty military members at our duty stations. We can still teach and guide aspiring military officers to help shape the way they want to lead.
Do you ever get to interact with cadets on campus? If so, what are those interactions like?
I do interact with cadets on campus. It's usually cadets in my major, but I lean on them quite a bit. If I don't understand something, I can trust that I can get peer to peer insight on certain materials. We study, discuss and work together as a team often.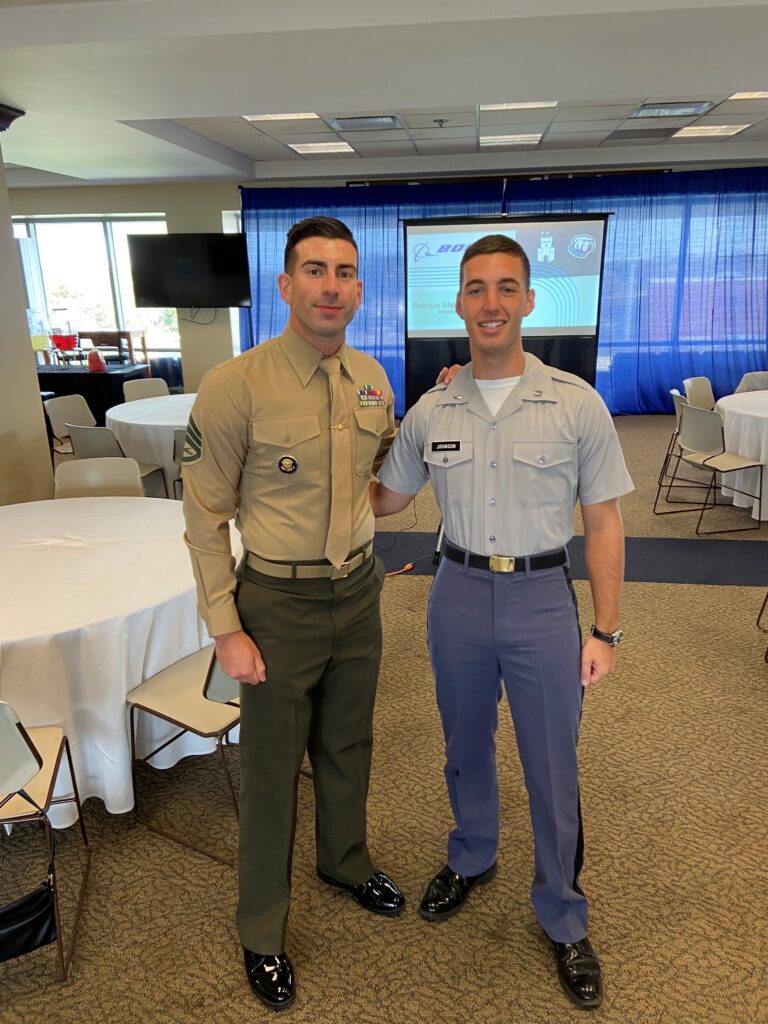 What's your favorite thing about The Citadel as a whole?
My favorite thing about The Citadel is that I am part of a prestigious school with a long lineage of proud graduates. I take pride in saying that I attend here when people ask what school I go to.