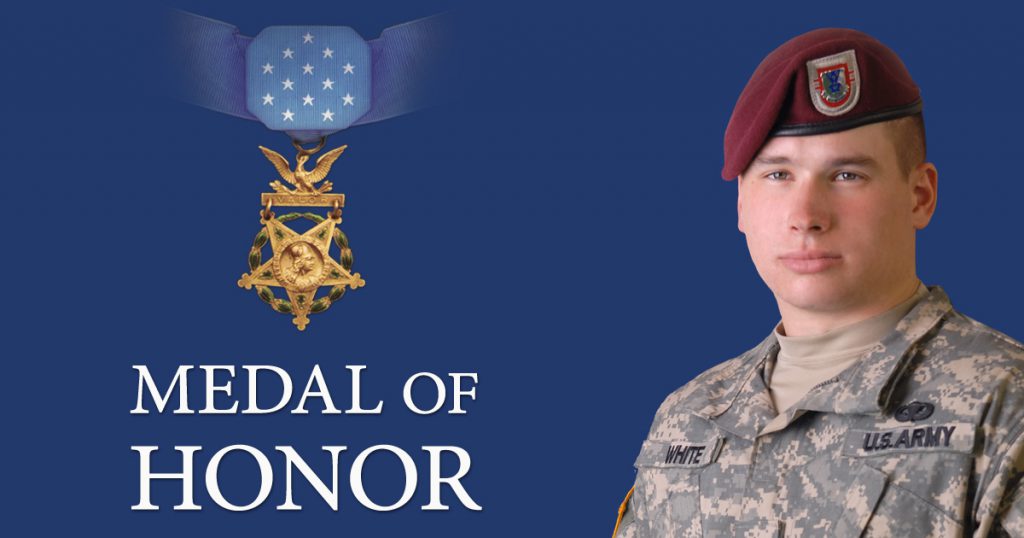 Medal of Honor Recipient Sgt. Kyle White kicks off event the night before Oct. 16
The night before the campus community begins serving the Lowcountry for The Citadel's Leadership Day 2018, cadets, students, faculty and staff will hear the inspiring story of Medal of Honor Recipient Sgt. Kyle J. White. Sharing his true story of servant-leadership, White will describe what happened on Nov. 9, 2007 while he was a platoon radio-telephone operator for the U.S. Army's 173rd Airborne Brigade in Arnas, Afghanistan.
After a rocket-propelled grenade knocked him unconscious, he awoke to an enemy round fragmenting near his head sending shrapnel into his face. Then he saw that one of his friends was down. (Image of Sgt. White courtesy of U.S. Army).
White sprinted the 10-meter expanse toward his wounded battle-buddy, with enemy rounds ricocheting around his feet and snapping past his head. "It's just a matter of time before I'm dead. I figured, if that's going to happen, I might as well help someone while I can."
White's presentation will take place at 7 p.m. on October 16 in McAlister Field House. It is free and open to the public, first come, first-served seating.
Leadership Day 2018, Oct. 17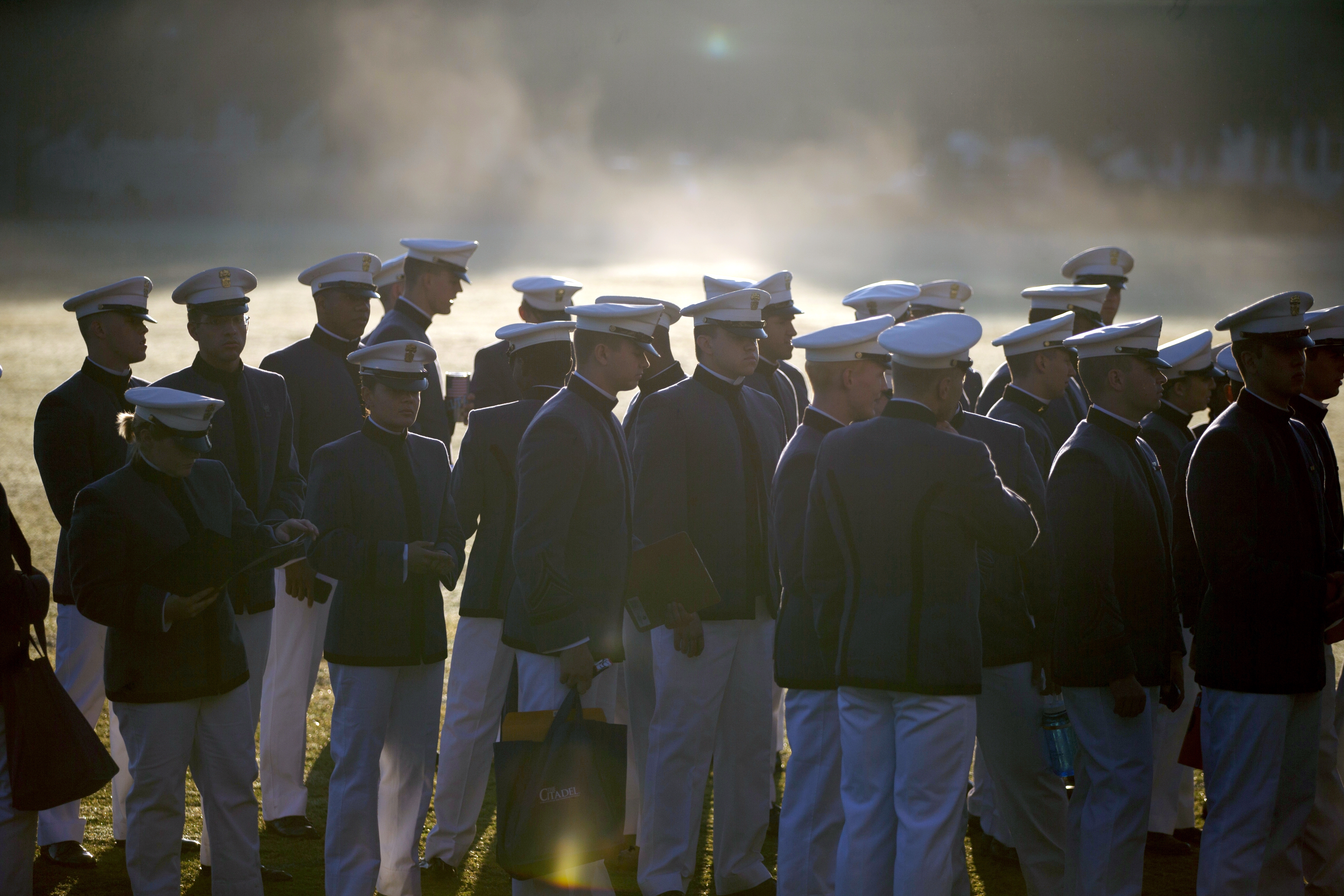 While cadets volunteer year-round, on Leadership Day each year service learning is a unified campus wide effort. At 7:40 a.m. on Wed., Oct. 17, operations get underway with The Citadel's new president, Gen. Glenn M. Walters, USMC  providing a send off address to cadets in Buyer Auditorium. After that, sophomore cadets lead freshmen as they depart to volunteer at more than 40 schools and community partner programs around the Lowcountry. Walters will also spend time with 53 cadets working at a Sea Island Habitat for Humanity project for veterans on James Island, and then at James Simons Elementary school where cadets will teach students about heroism.
"This year cadets will be volunteering in 20 Charleston County Schools simultaneously, seven of which are new partners with some in Mt. Pleasant," said Conway Saylor, Ph.D., director of service learning and civic engagement, Krause Center for Leadership and Ethics at The Citadel.
The juniors participate in a daylong leadership ethics experience on campus. The seniors attend leadership training provided by the college's business partners some of which include Blackbaud, Boeing, Hollings Marine Laboratory, the Medical University of South Carolina and Wells Fargo. Faculty and staff assist with Leadership Day planning and implementation, while others attend leadership diversity skills training. In addition, for the first time some alumni are participating too.
"At The Citadel we learn that in order to lead, a person must first know how to serve," said Cadet Logan Miller, Regimental Public Affairs Officer, South Carolina Corps of Cadets. "Many of us volunteer regularly, but it is especially fun and motivating when the entire campus is focused on service at the same time on Leadership Day."
Krause Center leads the leaders
Leadership Day, initiated in 2011, and all of the college's service learning initiatives are directed by The Citadel's Krause Center for Leadership and Ethics.
"Our cadets are given the gift of being able to serve by our community and business partners around the Lowcountry who welcome them every Leadership Day and at many other times throughout the year," said Col. Tom Clark, USMC (Ret.), executive director of The Krause Center for Leadership and Ethics. "We are deeply grateful for their generosity to our students."
Media coverage opportunities
Members of the media are welcome to cover any of the events listed below. No advanced notice required; times are approximate. Live shots are welcome on campus for Sgt. White's event on Tuesday and for the early morning shows on Wednesday. For live truck parking instructions please email kkeelor@citadel.edu by 4 p.m. Tuesday.
Senior Leadership Day business partner sessions

The Citadel would like to thank our community business partners whose leaders are providing a day of leadership and ethics training for approximately 500 senior cadets.
Barnwell, Whaley, Patterson and Helms, LLC
Blackbaud
Boeing
Charleston County Government
Dixon Hughes Goodman, LLP
Gibbes Museum of Art
Harbor Entrepreneur Center
Life Cycle Engineering
Joe Riley Stadium
Medical University of SC
South Carolina Historical Society
SCANA/SCE&G
SRS Distribution
T.Y. Lin International
Water Mission
Wells Fargo