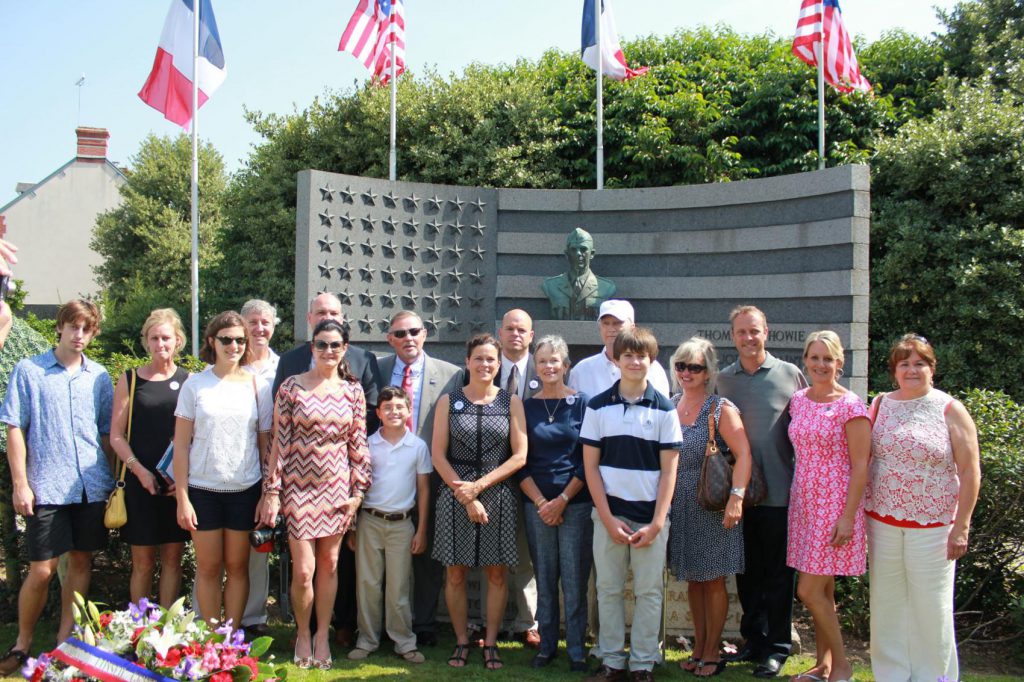 Photo: The memorial to Maj. Thomas Dry Howie in Saint-Lô, France, depicts an American flag with a bust of Howie at its center. This photo of Howie family members was taken in 2014.
Abbeville's Tom Howie says anyone who is able to do so should visit Normandy, France at least once in his or her lifetime.
The beaches, cemeteries and museums can have a profound impact on bringing history out of textbooks and into very real, gut-wrenching perspective, Howie said.
"It's an overwhelming place," Howie said. "When you see that huge beach and that wall. The gun encasements are still there. You realize the people who got off those boats when they landed at Omaha Beach knew how bad it was going to to be. … The first wave that hit Omaha Beach was the National Guard unit that my uncle was in."
Howie, the nephew, along with more than 20 family members and friends are traveling to Normandy for the 75th anniversary of the liberation of the town of Saint-Lô and the death of his uncle, U.S. Army Maj. Thomas D. Howie, an Abbeville native and World War II hero.
Maj. Howie was commander of the 2nd Battalion, 116th Infantry, 29th Division of the United States Army.
The major was an English teacher and coach at Staunton Military Academy in Virginia when he was commissioned into the U.S. Army Reserve and later transferred to the Virginia National Guard's 116th Infantry Regiment of Staunton.
"It's gratifying to me, that my uncle's unit got through at Omaha Beach and led the break-out at Saint-Lô," Howie said. "All of that was very significant from a military standpoint."
Maj. Howie died during the liberation of Normandy while leading his unit in an effort to capture the strategic French town of Saint-Lô, a transportation hub.
A photograph of Howie's flag-draped body is one of the most famous images from World War II.
The day after the attack in which Maj. Howie was killed, his soldiers carried his flag-draped body through the town, laying it on top of the rubble of the St. Croix cathedral.
It is speculated that the character of Army Capt. John H. Miller (played by Tom Hanks) in the 1998 film, "Saving Private Ryan" was based on Maj. Howie.
For several in the Howie family, this will be their third visit in observance of the liberation's anniversary, having also traveled to Normandy for the 40th anniversary and the 70th, Howie said.
"All my life I have felt I was the undeserving beneficiary of my uncle's good name," Howie wrote to the Index-Journal via email recently. "Being Thomas Dry Howie II has opened many doors for me; given me access to people and places and a lot of attention. And the only thing I did was got born and named. So, I feel obligated to do what I can to keep his memory alive, to 'earn it' per the dying request of Capt. John Miller (Tom Hanks) in Saving Private Ryan. But, nothing I will ever do with justify the benefits of Major Howie's good name and legacy, but I will keep trying. Not to mention the heroic men and women who secured my life of freedom in this great nation by the sacrifices they made in WWII and other wars of my generation."
Howie said those making this 75th anniversary trip will visit Omaha Beach and Colville Cemetery July 18 and pay "respects to all the heroes who reside there."
The visit will also include the United States Memorial at the Saint-Lô Chapel of La Madeleine, commemorating the 29th and 35th U.S. Divisions, which liberated Saint-Lô.
The church, Howie said, is within a few feet of where his uncle was hit by enemy fire.
A celebration is planned, Howie said, often with wreaths placed at various locations and speeches made.
"This is always a very emotional service," Howie said. "Even after all the years, the pain of Nazi occupation and the horror of war is very much felt in Saint-Lô."
Colville cemetery at Omaha Beach is where Maj. Howie is buried, his nephew said.
"If you are thankful for our freedoms, thank the military," Howie, who served in the Army National Guard during the Vietnam War era, said. "They are the reason we have it."
Remembering Maj. Thomas Howie
The following is an excerpt from an Associated Press piece about Maj. Thomas Howie lying in honor at the 29th division's cemetery, along with other officers, that appeared in the July 29, 1944 edition of The Index-Journal:
The wiry, muscular officer, a native of Abbeville, S.C., was popular with all ranks in the division from the lowest private to the commanding officer, Maj. Gen. Charles H. Gerhardt, who personally ordered Howie's body taken into St. Lo by the combat force as a gesture honoring him and his battalion. By taking the high ground dominating the approaches to the city, his men sealed its fate.
"He had given up an operations post at regimental headquarters to take over the battalion only five days before," said Capt. Charles B. Cawthon of Murfreesboro, Tenn., executive officer of the cut-off battalion to whose relief Howie and his troops came after they had been almost three days with no fresh rations or ammunition supplies.
"We have many officers in the army, but you can't say of all that they are gentlemen. Major Howie was the finest gentleman I ever knew."
"He certainly was," added Lt. George E. Bryan of Allendale, S.C.
"I would like to have you talk to some of his stonewall buddies so you really can understand the fine type of man he was," Cawthon said. "But there are not so many left. You know we came ashore on the toughest beach and it wasn't any barbecue breaking through the Germans in front of St. Lo. His closest friend, Capt. Cherman V. Burroughs of Roanoke, Va., was killed before he got to the beach Invasion Day. I declare we have lost a lot of Virginia men."
Just then Lt. Col. Sidney V. Binghem, Jr., Dallas, Texas, Cawthon's battalion commander, who himself had served as executive officer for Howie when the latter led a battalion last year before taking up the regimental operations post, returned from the cemetery.
"There never was another man quite like Howie," he said.