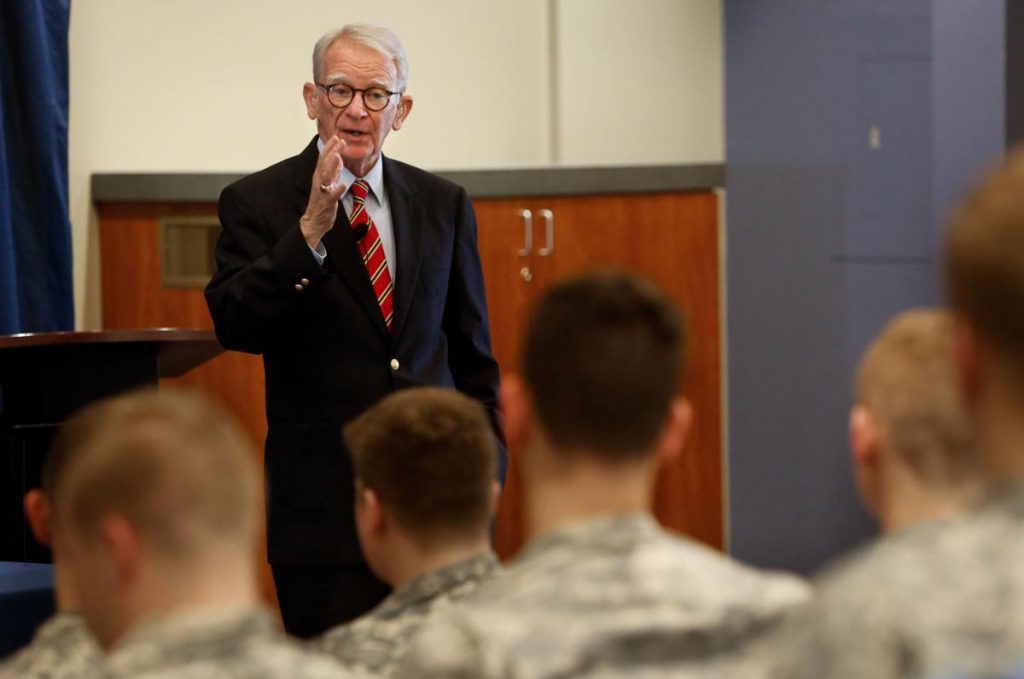 As seen in The Post and Courier, by Caitlin Byrd
Before Hurricane Hugo tore into Charleston in September 1989, Mayor Joe Riley envisioned a battlefield.
He stood on flat Lowcountry ground, but in his mind's eye, he saw a hill. The enemy, he said, was always just over the crest.
Now, the storm was nearing Charleston. The enemy approached.
"If we ease up, we are going to lose," Riley told his staff, relaying the mental picture to them. "We're going to deal with it, and we are not going to quit. We will not relent."
Winds during Hugo would gust at more than 150 mph. The metal of the Ben Sawyer Bridge would twist into the water below.
It was the most devastating storm in South Carolina's history, one that did more than $6 billion worth of damage to the city. Riley, a Citadel graduate, would lead Charleston through it all.
"In life, you show up on time and report for duty," Riley said. "The Citadel taught me that."
Since its establishment in 1842, The Citadel has focused on training the next generation of leaders, including political ones.
To date, some 30 leaders, including mayors, legislators, governors, ambassadors and congressmen, as well as senators, judges and members of White House staff, claim The Citadel as their alma mater.
"The Citadel can even boast having two different alums who were governors of two different states at the exact same time," said Scott Buchanan, a political scientist at The Citadel.
A lesson in multi-tasking
The Citadel's unintentional political tradition began with Gen. Johnson Hagood, for whom The Citadel's football stadium is named. Hagood, who graduated at the top of his class in 1847, the school's second year, would go on to become governor of South Carolina from 1880-1882. He would not be the last.
To date, The Citadel has produced six state governors, three U.S. senators and five U.S. ambassadors.
"Civic-minded people are attracted to the college because of its nature. It's a values-based education," said Col. John Dorrian, vice president of The Citadel's Office of Communications and Marketing.
One of the school's most famous political leaders is Fritz Hollings. The Democrat served as governor of South Carolina from 1959-1963. He would go on to run for a seat in the U.S. Senate and would win a special election in 1966 that would send him to Washington. He was re-elected six more times.
He also had a short-lived presidential campaign, in 1984.
Along with Hagood, Hollings and Riley, other political Citadel notables include John West, South Carolina governor from 1971-1975, and former U.S. Rep. Gresham Barrett, a South Carolina Republican who donated his 2009 congressional pay raise to charity after he said it was unmerited.
Recently, two more joined the ranks of cadets elected public office.
Nancy Mace, the first woman to graduate from The Citadel's Corps of Cadets in 1999, is a Republican state lawmaker representing Berkeley and Charleston counties. Will Haynie, who graduated with the class of 1983, is the mayor of Mount Pleasant.
When Haynie was in his senior year, he failed when he led his class through its first practice march to the stadium for a football game. The feeling, he said, was awful. The lesson, he later realized, was invaluable.
"As a leader, you learn there will be good days and bad days," he said. "I count myself fortunate to have been taught that at an early age at The Citadel."
The school now includes explicit leadership course requirements.
Riley, one of the nation's longest-serving mayors who recently returned to teach a course at the school, said those ideas have always been injected into The Citadel itself.
"One thing The Citadel teaches you, which you don't know you're being taught, is an important lifelong lesson about the necessity of being able to attend to many different responsibilities essentially at the same time," he said. "You have to have your room in impeccable order, your bed made, your brass polished and your shoes shined."
It also teaches its cadets about teamwork.
'It's only natural'
Author and Citadel alumnus Pat Conroy called the Cops of Cadets a "brotherhood."
In politics, that connection can come in handy.
"A large part of politics is knowing people who can put you in contact with other people," said Buchanan.
And The Citadel has its share of connections.
Former presidential hopeful and ex-Pennsylvania Sen. Rick Santorum sent two of his sons  —  John and Daniel — to The Citadel.
The school also produces its share of politically engaged students who eventually may become future political leaders themselves.
The Citadel Republican Society, which got its start in 1975, can serve as an informal incubator for conservative-leaning students with an interest in politics. Zac Rutherford, the group's previous president, worked on Mace's Statehouse campaign. He currently works for U.S. Rep. Mark Sanford, R-Mount Pleasant.
"We've sent students to Florida and Virginia for tight races and of course here in town for local races. They are involved," said DuBose Kapeluck, chairman of The Citadel's political science department and adviser for The Citadel Republican Society.
With between 350 and 400 current members, the society describes itself as the school's largest and most active club. It also repeatedly attracts big-name political stars to come and speak.
Before Donald Trump officially became a Republican presidential candidate, he spoke to The Citadel Republican Society in 2015. Last year, Trump's former White House Strategist Steve Bannon addressed the group.
"Cadets come out of The Citadel with a strong sense of self, a good sense of right and wrong, and they are pretty fearless in promoting and advocating for what they think is the right thing to do," Kapeluck said. "It's only natural when we see that translate into politics."