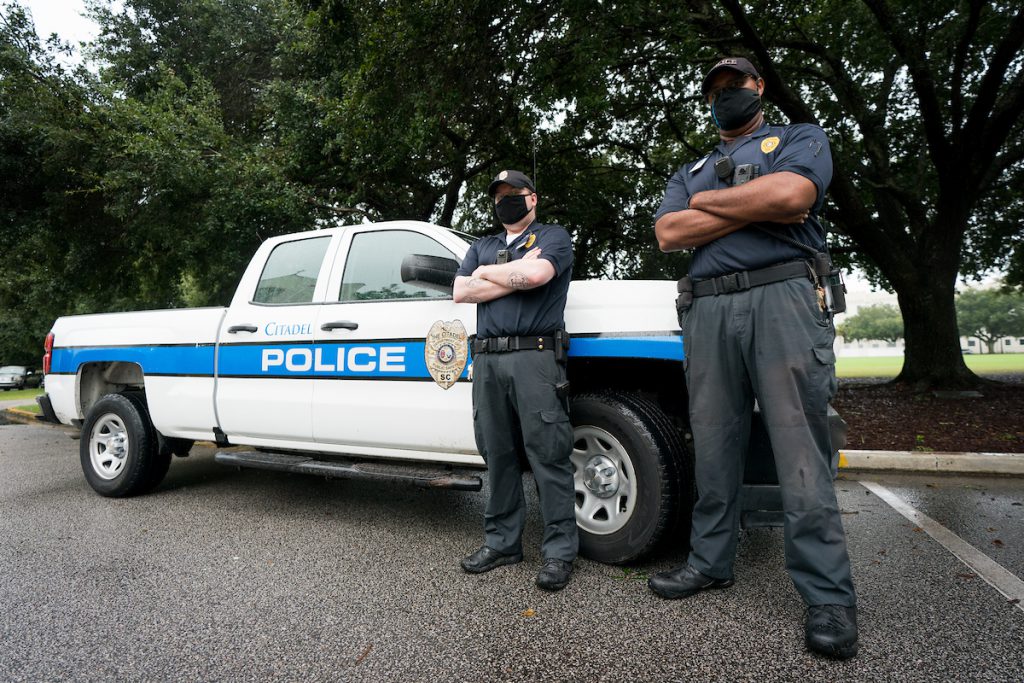 September is National Campus Safety Awareness Month, providing a good opportunity for members of the campus community to keep safety top of mind.
"Protecting campus is a community effort and communication is key to crime prevention, and safety in the event of a fire or other emergency," said The Citadel Chief of Public Safety Michael Turner. "If you see something that seems urgent, call 9-1-1 from your cell phone, or 8-1-1 from a desk phone on campus which comes directly to the public safety office emergency line."
Turner encourages those who see something suspicious that is not urgent to report it to a public safety officer, to a your faculty or staff supervisor, or if you are a cadet, report it to your TAC officer or company commander. "It's is our duty to help keep each other safe."
Turner, a member of The Citadel Class of 1986, has worked in law enforcement since 1990, with the majority of that time split between serving at the rank of major with the Dorchester County Sheriff's Office and the Summerville Police Department. Turner oversees a team of 17 officers who are commissioned by the Governor and regulated by the State Law Enforcement Division. The Citadel's public safety officers have statewide arrest authority.
6 simple things everyone can do to help keep campus safe
For every college, campus safety concerns encompass a wide-range of subjects and prevention programs in the areas of personal safety, property protection, and fire, violence, and hate crime prevention to name some.
The Citadel is a public, open campus. Though gates are monitored and security cameras are plentiful, like any campus people can come and go at almost any time.
The Citadel Department of Public Safety suggests starting with these simple measures to help keep campus safe:
If you see something say something.
Report anything or any person that looks suspicious. If it is urgent and you're using a cell phone, call 9-1-1. If you are at a desk with a phone on campus dial 8-1-1. If it is not urgent, use the method of contacts below. Tips like this help campus law enforcement officers keep the community safe by alerting them about issues to monitor or to address as needed.

Contact Public Safety for non-emergency concerns via email at psaf@citadel.edu or call (843) 953-5114.

Plan ahead when leaving campus to explore.
If you leave to explore the areas outside of campus, especially at night, don't go alone. If walking, plan your route in advance. If you must go by yourself, let someone know where you are going, when you should be back and make sure they have your cell phone number.

Be smart on social media.
Social media opens a window to your habits and activities. Scammers, hackers and stalkers can see where you go, where you are and when. Better to post what you did after you are safely back in your room, rather than checking in when you arrive somewhere.

Lock your vehicle and keep every valuable out of sight.
Most car break-ins are a crime of opportunity, meaning the thief will move on to the next car if your door handle is locked. That can change if valuables can be seen through the windows.

Lock the door of your room or office when you leave. Every time.
Unattended property in rooms and offices are another crime of opportunity. It takes less than 20 seconds for someone to go into an open door and steal something.

Subscribe to the campus emergency alert system.
At The Citadel, cadets, students, faculty and staff should subscribe to the Bulldog Alert system via Lesesene Gateway, selecting to receive alerts via text, email or both. Alerts are issued in the event of a real emergency that could impact campus safety, such as a tornado.
In addition to the Department of Public Safety, The Citadel has a large support team ready to help with concerns. Here is a list of areas that offer assistance:
Counseling Center, (843) 953-6799, 203 Richardson Ave.
Human Affairs Officers. Every cadet company has a Human Affairs Officer who can officer assistance and resources.
Murray Infirmary. Cadets with concerns can report to the infirmary and receive medical help or request a counselor.
Obudsperson. For a neutral, trained professional who helps cadets, students, parents, faculty or staff, email robert.pickering@citadel.edu, or gillens@citadel.edu .
National Campus Safety Awareness Month began in 2008 when it was approved by Congress to encourage public conversations on "important topics in violence prevention at our nation's colleges and universities," according to CleryCenter.org.