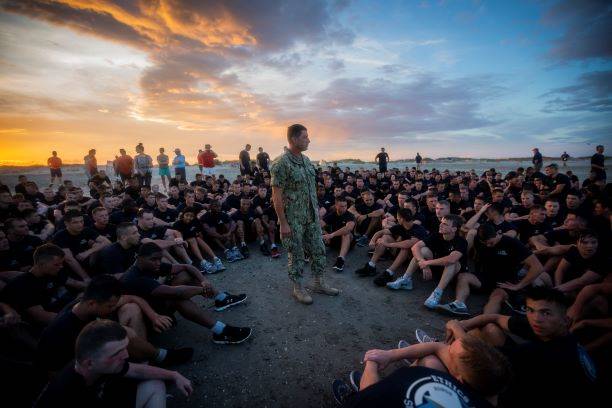 Capt. Geno Paluso is touring The Citadel campus where he's served as commandant of cadets since 2014, and he's amazed by all the changes.
The new Swain Boating Center is a far cry from the shed the school had when he was a cadet. Capers Hall is about to be demolished and rebuilt — the first academic building replaced in more than 20 years.
And the new Bastin Hall is an architectural wonder that perfectly blends into the historic campus. The school is evolving, in part due to generous alumni.
But perhaps the most significant change at The Citadel in recent years has come from Paluso.
The retired Navy SEAL walked through Lesesne Gate seven years ago with a mission to steer his alma mater into modern times, cut down on hazing and focus on the military college's core mission — creating leaders. When he retires as commandant next month, he can justifiably say mission accomplished.
"It's a special place," Paluso says. "But if you had told me in 1989 that I would come back and lead the Corps, I would have looked at you like you were crazy. This place has to constantly change and get better. That's what I wanted to do, giving back what I learned in 25 years with the Navy."
Paluso is an easygoing, friendly man, which means it's easy to miss the fact that he's also an elite soldier. The veteran SEAL led special forces operations in Iraq and Afghanistan, among other places, earning a Bronze Star and a list of service awards as long as your arm.
He brought that experience to The Citadel, setting up a program to teach professional leadership to cadets. Citadel President Gen. Glenn Walters, who's also done much to eliminate hazing, says Paluso's courses and training refined the college's ability to create new leaders and improved cadet operations.
"Capt. Paluso's innovations give our cadets additional tools to be strong, professional and effective leaders," President Walters says.
Such change couldn't have come at a better time. In his first year, Paluso surveyed cadets and was troubled by the volume of hazing reported. He changed that through training, leading by example… and explaining to the Corps that all those old stories, those traditions they felt obligated to uphold, no longer work in the military, or the world.
"One of the first things I tried to do was flip the switch on negative leadership," he says. "It's a tough system, and by definition some of it is negative. That's supposed to make you a better person, but it never does. I knew it was wrong."
That doesn't mean the Corps has gone soft or bowed to political correctness. It remains a tough system and isn't for everyone. Still, a vocal minority of alumni complained about Paluso's methods. They protested when he changed haircuts to current military standards, and when he allowed cadets to wear camouflage uniforms to football games.
They even groused that cadets didn't eat family style in the mess hall. Paluso jokes that some alumni wanted the Corps to do things the modern military doesn't even do, just because … tradition.
Yes, El Cid alum historically resist change.
But in seven years, Paluso has made a difference. On his watch, The Citadel saw its first female regimental commander. When Sarah Zorn was selected to lead the Corps of Cadets in 2018, Paluso told The New York Times he got only one angry call. He diplomatically called the guy a Neanderthal.
"Then I educated him on how there's no all-male military institutions, there's no all-male corporations in America — I mean, come on. It's 2018," Paluso said at the time. "She's the best qualified cadet. So get over it."
Standing outside Mark Clark Hall last week, Paluso mentions running into a recent graduate. He'd gone from regimental commander to being accepted as an ensign in the Navy — the same path Paluso took. He's full of similar success stories, and his pride is palpable.
This past month, people have lined up to show their appreciation of Paluso's leadership. Gov. Henry McMaster awarded him the Order of the Palmetto, and he was asked to give the commencement address at graduation. He calls it the hardest, and easiest, speech he ever had to give.
"All you have to do is look at the class of 2021," Paluso told me. "To watch them step up and lead under these circumstances, in a pandemic. These classes just keep getting better, and I'm so proud of them."
Paluso explained to graduates that they'll have other knob years — in the armed forces, in their jobs, even becoming spouses and parents — but they'll be better prepared for it because of their experience at The Citadel.
And, honestly, they'll be better prepared because of Geno Paluso.