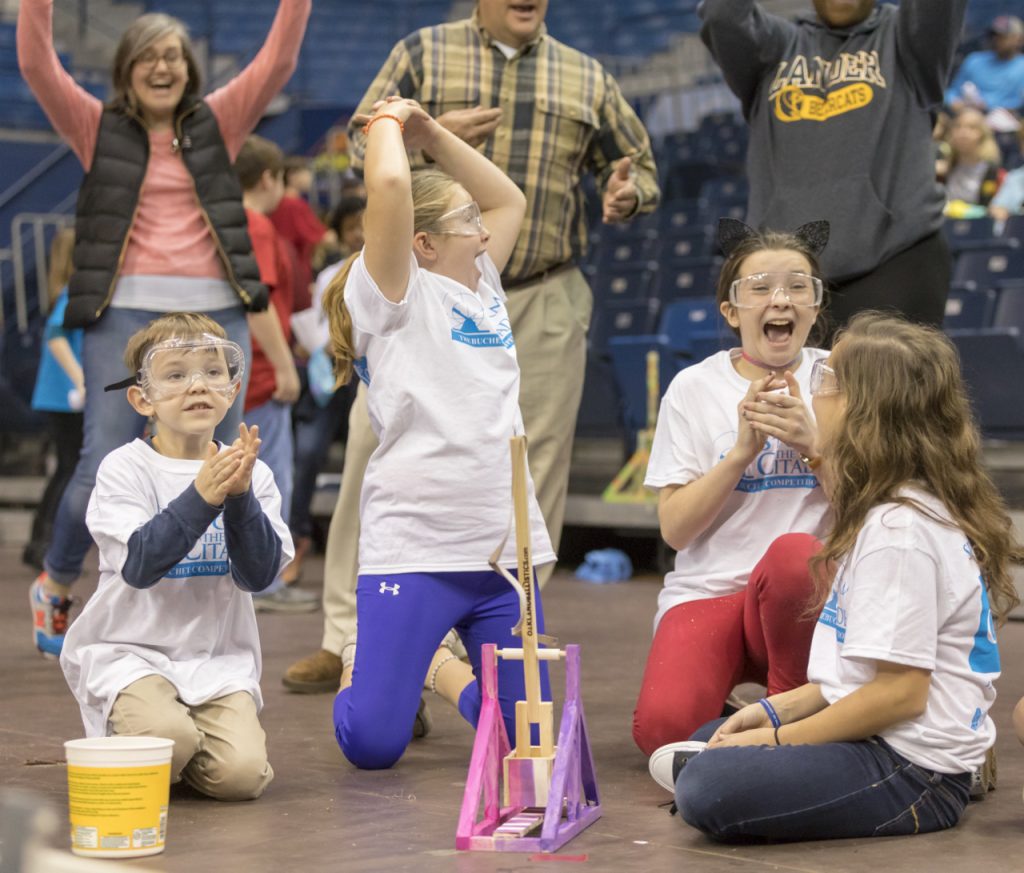 The Mid Evil Miracles celebrate as their ball lands in the bucket for 3-points at Storm the Citadel 2018
The 2019 Storm The Citadel competition will bring changes presenting trebuchet competitors with increased math and engineering challenges as they design, build and test their medieval-style catapults.
The Feb. 9, 2019 event will once again bring up to 3,000 visitors to campus for what is now a tradition for many of the teams that compete. But as STEM teachers from K-12 schools, engineering mentors, business, community, college and military team leaders consider their strategies, some of them have a new puzzle to ponder.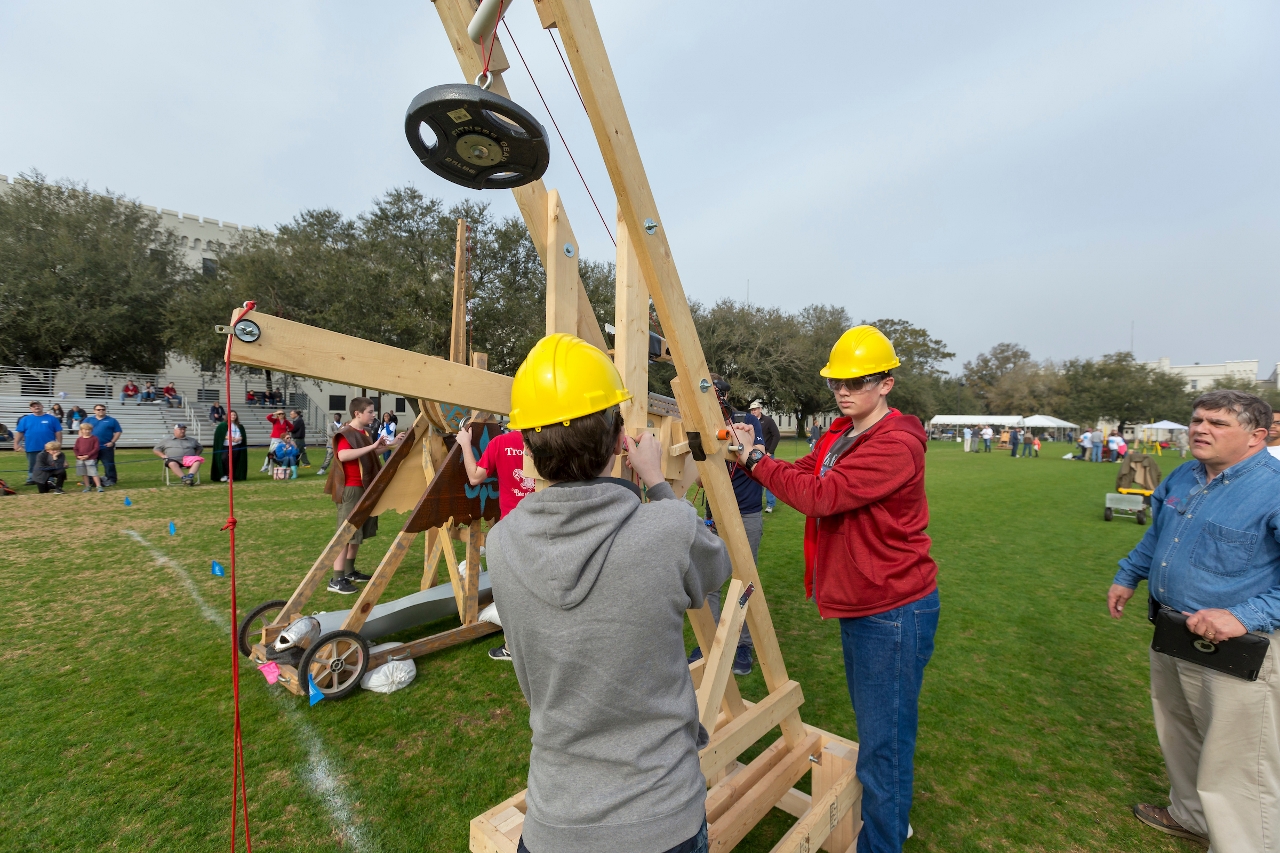 The rules are changing for competitors in the Centurion division which includes 6-12 grade students, college students and military personnel. They can plan and they can practice, but they won't know the actual target distance they'll be aiming for until just days before the competition. The teams will be informed of three possible distances to be used in the matches two weeks out. They will have to choose one of them and report their selection a week before competition day.
"We are excited to implement this rule change and give many teams that have competed with us before a new challenge," said Jennifer Albert, Ph.D., director of The Citadel's STEM Center of Excellence. "We also hope that this change will allow each team the opportunity to hit a target."
Back for its second year will be the Trebuchet Video Award, which shows competition attendees the stories behind building and testing the trebuchets. Science, technology, engineering and mathematics (STEM) related activities will be available for students between competition times for the second year as well.
Registration open for 2019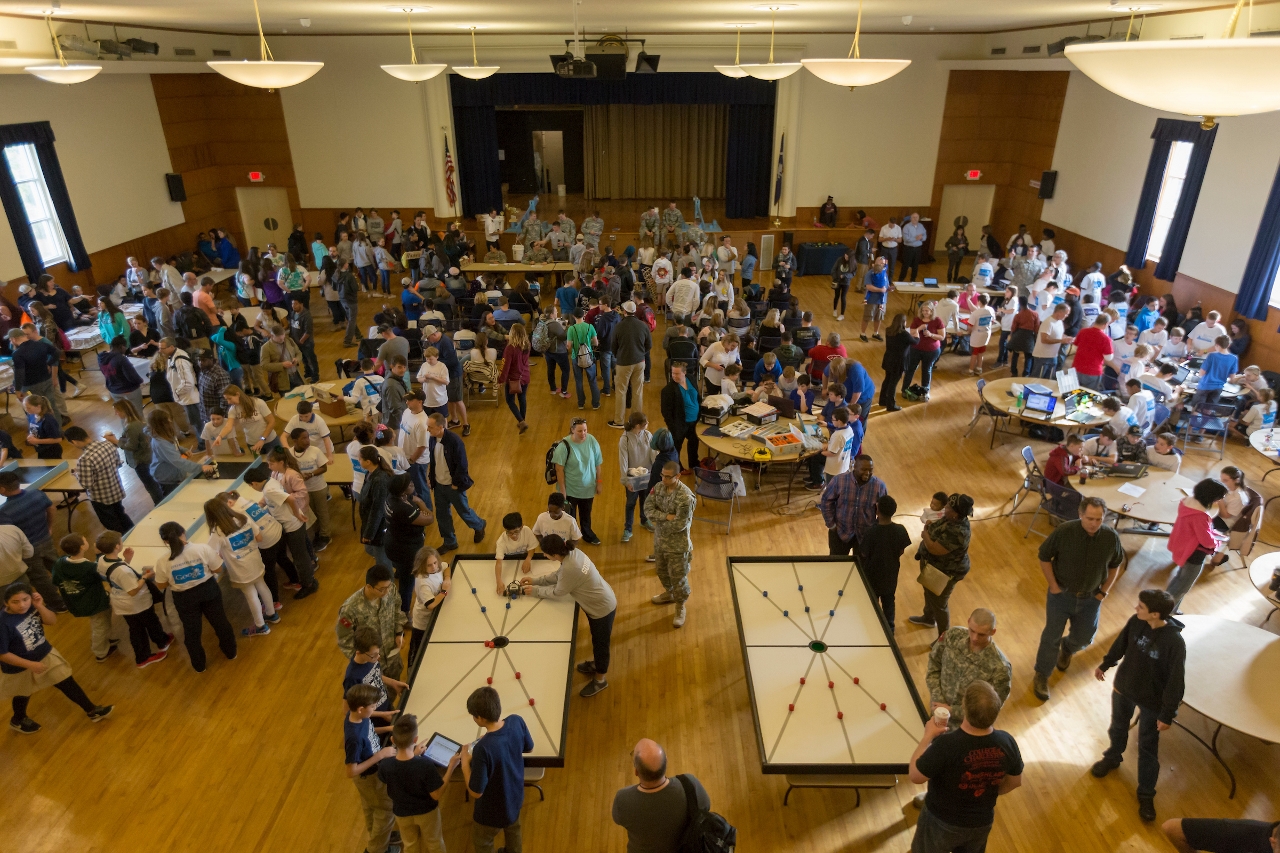 Co-hosted by Google and The Citadel's STEM Center of Excellence along with the School of Engineering, Zucker Family School of Education and the Swain Family School of Science and Mathematics, Storm The Citadel promotes STEM education and allows students to use the skills they learn in the classroom in tangible, exciting ways. This will be the ninth year teams from around the state travel to campus to battle in the day-long event that includes four competitions:
bridge building
Lego robotics
trebuchet
water bottle rocket competitions

Cadet Kiara Parrish, of India Co., launches water rocket at Storm the Citadel 2018
"The event is a chance to focus on the importance of educating the next generation in science, technology, engineering and mathematics, so it's great to see so many K-12 students be excited about these concepts and participate in the competitions year after year," said Albert.
Teams interested in participating in Storm The Citadel 2019 have until Friday, Dec. 14 to register. To register, or for more information, please visit the Storm The Citadel website.
More STEM fun in 2019
Other 2019 events sponsored by The Citadel STEM Center of Excellence include:
Feb. 23 – Regional Science Olympiad Competition at Newberry College  (Div. B & C)
March 2 – Regional Science Olympiad Competition at The Citadel (Div. A, B, & C)
March 16 – State Science Olympiad Competition at The Citadel (Div. B & C)
May 11 – KidWind Challenge at The Citadel
For more information on any of those events please visit this website, or email jalbert@citadel.edu.