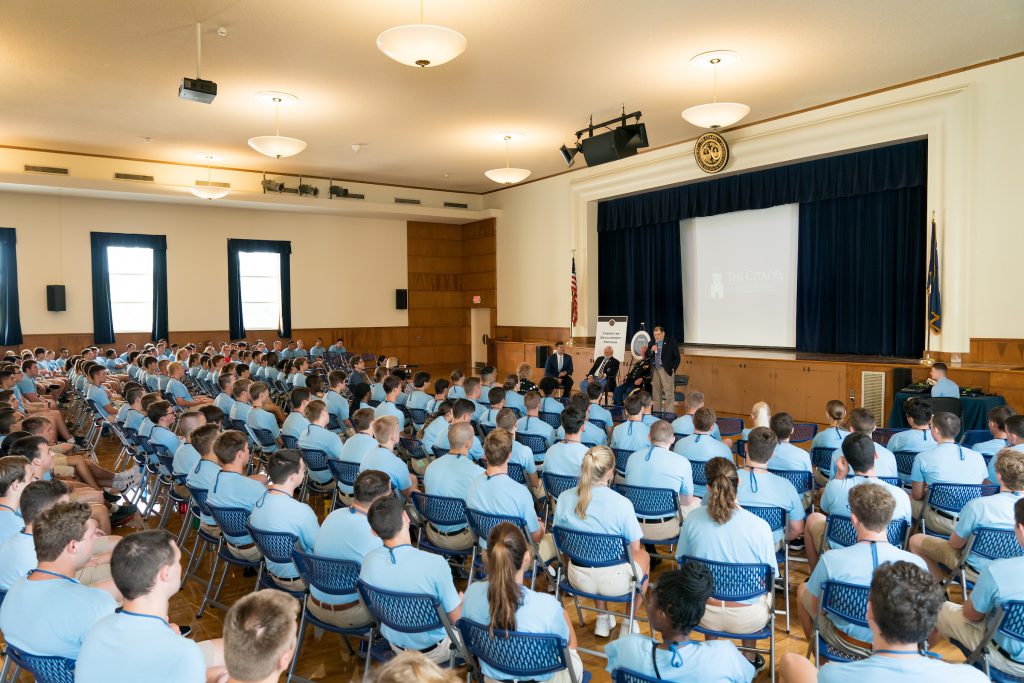 They all served in Vietnam. They all risked their lives for the sake of others. And all three wear the medal that requires every person in active military service, at any level, to salute them.
Medal of Honor recipients Michael Thornton, Sammy Davis and Harold Fitz visited with students attending The Citadel Success Institute. The event was part of the students' freshman year introduction to life at The Citadel, before they matriculate as cadet recruits with the Class of 2025 in August.
Lt. Michael Edwin Thornton, from the Upstate of South Carolina, is the only Medal of Honor recipient in over 100 years to save the life of another recipient, who had also performed heroic, lifesaving actions months earlier. The story of how Sgt. Sammy Lee Davis earned the Medal of Honor in 1967 served as the inspiration for some of the war scenes in "Forrest Gump." And Lt. Col. Harold Arthur Fritz was a first lieutenant the Army leading his seven-vehicle armored column to escort a truck convoy on January 11, 1969 when they came under attack and he saved the lives of his men.
The Congressional Medal of Honor Society hosted two days of events in Charleston for 20 Medal of Honor recipients in Charleston. The presentation at The Citadel by Thornton, Davis and Fritz was one of them.
The CSI students asked the men questions during the visit. One student from Ohio asked about the relationship between bravery and leadership.
"Bravery covers all soldiers who risk their lives for their country. They are all brave just by showing up. But leadership is different. To succeed you've got to lead from the front at all times. You are there to show them the way. When I was 18 or 19 in Vietnam I had 81 troops. I tried to earn their respect by putting myself in their place and by helping take care of their families."

Lt. Michael Edwin Thornton, USN (Ret.) Medal of Honor recipient
Each man took a turn at answering every question.
"Being a brave leader means standing alone if you must take the tough decision. That is what a leader does," said Fritz.
Davis answered after considering the event that led to his Medal of Honor recognition.
"Looking back at that day, I was shot 30 times when I kept going to get my brothers. That's not being brave. That's love and it makes you do things beyond what seems humanly possible sometimes. I loved all of those men. I knew in my heart I was doing for them what they would do for me," Davis said.
A student from Kentucky asked the men about the most "influential mistakes leaders can make that can impact their character."
Fritz responded, "Quitting. You don't lose until you quit trying. You give it all that you have every day and correct your course as you go along."
Davis responded to that question with an anecdote about a mistake he made early on while in Vietnam. "I spotted a guy, the enemy, a distance away. I crawled through the brush to try to get close to him. When I got there I froze. All I could think of was a John Wayne movie, so I stood up and yelled, 'stick em up.' I came out okay – but knew from then on to always have a plan and don't do it alone."