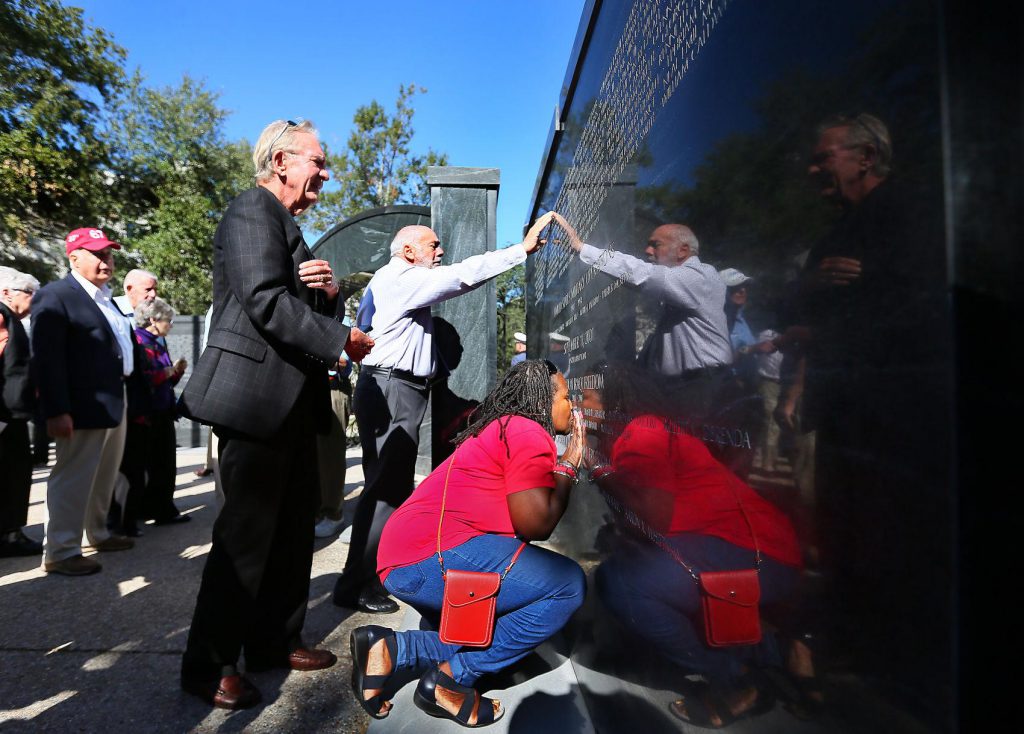 As seen in The Post and Courier, by Paul Bowers
The first Citadel alumnus to die in an American war was Judah Alexander from the Class of 1846, only three years after the inaugural class of cadets reported.
Alexander died on June 19, 1847 while serving in Perote during the Mexican-American War. His cause of death is listed in The Citadel archives as "battlefield disease."
The last alumnus to die was Army Sgt. Aaron X. Wittman, a 2007 graduate. He was killed by small arms fire on Jan. 10, 2013, while on mounted patrol in Nangarhar Province, Afghanistan.
Alexander and Wittman's names are among the 760 that appear on the Citadel War Memorial, a black granite edifice unveiled on campus in October 2017.
The memorial's panels contain the names of alumni who have been killed in U.S. wars, including heavy casualties during the Civil War, World War II and the Vietnam War.
The Citadel Foundation helped verify the names for the memorial, which was a gift from the Class of 1967 marking its 50-year anniversary. The wall does not include some service members who were killed away from the battlefield, like Navy Lt. Sean Snyder, who died in a training accident while piloting an MH-53E Sea Dragon helicopter on Jan. 8, 2014.
Below is the list of names that went on the memorial. Steven V. Smith, historian for The Citadel Alumni Association, helped verify each name on the list. Much like at the Vietnam Veterans Memorial in Washington, D.C., he said he sees many alumni and family members reaching out to touch the names engraved in the granite.
"Every name on there has a story," Smith said.
Judah Alexander (Class of 1846), Mexican-American War, June 19, 1847
Joseph H. Howell (Class of 1846), Mexican-American War, November 6, 1847
Allen H. Little (Class of 1852), Mexican-American War, August, 1854
Eugene Wilder (Class of 1849), Mexican-American War, August 20, 1847
Cicero Adams (Class of 1854), Civil War, January 2, 1865
Hiram Luther Adams (Class of 1860), Civil War, October, 1863
William Johnson Alexander (Class of 1867), Civil War, July 29, 1864
William Vincent Alison (Class of 1860), Civil War, May 4, 1862
John Bellinger Alison (Class of 1862), Civil War, October 2, 1866
James Ancrum (Class of 1868), Civil War, October 17, 1864
Henry M. Andrews (Class of 1851), Civil War, September 16, 1862
Alfred Henry Angel (Class of 1866), Civil War, April 24, 1865
J. A. Attaway (Class of 1864), Civil War, December 21, 1862
Lawrence Manning Austin (Class of 1857), Civil War, July 13, 1863
Benjamin Franklin Backstrom (Class of 1856), Civil War, May 31, 1862
Henry Bailey (Class of 1856), Civil War, October 30, 1863
Bernard Elliott Baker Jr. (Class of 1851), Civil War, October 22, 1864
Matthew Vassar Bancroft (Class of 1861), Civil War, June 22, 1864
John George Barber (Class of 1862), Civil War, December 20, 1861
William Thomas Barker (Class of 1862), Civil War, July 30, 1864
Hugh O'Neil Barnett (Class of 1864), Civil War, September 10, 1863
Christopher L. Beaty (Class of 1862), Civil War, August 14, 1864
John Stock Bee (Class of 1861), Civil War, July 18, 1863
Jacob H. Bell Jr. (Class of 1853), Civil War, April 15, 1862
William Silas Bellune (Class of 1850), Civil War, December 10, 1865
Henry Alexander Blue (Class of 1861), Civil War, July 13, 1861
William Allen Blue (Class of 1866), Civil War, May 4, 1864
John Andrew Blum Jr. (Class of 1863), Civil War, October 21, 1862
David, Jr. Blythe (Class of 1865), Civil War, February 3, 1863
Charles Burwell Bobo (Class of 1855), Civil War, May 20, 1864
Howard Simpson Bobo (Class of 1868), Civil War, August 16, 1864
Thomas Alexander Boggs (Class of 1865), Civil War, June 30, 1862
Davis Sloan Bomar (Class of 1855), Civil War, September 1864
James Bonham (Class of 1849), Civil War, May 29, 1863
Andrew Thomas Bowie (Class of 1862), Civil War, January 22, 1863
Beverly Blake Brantley (Class of 1863), Civil War, August 30, 1862
Walter Scott Brewster (Class of 1852), Civil War, December 13, 1864
Jesse Kilgore Brockman (Class of 1861), Civil War, May 28, 1864
A. Fuller Brooker (Class of 1851), Civil War, August 30,1862
Whitfield Butler Brooks (Class of 1867), Civil War, June 12, 1864
J. W. Brown (Class of 1862), Civil War, July 1, 1863
J. Graham Brown (Class of 1862), Civil War, June 27, 1862
Addison Duncan Brown (Class of 1867), Civil War, November 3, 1864
Albert Ovid Brown (Class of 1868), Civil War, January 29, 1865
Thomas Sumter Brownfield (Class of 1854), Civil War, July 3, 1862
Andrew Flynn Browning (Class of 1867), Civil War, April 17, 1865
George Pettigrew Brownlee (Class of 1868), Civil War, October 19, 1864
Robert Smith Bryce (Class of 1861), Civil War, September 22, 1863
George Olney Buck (Class of 1868), Civil War, January 23, 1865
Thomas C. Burns (Class of 1860), Civil War, June 27, 1862
James Hall Burns (Class of 1861), Civil War, July 1, 1863
William Louden Butler (Class of 1853), Civil War, September 20, 1863
Thomas Oliver Lowndes Butler (Class of 1863), Civil War, July 2, 1863
William C. Byars (Class of 1857), Civil War, December 24, 1861
John E. Caine (Class of 1860), Civil War, June 11, 1864
James Lawrence Caldwell (Class of 1864), Civil War, December 20, 1861
Robert Feaster Cameron (Class of 1865), Civil War, December 2, 1864
Daniel Porteous Campbell (Class of 1862), Civil War, October 22, 1862
Henry Cantey (Class of 1849), Civil War, June 7, 1863
John Dallas Chamblin (Class of 1867), Civil War, September 28, 1864
William H. Chapman (Class of 1864), Civil War, April 2, 1864
Henry William Coit (Class of 1855), Civil War, February 22, 1862
Alexander E Colclough (Class of 1861), Civil War, February 15, 1869
John B. Colding (Class of 1851), Civil War, June 13, 1863
William Preston Coleman (Class of 1856), Civil War, January 31, 1863
Benjamin Franklin Coleman (Class of 1860), Civil War, October 28, 1864
J. S. Collins (Class of 1849), Civil War, July 30, 1864
George McDuffie Connor (Class of 1853), Civil War, November 30, 1861
W. Dukes Connor (Class of 1860), Civil War, July 27, 1862
Franklin H. Connors (Class of 1865), Civil War, July 18, 1862
Jesse James Coward (Class of 1861), Civil War, October 20, 1864
Nathan D. Cox (Class of 1861), Civil War, June 20, 1864
Charles Edward Coxe (Class of 1864), Civil War, July 28, 1862
John A. Craig (Class of 1864), Civil War, May 17, 1864
Robert Walter Crawford (Class of 1860), Civil War, November 7, 1862
Randell Croft Jr. (Class of 1861), Civil War, July 26, 1862
Washington C. Cross (Class of 1846), Civil War, died in service
John C. Culbreath (Class of 1866), Civil War, April 7, 1865
Abram Jones Cunningham (Class of 1865), Civil War, June 3, 1864
Thomas H Dalrymple (Class of 1857), Civil War, July 10, 1863
William J. Darby (Class of 1857), Civil War, August 25, 1862
Edward Hamilton Darby (Class of 1863), Civil War, August 29, 1862
Henry H. Darracott (Class of 1851), Civil War, July 14, 1864
Ross C. Davis (Class of 1865), Civil War, June 23, 1864
John Mills Dean (Class of 1855), Civil War, April 6, 1862
William Marion Dean (Class of 1867), Civil War, September 27, 1863
Francois DeCaradeuc (Class of 1860), Civil War, December 2, 1862
James Edward DeLorme Sr. (Class of 1859), Civil War, October 14, 1862
W. J. Dennis (Class of 1863), Civil War, July 10, 1862
Thomas Morritt Dick (Class of 1864), Civil War, June 30, 1862
Samuel W. Dixon (Class of 1846), Civil War, July 1863
James Blair Dotterer (Class of 1863), Civil War, September 28, 1864
Gilbert L. Shaw Douglas (Class of 1856), Civil War, March 3, 1862
Anthony White Dozier, Jr. (Class of 1864), Civil War
Edwin Cantey DuBose (Class of 1859), Civil War, May 3, 1863
William Pinckney Duncan (Class of 1853), Civil War, October 15, 1862
Robert Nance Dunlap (Class of 1856), Civil War, August 24, 1862
Thomas Hughes Dunn (Class of 1862), Civil War, May 9, 1862
John Steele Dutart (Class of 1863), Civil War, February 9, 1864
James Elias Dutart Jr. (Class of 1863), Civil War, June 22, 1864
Gerard Bull Dyer Jr. (Class of 1862), Civil War, June 1, 1864
George Egleston (Class of 1856), Civil War, August 11, 1863
Wade S. Eichelberger (Class of 1852), Civil War, December 12, 1862
Robert Edward Elfe (Class of 1864), Civil War, May 1, 1865
Hossack Farr Ellerbe (Class of 1865), Civil War, February 17, 1865
Thomas Rhett Smith Elliott Jr. (Class of 1865), Civil War, February 4, 1905
Ephraim Andrew Erwin (Class of 1860), Civil War, September 2, 1863
Andrew Jackson Evans (Class of 1849), Civil War, January 1862
John A. Evans (Class of 1856), Civil War, June 27, 1864
William J. Evans (Class of 1859), Civil War, February 26, 1863
James R. Evans (Class of 1862), Civil War, September 4, 1863
James J. Exum (Class of 1857), Civil War, September 17, 1862
James A. Finch (Class of 1856), Civil War, September 2, 1862
Thomas W. Fitzgerald (Class of 1852), Civil War, May 1863
David George Fleming (Class of 1854), Civil War, July 30, 1864
Richard M. Footman (Class of 1863), Civil War, June 30, 1862
Andrew Crawford Fraser (Class of 1862), Civil War, May 31, 1862
Joseph Edings Fripp (Class of 1862), Civil War, December 1862
James Gadsden (Class of 1852), Civil War, September 17, 1862
Thomas Norman Gadsden (Class of 1854), Civil War, June 16,1862
Franklin Gaillard (Class of 1849), Civil War, May 6, 1864
Alfred Septimus Gaillard (Class of 1860), Civil War, August 22, 1870
Thomas Edmund Gaillard (Class of 1862), Civil War, October 12, 1863
George E. Gamble (Class of 1852), Civil War, September 14, 1861
Henry Laurens Garlington (Class of 1862), Civil War, May 8, 1864
John Garlington Jr. (Class of 1862), Civil War, December 13, 1862
Richard Alexander Garner (Class of 1864), Civil War, June 7, 1864
Duff E. Gary (Class of 1857), Civil War, April 15, 1861
John Casper Gary (Class of 1865), Civil War, January 7, 1865
Benjamin Taylor Gibbes (Class of 1866), Civil War, March 14, 1864
George Thomas Gibbs (Class of 1854), Civil War, died in captivity
James Merriweather Gillam (Class of 1860), Civil War, October 15, 1864
James Dugan Gist (Class of 1855), Civil War, August 23, 1863
Meek Carothers Gladden (Class of 1862), Civil War, July 20, 1864
John F. Goode (Class of 1867), Civil War, December 29, 1864
Edward Grady (Class of 1863), Civil War, June 4, 1864
William Glenn Green Jr. (Class of 1861), Civil War, June 1, 1864
William Wayne Gregg (Class of 1864), Civil War, June 27, 1862
William B. Griffin (Class of 1862), Civil War, November 15, 1861
Joseph Williams Griffin (Class of 1863), Civil War, January 19, 1862
William Dunlap Griffin (Class of 1864), Civil War, December 21, 1862
William M. Gunnels (Class of 1863), Civil War, November 30, 1864
Thomas Lipscomb Hackett (Class of 1865), Civil War, August 25, 1864
Sylvanus P Hall (Class of 1864), Civil War, June 15, 1864
John Hall (Class of 1865), Civil War, May 15, 1864
Paul Hamilton (Class of 1863), Civil War, December 29, 1862
James Stuart Hanckel Jr. (Class of 1862), Civil War, August 25, 1862
Francis Huger Harleston (Class of 1860), Civil War, November 24, 1863
Robert A. Harris (Class of 1856), Civil War, June 2, 1866
Jesse Hartwell Hart (Class of 1855), Civil War, July 8,1864
George F. L. Hartzog (Class of 1861), Civil War, November 9, 1863
Charles Thomson Haskell Jr. (Class of 1854), Civil War, July 10, 1863
Nathaniel Augustus Heyward (Class of 1864), Civil War, August 29, 1862
William L. Hickson (Class of 1855), Civil War, October 6,1864
James J. Hoover (Class of 1863), Civil War, May 6, 1864
James Moultrie. Horlbeck (Class of 1862), Civil War, January 13, 1866
Henry Laurens Pinckney Houseal (Class of 1852), Civil War, July 13, 1862
Edmund Kortright Howard (Class of 1865), Civil War, January 28, 1864
Joseph Proctor Huger (Class of 1867), Civil War, April 14, 1864
Thomas Smythe Hughes (Class of 1867), Civil War, May 6, 1864
Moses Benbow Humphrey (Class of 1863), Civil War, April 30, 1865
Henry Screven Inglesby (Class of 1861), Civil War, November 11, 1866
William F. Irby (Class of 1861), Civil War, September 14, 1862
Thomas Pressley Jacobs (Class of 1865), Civil War, July 2, 1863
Micah Jenkins (Class of 1854), Civil War, May 6, 1864
Louis Wellington Jenkins (Class of 1864), Civil War, May 7, 1864
Thomas Albert Johnson (Class of 1868), Civil War, March 3, 1865
David M. Johnston (Class of 1855), Civil War, May 15, 1864
John J. Jones (Class of 1851), Civil War, September 24, 1862
Edwin Chandler Jones (Class of 1865), Civil War, September 11, 1863
William Henry Jordan (Class of 1866), Civil War, July 29, 1863
William Ellison June (Class of 1861), Civil War, November 26, 1863
Samuel N. Kennerly (Class of 1850), Civil War, August 21, 1864
Franklin Whitner Kilpatrick (Class of 1857), Civil War, October 28, 1863
Richard Ragin King (Class of 1856), Civil War, October 11, 1862
James B. Kinman (Class of 1864), Civil War, July 21, 1861
Simeon Sylvester Kirby (Class of 1860), Civil War, February 3, 1865
Theodore Keckeley Klinck (Class of 1860), Civil War, June 11, 1862
Pascail Dawes Klugh (Class of 1864), Civil War, June 9, 1862
Osma Knox (Class of 1868), Civil War, October 28, 1864
George B. Lalane (Class of 1862), Civil War, May 31, 1864
Thomas Gresham Lamar (Class of 1847), Civil War, October 17, 1862
Edward Payson Lawton (Class of 1850), Civil War, December, 26 1862
Jenkins Mikell Lawton (Class of 1866), Civil War, April 6, 1865
John Dozier Lee (Class of 1861), Civil War, June 30, 1862
Francis Kinloch Simons Lesesne (Class of 1864), Civil War, June 24, 1865
William Edward Lewis (Class of 1860), Civil War, May 31, 1862
John L. Litchfield (Class of 1859), Civil War, September 16, 1862
Daniel D'Oyley Logan (Class of 1853), Civil War, December 10, 1862
Samuel Catawba Lowry (Class of 1867), Civil War, July 30, 1864
William Boykin Lyles (Class of 1855), Civil War, May 31, 1862
Augustus Jackson Lythgoe (Class of 1847), Civil War, December 12, 1862
Edward Mackay (Class of 1849), Civil War, May 10, 1864
George Chisolm Mackey Jr. (Class of 1857), Civil War, May 12, 1864
G. F. Leon Massey (Class of 1867), Civil War, April 1, 1865
John J. Mathews (Class of 1848), Civil War, March, 13, 1864
William David Mayes (Class of 1859), Civil War, August 2, 1862
William Young McCammon (Class of 1852), Civil War, December 1861
Philip James McCants (Class of 1853), Civil War, April 11, 1863
Thomas Oliver McCaslan (Class of 1859), Civil War, June 30, 1862
Comillus Wycliffe McCreary (Class of 1857), Civil War, March 31, 1865
George Marshall McDowell (Class of 1859), Civil War, July 3, 1863
George Archibald McDowell (Class of 1862), Civil War, February 9, 1864
W.A. McDowell (Class of 1858), Civil War
Jonathon Jefferson McIlwain (Class of 1865), Civil War, June 19, 1863
Philip Kirk McKelvey (Class of 1857), Civil War, September 30, 1862
George W McKenzie (Class of 1865), Civil War, November 4, 1864
William Fordham McKewn (Class of 1862), Civil War, December 14, 1862
James V. McNamee (Class of 1847), Civil War, August 4, 1869
William T. Meares (Class of 1867), Civil War, May 3, 1863
Septimus Charles Miles (Class of 1853), Civil War, July 2, 1863
Paul Gervais Miller (Class of 1861), Civil War, December 19, 1861
Alexander Fraser Miller (Class of 1863), Civil War, October 3, 1864
John Alexander Miller (Class of 1865), Civil War, February 5, 1905
John Julius Miller (Class of 1866), Civil War, June 23, 1863
William Henry Jamison Mitchell (Class of 1859), Civil War, July 5, 1863
Gardner Daniel Mixson (Class of 1865), Civil War, February 5, 1905
Henry Stroheker Morrison (Class of 1866), Civil War, September 16, 1863
Joshua Lazarus Moses (Class of 1860), Civil War, April 9, 1865
Oliver Hazard Perry Moses, Jr. (Class of 1864), Civil War, August 12, 1862
Robert Ellison Muldrow (Class of 1868), Civil War, April 7, 1865
William Murray (Class of 1847), Civil War, July 23, 1864
Philip P. Murray (Class of 1861), Civil War, May 1862
James Drayton Nance (Class of 1856), Civil War, May 6, 1864
John Calhoun Neil (Class of 1863), Civil War, August 30, 1862
James F. Nelson (Class of 1865), Civil War, April 25, 1864
John R. Nettles (Class of 1860), Civil War, January 14, 1863
William Joseph Nettles (Class of 1863), Civil War, October 21, 1864
Benjamin B. Nichols (Class of 1862), Civil War, August 15, 1861
Richard F. Nichols (Class of 1865), Civil War, February 14, 1865
Russell Noble (Class of 1868), Civil War, March 15, 1865
John Taylor Norris (Class of 1861), Civil War, January 9, 1863
James Norris (Class of 1862), Civil War, November 8, 1861
William Tully Norwood (Class of 1857), Civil War, January 11, 1864
Wesley R. Norwood (Class of 1862), Civil War, May 24, 1863
Thomas T. Osborne (Class of 1867), Civil War, February 6, 1905
Barnwell Williamson Palmer (Class of 1849), Civil War, June 16, 1864
Francis Gendron Palmer (Class of 1851), Civil War, December 4, 1862
Richard Alston Palmer (Class of 1852), Civil War, July 21, 1861
John Saunders Palmer (Class of 1856), Civil War, July 29, 1864
Joseph Clarence Palmer (Class of 1861), Civil War, September 18, 1863
William M. Parker Jr. (Class of 1868), Civil War, May 3, 1865
William J. Bailey Patterson (Class of 1866), Civil War, December 7, 1864
Lamartine Peake (Class of 1856), Civil War, November 22, 1862
Andrew McIlwain Perry (Class of 1862), Civil War, October 10, 1863
James Monroe Phinney (Class of 1855), Civil War, May 31, 1862
William F. Plane (Class of 1848), Civil War, September 17, 1862
William T. Powers (Class of 1864), Civil War, September 26, 1863
James Richard Quarles (Class of 1856), Civil War, April 6, 1862
Henry M. Quarles (Class of 1862), Civil War, September 17, 1862
Joab Olin Quattlebaum (Class of 1861), Civil War, October 7, 1864
John Doyle Quattlebaum (Class of 1864), Civil War, July 30, 1864
Theodore Adolphus Quattlebaum (Class of 1864), Civil War, March 17, 1865
John Watt Rabb (Class of 1862), Civil War, June 30, 1862
William Ravenel (Class of 1866), Civil War, August 23, 1863
Michael Oliver Raysor (Class of 1857), Civil War, January 27, 1864
Samuel J. Reed (Class of 1847), Civil War, June 16, 1862
George Norton Reynolds (Class of 1860), Civil War, March 24, 1863
Ulysses Rice (Class of 1853), Civil War, July 1863
James Leroy Roach (Class of 1851), Civil War, September 18, 1862
Reuben Thomason Roberds (Class of 1854), Civil War, December 3, 1863
Owen Mortimer Roberts Jr. (Class of 1862), Civil War, October 11, 1864
George A. Ross (Class of 1856), Civil War, July 31, 1861
Reuben Frederick Ruff (Class of 1855), Civil War, June 1, 1861
Andrew Jackson Rugg (Class of 1855), Civil War, June 1, 1863
William G. Russell (Class of 1857), Civil War, July 30, 1864
William Drayton Rutherford (Class of 1857), Civil War, May 1864
Joseph Edings Sams (Class of 1868), Civil War, March 22, 1865
James Merritt Schmidt (Class of 1851), Civil War, May 16, 1864
Whitemarsh Henry Seabrook (Class of 1853), Civil War, May 20, 1864
George Washington Seabrook Jr. (Class of 1852), Civil War, April 2, 1861
John Fraser Shecut (Class of 1862), Civil War, March 7, 1905
Stephen Hill Sheldon (Class of 1861), Civil War, October 4, 1864
James Oscar Sheppard (Class of 1864), Civil War, June 12, 1864
Reeve Gibbes Shoolbred (Class of 1861), Civil War, September 22, 1863
Washington Pinckney Shooter (Class of 1859), Civil War, May 12, 1864
Edward Bryant Simmons (Class of 1865), Civil War, September 30, 1864
Thomas D. Singleton (Class of 1856), Civil War, February, 1862
Wilson B. Smith (Class of 1861), Civil War, July 20, 1864
Benjamin W. Smith (Class of 1862), Civil War, July 2, 1863
William Mason Smith (Class of 1863), Civil War, August 16, 1864
James Russell Spann (Class of 1862), Civil War, August 24, 1864
Walter D. Spann (Class of 1866), Civil War, February 7, 1905
James Edwin Spears (Class of 1859), Civil War, August 29, 1865
Edward Allston Stanley (Class of 1865), Civil War, June 9, 1864
James Stewart (Class of 1864), Civil War, May 21, 1864
Gilbert Moyer de Lafayette Strait (Class of 1856), Civil War, October 18, 1863
Oswald Eve Strohecker (Class of 1860), Civil War, October 27, 1864
William H Strother (Class of 1859), Civil War, October 14, 1864
John Calhoun Summer (Class of 1862), Civil War, December 13, 1862
Robert E. Sweat (Class of 1857), Civil War, August 19, 1861
Lawrence Jackson Sweat (Class of 1863), Civil War, October 17, 1863
Samuel Jackson Taylor (Class of 1863), Civil War, May 8, 1864
John Team (Class of 1864), Civil War, November 1, 1861
Gilbert Vergereau Tennent (Class of 1862), Civil War, August 18, 1863
Charles Courtenay Tew (Class of 1846), Civil War, September 17, 1862
William Thompson (Class of 1855), Civil War, August 6, 1863
Stringfellow Turner (Class of 1867), Civil War, February 16, 1865
William Peter Turpin (Class of 1864), Civil War, May 6, 1864
John M. Verdier (Class of 1855), Civil War, January 25, 1862
John Bordenave Villepigue (Class of 1849), Civil War, November 9, 1862
James Walker Vinson (Class of 1861), Civil War, September 20, 1863
William Henry Wagner (Class of 1847), Civil War, October 13, 1863
Edward James Walker (Class of 1851), Civil War, August 21, 1864
Henry Pinckney Walker Jr (Class of 1862), Civil War, August 9, 1862
Arthur Wardlaw (Class of 1866), Civil War, May 5, 1864
Lockwood States Webb (Class of 1860), Civil War, June 27, 1862
David E. Wells (Class of 1865), Civil War, June 30, 1862
William Whetstone (Class of 1859), Civil War, November 25, 1863
John Marshall Whilden (Class of 1861), Civil War, September 7, 1862
Leonard Anthony White (Class of 1855), Civil War, June 6, 1864
Edward Bishop White (Class of 1859), Civil War, August 31, 1862
Thomas C. White (Class of 1861), Civil War, December 15, 1862
B. T. Whitehead (Class of 1855), Civil War, September 7, 1864
William Whittemore (Class of 1854), Civil War, December 15, 1861
Reddick McKelvin Wiggins (Class of 1864), Civil War, May 30, 1862
Daniel Taylor Williams (Class of 1852), Civil War, August 21, 1864
Nicholas Wilson (Class of 1861), Civil War, September 14, 1862
James Wooten (Class of 1861), Civil War, August 4, 1864
Thomas McCullough Wylie (Class of 1861), Civil War, February 7, 1905
Richard W. Yeadon (Class of 1865), Civil War, January 28, 1864
Oliver Johnson Youmans (Class of 1859), Civil War, May 6, 1864
Robert James Cochran (Class of 1917), WWI, October 10, 1918
John Hodges David, Jr. (Class of 1914), WWI, March 1, 1918
Reginald Victor Dicks (Class of 1921), WWI, October 22, 1918
Arthur Thomas Elmore (Class of 1917), WWI, July 13, 1918
James Hill Holmes, Jr. (Class of 1915), WWI, July 19, 1918
Julius Andrew Mood, Jr. (Class of 1916), WWI, July 21, 1918
William A. Mulloy (Class of 1909), WWI, October 8, 1918
William Montague Nicholls (Class of 1912), WWI, August 26, 1915
Ozburne Thomas Sanders (Class of 1909), WWI, October 15, 1918
William Howe Simons (Class of 1890), WWI, April 12, 1918
John Lionel Weeks (Class of 1917), WWI, November 2, 1920
Robert Henry Willis, Jr. (Class of 1908), WWI, September 13, 1918
George Hampton Yarborough, Jr. (Class of 1916), WWI, June 27, 1918
James Karl Bolton (Class of 1916), Dominican Republic, January 10, 1917
William Carl Byrd (Class of 1916), Nicaragua, March 8, 1928
Richard Grandison Howard (Class of 1917), Dominican Republic, August 14, 1919
Edward Clarke Smith (Class of 1914), Punitive Expedition, March 1, 1917
Andrew Nourse Alexander, Jr (Class of 1945), WWII, August 10, 1945
Henry Liles Allen (Class of 1940), WWII, February 25, 1944
Joseph Altomari (Class of 1945), WWII, May 10, 1945
Charles Francis Anderson, Jr. (Class of 1938), WWII, November 13, 1944
Joseph Andrews (Class of 1940), WWII, August 15, 1944
Burt Williams Andrews, Jr. (Class of 1942), WWII, November 3, 1946
Perry Baggs (Class of 1932), WWII, May 31, 1944
Charles Adolph Bahn, Jr. (Class of 1944), WWII, January 12, 1945
Herbert B. Bass (Class of 1941), WWII, June 14, 1944
Hugh Van Der Veer Batchelder (Class of 1945), WWII, January 1, 1945
Robert Alexander Bates (Class of 1945), WWII, November 3, 1944
Raleigh Blackwell Batten (Class of 1946), WWII, March 11, 1945
James Theodore Baugh (Class of 1943), WWII, February 24, 1945
Julian Fearing Baum (Class of 1946), WWII, August 13, 1947
Robert Lewis Bedle, Jr. (Class of 1940), WWII, June 17, 1941
Frederick William Beidelman, Jr. (Class of 1943), WWII, October 26, 1944
William Beattie Bendure (Class of 1946), WWII, January 27, 1945
Hugh Woodrow Benson (Class of 1940), WWII, September 1, 1945
Paul Alva Blakeman (Class of 1944), WWII, July 23, 1943
Jesse Wooten Booker, III (Class of 1943), WWII, August 27, 1944
Thomas McCullough Boulware, IV (Class of 1941), WWII, March 11, 1944
Harry Grimshaw Bowers (Class of 1935), WWII, December 21, 1943
William Francis Boyd (Class of 1931), WWII, February 27, 1945
George Gilbert Branson (Class of 1937), WWII, July 28, 1945
Robert Moffatt Brice (Class of 1942), WWII, June 6, 1944
Wade Hampton Britt, Jr. (Class of 1936), WWII, April 13, 1943
Joseph Dexter Brown, Jr. (Class of 1942), WWII, June 25, 1944
Herman B. Brown, Jr. (Class of 1941), WWII, September 6, 1943
Pope Lott Browne (Class of 1933), WWII, October 24, 1944
George Blalock Browning (Class of 1943), WWII, January 4, 1945
Paul Browning, Jr. (Class of 1941), WWII, November 22, 1944
Alton Houston Bryant (Class of 1940), WWII, December 15, 1944
Stephen Munger Byars, Jr. (Class of 1938), WWII, December 15, 1944
Hal Alexander Calhoun (Class of 1943), WWII, February 5, 1945
Frank Zeigler Campbell (Class of 1944), WWII, October 9, 1945
Thomas E. Campbell, Jr. (Class of 1946), WWII, March 24, 1945
Frederick Scott Campbell, Jr. (Class of 1945), WWII, May 25, 1945
Frank William Cantillion (Class of 1946), WWII, May 2, 1944
Ross L. Carmichael (Class of 1946), WWII, February 23, 1944
James Hoyt Carter, Jr. (Class of 1944), WWII, October 11, 1945
Gerald Richard Casey (Class of 1946), WWII, February 21, 1945
Harold Bradford Chandler, Jr. (Class of 1939), WWII, December 5, 1942
Edward Gray Cherry, Jr. (Class of 1946), WWII, March 15, 1945
William Henderson Coffield, Jr. (Class of 1941), WWII, July 9, 1942
Joseph Plowden Cole (Class of 1940), WWII, July 15, 1942
Forrest Hugh Coleman, Jr. (Class of 1930), WWII, November 20, 1944
Charles Donald Connolly (Class of 1946), WWII, September 3, 1946
Charles Herbert Cooper (Class of 1940), WWII, August 28, 1942
Grady Cannon Corley (Class of 1937), WWII, June 5, 1944
Wade Rushton Cothran, Jr. (Class of 1916), WWII, January 22, 1945
John Henry Cotter (Class of 1946), WWII, February 19, 1945
Walter Steele Covington, Jr. (Class of 1946), WWII, December 9, 1944
Eugene Rice Cowan (Class of 1938), WWII, April 28, 1944
Walter Jackson Cowart (Class of 1945), WWII, September 13, 1943
Arthur Barton Cross, Jr. (Class of 1938), WWII, January 30, 1945
John Hackett Culbertson (Class of 1937), WWII, June 16, 1945
Peter Franklin Cureton, Jr. (Class of 1940), WWII, November 21, 1944
Richard Furman Dabbs (Class of 1941), WWII, September 15, 1942
John Shipp Daniel (Class of 1940), WWII, October 27, 1942
William Gadsden Daniels (Class of 1942), WWII, October 6, 1944
William Fred Davis (Class of 1945), WWII, February 19, 1945
Wilton Earl Davis (Class of 1926), WWII, December 25, 1944
Joseph Carr Davis (Class of 1932), WWII, August 19, 1945
Younkin Davis (Class of 1946), WWII, June 17, 1945
William Jacob DeWitt (Class of 1942), WWII, February 18, 1945
Thompson Gallety Dicks (Class of 1944), WWII, June 6, 1944
James Tredway Dixon (Class of 1936), WWII, July 27, 1944
Joseph Ambrose Doyle, Jr. (Class of 1946), WWII, April 28, 1945
Archelaus Augustus Drake, III (Class of 1945), WWII, December 5, 1944
Charlie Manly Dukes III (Class of 1945), WWII, June 6, 1944
Francis Hill Durant (Class of 1938), WWII, October 1, 1942
Thomas Baylis Earle (Class of 1938), WWII, July 15, 1944
Charles Graham Edwards (Class of 1939), WWII, April 21, 1945
Walter Guy Efird, Jr. (Class of 1940), WWII, September 7, 1944
Charles Emil Eichenberger, Jr. (Class of 1941), WWII, September 12, 1942
William Haselden Ellerbe (Class of 1940), WWII, May 26, 1945
William Herbert Ellis, Jr. (Class of 1940), WWII, January 9, 1945
Richard Louis Engel (Class of 1944), WWII, December 31, 1944
Roy Robin English, Jr. (Class of 1942), WWII, March 22, 1945
Walter Raymond Erness (Class of 1941), WWII, December 13, 1942
Robert Cleveland Evins (Class of 1938), WWII, June 17, 1944
Joseph Gibbs Ferrel (Class of 1946), WWII, November 17, 1944
John Russell Ferris (Class of 1943), WWII, February 23, 1945
Owen Willoughby Fields, Jr. (Class of 1944), WWII, July 13, 1944
Furman Henry Finklea (Class of 1936), WWII, August 1, 1944
Paul Smith Floyd (Class of 1945), WWII, February 1, 1945
George Thomas Ford, Jr. (Class of 1933), WWII, December 17, 1943
Ralph Palmer Ford, Jr. (Class of 1936), WWII, December 15, 1944
Griffeth Harrison Fort (Class of 1945), WWII, December 17, 1944
Jack Johnston Foster (Class of 1943), WWII, January 6, 1945
Richard Bishop Franklin (Class of 1940), WWII, September 8, 1944
John Hobson Franks (Class of 1943), WWII, December 31, 1944
George Bryan French (Class of 1931), WWII, April 23, 1943
Henry David Fulmer, Jr. (Class of 1945), WWII, December 19, 1944
Francis Lawrence Gaffney (Class of 1918), WWII, October 22, 1942
Robert Melvin Gallagher (Class of 1945), WWII, April 21, 1944
Creswell Garlington, Jr. (Class of 1944), WWII, December 3, 1944
William Henry Garmen (Class of 1946), WWII, January 9, 1945
Claude Jackson Gasque, Jr. (Class of 1936), WWII, August 9, 1942
Woodfin Grady Gaston, Jr. (Class of 1944), WWII, January 12, 1945
Warren William Gates, Jr. (Class of 1942), WWII, July 23, 1942
Thomas Brown Gautier, Jr. (Class of 1942), WWII, December 9, 1944
John Jefferson Gee (Class of 1930), WWII, July 17, 1944
Clough Farrar Gee, III (Class of 1939), WWII, June 7, 1944
Herman John Gerdes, Jr. (Class of 1941), WWII, July 2, 1944
Walter Edward Gibson (Class of 1944), WWII, June 11, 1944
James Guy Gilbert, Jr. (Class of 1945), WWII, December 23, 1944
Wilson Glover, III (Class of 1940), WWII, January 27, 1945
John Lawrence Glynn, Jr. (Class of 1946), WWII, January 28, 1945
Albert Keller Godwin (Class of 1931), WWII, December 15, 1944
Walter Clinton Goodpasture, Jr. (Class of 1940), WWII, November 30, 1942
Thomas Edward Goodson, Jr. (Class of 1939), WWII, June 14, 1944
Edward Smith Gordon (Class of 1932), WWII, March 31, 1942
George Brown Gregory, Jr. (Class of 1935), WWII, May 6, 1945
Albert Edward Gresham (Class of 1942), WWII, September 8, 1941
Arthur Calvin Griffin, Jr. (Class of 1934), WWII, August 7, 1944
Frank Elmer Grogan, Jr. (Class of 1942), WWII, March 25, 1945
Mervin Eugene Gross (Class of 1920), WWII, October 18, 1946
Albert Starke Hagood (Class of 1931), WWII, March 23, 1945
Ernest Scott Haile, II (Class of 1939), WWII, September 7, 1944
Elias Porter Haizlip (Class of 1944), WWII, September 28, 1943
Robert Clark Hale (Class of 1927), WWII, August 12, 1944
Thomas Cook Hamer, Jr. (Class of 1931), WWII, May 20, 1942
Jule Hancock, Jr. (Class of 1946), WWII, October 14, 1944
Theodore Hanford (Class of 1942), WWII, December 25, 1944
Ralph Alexander Hardee (Class of 1944), WWII, August 9, 1944
Enon Walter Harvey, Jr. (Class of 1944), WWII, July 13, 1945
David Bennet Henderson (Class of 1941), WWII, June 3, 1942
James William Hendon, Jr. (Class of 1946), WWII, March 1, 1945
Harry Frierson Hendry, Jr. (Class of 1945), WWII, January 13, 1945
William Alvin Henson, II (Class of 1944), WWII, September 28, 1944
Allard Barnwell Heyward (Class of 1931), WWII, June 7, 1944
Caswell Marbury Higgs (Class of 1944), WWII, March 28, 1945
James Peurifoy Hill (Class of 1924), WWII, September 14, 1946
James Culpeper Hill, Jr. (Class of 1945), WWII, February 20, 1945
James Carroll Hill, Jr. (Class of 1946), WWII, April 16, 1945
Theodore Loveland Hinman (Class of 1941), WWII, January 13, 1943
Thomas Edward Hinton, Jr. (Class of 1947), WWII, December 5, 1945
Jack Willis Holt (Class of 1941), WWII, October 16, 1943
Gilmer Herriott Holton, Jr. (Class of 1942), WWII, June 7, 1942
Thomas Dry Howie (Class of 1929), WWII, July 17, 1944
Dwight Hughes III (Class of 1941), WWII, May 31, 1944
Arthur Bradlee Hunt, Jr. (Class of 1944), WWII, November 21, 1944
Thomas Lea Hutchings, Jr. (Class of 1941), WWII, September 16, 1944
Benjamin Henry Ivey (Class of 1933), WWII, January 9, 1945
Jesse King Jackson (Class of 1937), WWII, June 23, 1941
John Evans James, Jr. (Class of 1944), WWII, December 24, 1944
Norwood Thomas Jenkins (Class of 1942), WWII, February 17, 1944
Allen Jones Jervey, Jr. (Class of 1933), WWII, June 17, 1942
James Cookson Johnson, Jr. (Class of 1946), WWII, December 29, 1943
Harry Vance Johnson, Jr. (Class of 1943), WWII, April 3, 1945
Ira Boyd Jones, III (Class of 1940), WWII, August 2, 1945
Lucius Joseph Jumper (Class of 1945), WWII, January 2, 1945
Franklyn Madden Ketchum (Class of 1942), WWII, August 16, 1944
Ralph Emory Kibler, Jr. (Class of 1942), WWII, May 11, 1944
Vernon Height King, Jr. (Class of 1944), WWII, March 27, 1944
Richard Brady Knapp (Class of 1939), WWII, August 23, 1944
Clark Lewis Knotts (Class of 1941), WWII, August 6, 1944
Harvey Robert Kolker (Class of 1944), WWII, January 10, 1945
Francis Vernon Lael (Class of 1940), WWII, April 5, 1944
James Lee Land (Class of 1937), WWII, October 4, 1943
George Rhea Land, Jr. (Class of 1939), WWII, April 2, 1943
Harry Bell Launius, Jr. (Class of 1946), WWII, January 27, 1945
Robert Henry Law (Class of 1945), WWII, April 29, 1945
John Thomas Leonard, Jr. (Class of 1940), WWII, December 13, 1944
Charles Pritchard Lesesne (Class of 1933), WWII, March 31, 1945
James Alexander Logan (Class of 1908), WWII, September 4, 1943
Langdon Dwight Long (Class of 1940), WWII, June 3, 1942
Roy Hamilton Long, Jr. (Class of 1938), WWII, April 29, 1945
Roland Louis Luerich, Jr. (Class of 1942), WWII, June 4, 1944
John Register Lyons (Class of 1939), WWII, October 9, 1941
Robert Harry Mackenzie, Jr. (Class of 1934), WWII, November 13, 1944
Jack Alger Mahony, Jr. (Class of 1938), WWII, July 1, 1943
Vestal Malone (Class of 1945), WWII, January 6, 1946
Richard Lee Mann (Class of 1944), WWII, April 20, 1944
James Lawrence Manning (Class of 1942), WWII, December 21, 1944
Joy McDowell Marriott, Jr. (Class of 1945), WWII, May 3, 1945
John Catlett Martin (Class of 1941), WWII, January 7, 1943
Thomas Hutson Martin, Jr. (Class of 1940), WWII, February 8, 1945
William James Maxwell, Jr. (Class of 1920), WWII, April 1, 1944
John Bernard Mayes (Class of 1940), WWII, December 18, 1942
Joseph Lynn McCarthy (Class of 1928), WWII, January 9, 1945
Robert Crawford McClane (Class of 1946), WWII, November 1, 1945
George Bray McMillan (Class of 1939), WWII, June 24, 1944
Edward Tate McMillan, Jr. (Class of 1940), WWII, November 16, 1942
John Bunyan McMillan, Jr. (Class of 1946), WWII, January 3, 1945
Frederick Davenport Melton (Class of 1945), WWII, October 3, 1944
Peter Nicholas Meros (Class of 1939), WWII, June 7, 1945
Richard Heilman Metzger (Class of 1946), WWII, May 12, 1945
Lindsay Baker Milikin (Class of 1939), WWII, September 14, 1943
Benjamin Willis Mills, Jr. (Class of 1941), WWII, September 7, 1944
Archibald Solomon Mills, Jr. (Class of 1944), WWII, September 21, 1943
Beverly W. Mitchell (Class of 1934), WWII, November 21, 1942
Edwin Browning Moore (Class of 1944), WWII, March 1, 1945
John Isaac Moore, III (Class of 1940), WWII, October 24, 1944
James Hollenbeck Morehouse, Jr. (Class of 1945), WWII, March 18, 1945
Harold Burris Morse (Class of 1942), WWII, February 4, 1945
George Franklin Moznette, Jr. (Class of 1939), WWII, January 8, 1943
Robert Edward Murphy (Class of 1943), WWII, November 2, 1943
William John Nally (Class of 1944), WWII, June 25, 1945
Fielding Jessup Nelson (Class of 1946), WWII, June 2, 1944
Manning Lionel Nelson, Jr. (Class of 1938), WWII, March 28, 1945
Edwin Karl Newman (Class of 1939), WWII, February 26, 1945
Rufus Alexander Oliphant, Jr. (Class of 1940), WWII, February 15, 1943
Andrew Peter Olsen, Jr. (Class of 1945), WWII, May 22, 1944
Richard Paul Padgett (Class of 1944), WWII, April 30, 1945
Maxwell Farmer Parrott (Class of 1937), WWII, December 4, 1944
Edward Eugene Parsons (Class of 1942), WWII, May 20, 1944
Griffith Rutherford Paul (Class of 1942), WWII, January 20, 1943
Kingsley Robert Pearse (Class of 1946), WWII, November 14, 1944
William Young Pearson (Class of 1944), WWII, May 25, 1944
Ernest Ferdinand Peschau, Jr. (Class of 1941), WWII, June 8, 1944
John Wilbur Peterson (Class of 1945), WWII, March 6, 1945
Perry Moses Phelps (Class of 1929), WWII, March 10, 1945
David Prichard Pilson (Class of 1945), WWII, April 10, 1945
Robert Edward Poland (Class of 1942), WWII, April 4, 1943
JAMES HENRY Pound (Class of 1941), WWII, May 22, 1944
Martin Thomas Powers, Jr. (Class of 1941), WWII, March 11, 1944
James Calvin Raymond (Class of 1946), WWII, April 2, 1945
Russell Eugene Reeves, Jr. (Class of 1945), WWII, July 30, 1945
James Davis Rembert (Class of 1946), WWII, April 14, 1945
Alston Pringle Rhett (Class of 1909), WWII, January 20, 1945
Paul Richardson (Class of 1944), WWII, June 27, 1944
Herman Franklin Ridenour (Class of 1944), WWII, April 10, 1944
Bruce Curtis Robbins (Class of 1943), WWII, January 3, 1945
Jenkins Mikell Robertson, Jr. (Class of 1926), WWII, October 2, 1942
David Albert Robins (Class of 1946), WWII, July 21, 1944
Hugh Corbin Rogers (Class of 1942), WWII, December 21, 1944
Robert Cowan Rolph (Class of 1946), WWII, February 25, 1945
Ray Rankin Rossell, Jr. (Class of 1946), WWII, April 23, 1945
Marvin Roth (Class of 1944), WWII, April 25, 1945
William Milling Royall (Class of 1942), WWII, November 19, 1944
Michael I. Rudich (Class of 1945), WWII, April 9, 1944
Harry Hampton Salley (Class of 1941), WWII, May 20, 1944
Martin Frederick Schnibben, Jr. (Class of 1943), WWII, February 12, 1945
Henry Ernest Seeman (Class of 1943), WWII, March 3, 1944
Allen Jones Seiller (Class of 1943), WWII, October 8, 1943
Jerome Chris Serros (Class of 1942), WWII, November 2, 1944
Franklin Merle Shaw (Class of 1933), WWII, April 20, 1944
Alexander Beaty Sherard (Class of 1932), WWII, July 14, 1943
Fred Burnham Shifflet, Jr. (Class of 1942), WWII, March 3, 1943
Lu Shu-Chin (Class of 1929), WWII, April 21, 1905
William Henry Sills (Class of 1931), WWII, February 3, 1942
Benjamin Hume Simons, Jr. (Class of 1944), WWII, February 3, 1946
Charles Henry Sims (Class of 1941), WWII, July 12, 1945
Albert Harold Sims (Class of 1944), WWII, March 28, 1945
Waverly Owen Skidmore (Class of 1946), WWII, October 13, 1944
Henry Sylvain Solomon (Class of 1946), WWII, March 10, 1945
Walter Hardy Spence (Class of 1944), WWII, December 14, 1944
Samuel Rigby Sprott, Jr. (Class of 1944), WWII, March 24, 1944
Harry Ferrell Stallings, Jr. (Class of 1939), WWII, April 16, 1945
William Kirkland Stewart (Class of 1941), WWII, February 25, 1945
Maurice Merton Stone (Class of 1940), WWII, October 24, 1945
Walter Scott Strong, Jr. (Class of 1941), WWII, February 2, 1945
Marion Stuckey (Class of 1945), WWII, January 4, 1945
John Mason Whiting Stulz (Class of 1945), WWII, August 1, 1945
Henry Major Taylor (Class of 1939), WWII, June 6, 1944
William Arthur Teague, II (Class of 1946), WWII, July 13, 1945
Loring Haynes Terry (Class of 1939), WWII, June 2, 1941
Charles Marion Thirlkeld, Jr. (Class of 1944), WWII, January 3, 1945
James Goodlett Thornton, Jr. (Class of 1940), WWII, September 14, 1944
Tang Tieh-Ching (Class of 1934), WWII, April 1, 1944
Robert Francis Touhey, Jr. (Class of 1941), WWII, August 8, 1945
Joseph Barre Traywick (Class of 1931), WWII, November 8, 1944
Thomas Mulloy Trotti (Class of 1937), WWII, February 22, 1945
Frank Leslie Vernon (Class of 1939), WWII, May 29, 1945
John Alexander Walts (Class of 1945), WWII, March 6, 1946
Benton Armfield Waugh (Class of 1943), WWII, January 5, 1946
George Roland Weeks (Class of 1929), WWII, January 30, 1945
Wilson Adelbert Wendt (Class of 1945), WWII, April 11, 1945
William Robert Werden, Jr. (Class of 1941), WWII, December 15, 1942
Richard Harry Whitaker (Class of 1944), WWII, June 30, 1944
Jack Brinson Whitaker (Class of 1945), WWII, December 31, 1944
Henry Purefoy Whitehurst, Jr. (Class of 1941), WWII, August 9, 1942
William Cleveland Whitley, Jr. (Class of 1943), WWII, November 4, 1944
Charles Richard Whitwell, Jr. (Class of 1941), WWII, January 11, 1943
Robert Napier Winslow, Jr. (Class of 1945), WWII, August 1, 1944
Charles Alister Witsell, Jr. (Class of 1946), WWII, May 26, 1944
Thomas Franklin Woodhead (Class of 1946), WWII, December 10, 1944
Charles Clarence Young, Jr. (Class of 1941), WWII, March 23, 1944
John Kenneth Zahn, Jr. (Class of 1946), WWII, September 11, 1944
Frank Elwood Bloomenshine (Class of 1949), Korea, August 25, 1950
Bob Pearce Cannon (Class of 1951), Korea, December 4, 1952
Charles Long Casey (Class of 1951), Korea, January 23, 1952
James Franklin Davis (Class of 1951), Korea, May 10, 1953
Richard Nicholas D'Errico (Class of 1944), Korea, January 19, 1952
James Futrell Exley (Class of 1949), Korea, April 5, 1951
Herman Louis Falk, Jr. (Class of 1950), Korea, May 31, 1951
William Clyde Fowler (Class of 1951), Korea, January 30, 1951
Francis Lamar Gasque (Class of 1950), Korea, July 30, 1953
William Wayne Graham (Class of 1945), Korea, February 8, 1953
Paul Morgan Hall (Class of 1945), Korea, June 12, 1953
William Calvin Hall (Class of 1949), Korea, April 25, 1951
John William Hill, Jr. (Class of 1949), Korea, September 10, 1952
Wesley Hartwell Johnson (Class of 1948), Korea, July 27, 1950
Noble Raymond Kean (Class of 1941), Korea, November 20, 1952
Myrth Jimmie Killingsworth, Jr (Class of 1951), Korea, October 14, 1952
Edmund Jones Lilly, III (Class of 1949), Korea, September 3, 1950
Gordon Ackly Littlefield (Class of 1942), Korea, March 17, 1951
William Kennedy Mauldin (Class of 1944), Korea, February 21, 1952
William Henry McLellan (Class of 1950), Korea, September 19, 1951
William Kendrick Mordecai (Class of 1950), Korea, November 15, 1950
Andrew James Morgan, Jr. (Class of 1951), Korea, December 14, 1952
Julius Elliot O'Neal (Class of 1940), Korea, October 23, 1951
Clyde Percy Padgett, Jr. (Class of 1950), Korea, January 3, 1951
Thomas Preston Pearce (Class of 1951), Korea, August 12, 1952
John Eugene Pound (Class of 1946), Korea, February 22, 1952
Edward Rutledge Ravenel, III (Class of 1949), Korea, September 5, 1950
Molten Ancrum Shuler, Jr. (Class of 1943), Korea, August 24, 1952
Richard Tarlton Smock (Class of 1950), Korea, June 6, 1951
Solomon Lee Van Meter, III (Class of 1947), Korea, July 9, 1953
Desmond Roy Wilkerson (Class of 1951), Korea, November 28, 1950
William Forman Abernethy (Class of 1962), Vietnam, July 21, 1967
Barry Kenneth Allmond (Class of 1968), Vietnam, May 11, 1972
Ronald Anthony Ashe (Class of 1968), Vietnam, July 30, 1972
James Westley Ayers (Class of 1957), Vietnam, May 26, 1967
Jere Alen Barton (Class of 1961), Vietnam, June 7, 1970
Sam Festis Beach, Jr. (Class of 1963), Vietnam, January 17, 1968
Samuel Richard Bird (Class of 1961), Vietnam, October 18, 1984
Davis James Boardman (Class of 1963), Vietnam, February 1, 1968
John Fredrick Bradman (Class of 1968), Vietnam, February 18, 1970
David Chappell Brown (Class of 1965), Vietnam, January 1, 1968
Donald Bryant Button (Class of 1956), Vietnam, May 24, 1968
John Werner Carlson (Class of 1960), Vietnam, December 7, 1966
Fred Joshua Carter (Class of 1967), Vietnam, November 5, 1969
Robert Henry Carter, Jr. (Class of 1956), Vietnam, May 27, 1969
Thomas James Chiminello (Class of 1964), Vietnam, October 29, 1967
Christopher L. Clearwaters (Class of 1969), Vietnam, February 20, 1971
Glenn Richard Cook (Class of 1967), Vietnam, October 21, 1969
Terry Denver Cordell (Class of 1957), Vietnam, October 15, 1962
Stephen Winfield Davis (Class of 1966), Vietnam, August 18, 1967
Henry Albert Deutsch (Class of 1962), Vietnam, May 11, 1965
Morris Frank Dixon, Jr. (Class of 1963), Vietnam, September 5, 1967
William Caldwell Donics (Class of 1968), Vietnam, May 15, 1969
Leo Michael Donker (Class of 1956), Vietnam, April 3, 1966
Raymond Edgar Doyle, Jr. (Class of 1958), Vietnam, April 12, 1963
Joe Wofford Eubanks (Class of 1969), Vietnam, June 2, 1972
Amos Oliver Fox (Class of 1952), Vietnam, April 23, 1968
Thomas Walter Foy (Class of 1966), Vietnam, May 15, 1968
John Luther Fuller, Jr. (Class of 1966), Vietnam, March 23, 1967
Charles Jack Girard (Class of 1938), Vietnam, January 17, 1970
Roger Lee Graham (Class of 1956), Vietnam, June 10, 1969
Lawrence Douglass Greene (Class of 1965), Vietnam, January 30, 1968
Charles Edward Heine (Class of 1964), Vietnam, January 3, 1969
Frederick Young Holjes (Class of 1967), Vietnam, March 22, 1968
Carter Avery Howell (Class of 1969), Vietnam, March 7, 1972
Thomas Simcock Hubbell (Class of 1962), Vietnam, December 27, 1967
Robert Gerald Hunter (Class of 1963), Vietnam, May 25, 1966
James Terry Jackson (Class of 1961), Vietnam, March 23, 1972
Fred Orr Jackson, Jr. (Class of 1966), Vietnam, September 5, 1969
Benjamin Edward Kelly, Jr. (Class of 1961), Vietnam, August 30, 1967
Terry Treloar Koonce (Class of 1960), Vietnam, December 25, 1967
Kurt Lloyd Kuhns, Sr. (Class of 1962), Vietnam, September 8, 1967
Richard Edward Legate (Class of 1962), Vietnam, March 25, 1967
Ephriam Rutledge Liles, II (Class of 1969), Vietnam, July 4, 1969
Thomas Joseph Margle (Class of 1957), Vietnam, February 15, 1968
William Livingston Mc Cormick (Class of 1967), Vietnam, March 7, 1969
Thomas Curtis Metsker (Class of 1961), Vietnam, November 14, 1965
Richard Mershon Milikin, III (Class of 1963), Vietnam, August 20, 1967
George Louis Miner (Class of 1967), Vietnam, August 17, 1969
Joseph Cyril Missar, Jr. (Class of 1965), Vietnam, May 6, 1966
Neal Emil Monette (Class of 1962), Vietnam, March 11, 1969
Phillip Jacob Moog (Class of 1964), Vietnam, August 10, 1966
Clarence Larry Moorer (Class of 1959), Vietnam, December 12, 1963
Frank Monroe Murphy (Class of 1965), Vietnam, December 7, 1966
Hugh Reavis Nelson (Class of 1959), Vietnam, June 5, 1966
Rodolph Lee Nunn, Jr. (Class of 1951), Vietnam, June 6, 1968
Thomas Duckett O'Connor (Class of 1967), Vietnam, January 3, 1968
Richard William O'Keefe (Class of 1967), Vietnam, February 11, 1971
John Thomas Orrico (Class of 1970), Vietnam, August 4, 1969
Woodrow Wilson Parker, II (Class of 1965), Vietnam, April 24, 1968
Carl Alfred Peterson (Class of 1968), Vietnam, August 10, 1969
Anthony George Prior (Class of 1964), Vietnam, May 27, 1968
William David Howsare Ragin (Class of 1961), Vietnam, August 20, 1964
Richard James Regan (Class of 1964), Vietnam, August 11, 1965
Richard Glenn Repole (Class of 1969), Vietnam, July 8, 1970
Arthur Clifton Retzlaff (Class of 1965), Vietnam, July 10, 1967
Ferris Ansel Rhodes, Jr. (Class of 1959), Vietnam, January 3, 1971
William Daniel Sands, III (Class of 1962), Vietnam, March 22, 1967
Sam Michael Savas, Jr. (Class of 1951), Vietnam, October 12, 1965
Johnnie Paul Sawyer (Class of 1959), Vietnam, May 29, 1966
Robert Francis Scherdin (Class of 1969), Vietnam, December 29, 1968
Kenneth Martin Schlie (Class of 1968), Vietnam, October 20, 1970
Richard Herman Schmidt (Class of 1952), Vietnam, May 17, 1966
Mark Mac Donald Serrem (Class of 1966), Vietnam, January 31, 1968
Earl Frederick Smith (Class of 1966), Vietnam, January 26, 1967
William Robert Spillers (Class of 1952), Vietnam, December 17, 1969
Charles E. Suprenant, Jr. (Class of 1968), Vietnam, April 2, 1970
Unk Viruch Tangnoi (Class of 1963), Vietnam, June 25, 1968
James Clinton Tarkenton, III (Class of 1964), Vietnam, March 19, 1967
George Thomas Taylor, Jr. (Class of 1967), Vietnam, May 21, 1971
William A. Thomas (Class of 1962), Vietnam, April 21, 1972
David Bruce Tucker (Class of 1961), Vietnam, October 1, 1967
Bruce Richard Welge (Class of 1967), Vietnam, January 26, 1969
Hugh William Wellons (Class of 1964), Vietnam, October 13, 1966
David John Wick Widder (Class of 1959), Vietnam, March 24, 1965
William Esley Wood, Jr. (Class of 1959), Vietnam, April 21, 1971
Robert Francis Woodhouse, Jr. (Class of 1968), Vietnam, July 7, 1970
Charles Jeffrey Schnorf (Class of 1981), U.S. Military Operations (1983-1994), October 23, 1983
Michael Francis Ritz (Class of 1977), U.S. Military Operations (1983-1994), October 26, 1983
Mario Fajardo (Class of 1984), U.S. Military Operations (1983-1994), February 26, 1991
Patrick Michael McKenna (Class of 1989), U.S. Military Operations (1983-1994), April 14, 1994
Joseph John Pycior (Class of 1984), 9/11 Pentagon, September 11, 2001
Therrell Shane Childers (Class of 2001), Iraqi Freedom, March 21, 2003
Benjamin Wilson Sammis (Class of 1996), Iraqi Freedom, April 5, 2003
Charles Henry Buehring (Class of 1985), Iraqi Freedom, October 26, 2003
Christopher James Kenny (Class of 1993), Iraqi Freedom, May 3, 2004
Timothy Ryan Creager (Class of 2005), Iraqi Freedom, July 1, 2004
Dan Thomas Malcom (Class of 2001), Iraqi Freedom, November 10, 2004
Robert V. Derenda (Class of 1985), Iraqi Freedom, August 5, 2005
Arsenio Ducusin Domingo Jr. (Class of 1987), Iraqi Freedom, January 7, 2006
Almar Laron Fitzgerald (Class of 2004), Iraqi Freedom, February 21, 2006
Joshua loren Booth (Class of 2005), Iraqi Freedom, October 17, 2006
Warren Andrew Frank (Class of 2004), Iraqi Freedom, November 25, 2008
Peter Benjamin Ober (Class of 1998), Iraqi Freedom, July 16, 2003
Daniel William Eggers (Class of 1997), Enduring Freedom, May 29, 2004
Brian Michael Mescall (Class of 1997), Enduring Freedom, January 9, 2009
Jonathan Andrew Taylor (Class of 2009), Enduring Freedom, December 1, 2009
Ryan Preston Hall (Class of 2004), Enduring Freedom, February 18, 2012
Ryan Davis Rawl (Class of 2004), Enduring Freedom, June 20, 2012
Aaron Xavier Wittman (Class of 2007), Enduring Freedom, January 10, 2013