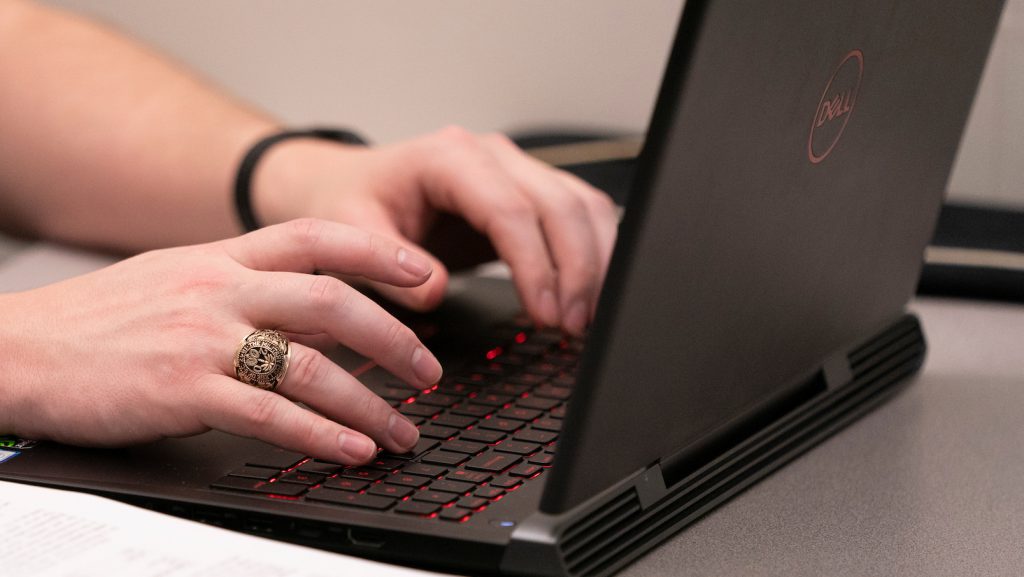 Like millions across the globe during the COVID-19 pandemic, The Citadel's cadets and students are completing the spring semester online, rather than on campus.
One of the considerable benefits of The Citadel experience, affirmed regularly by cadets, is the strategic development of time management skills. Due to the unique circumstance presented by the need for social distancing, those skills — along with flexibility, patience and self-discipline — will be required by all involved.
"The Citadel leadership, faculty and staff, the Student Success Center (SSC), Center for Excellence and Innovation in Teaching, Learning and Distance Education (CEITL&DE), and the college's IT Department and are 100% focused on supporting the successful completion of the semester for every cadet and student," said Sally Selden, Ph.D., SPHR, provost and dean of The Citadel.
Selden explained that an important factor in this process is identifying technological challenges individual cadets and students may have depending on what is available to them in their homes or the locations where they are staying while learning online.
The goal is to find ways to help any cadets or students having difficulties either getting started online, or during the coming weeks.
Cadets and students without computers and/or internet access should fill out this survey if they have not already following the recent instructions issued by the Office of the Provost.
All students should sign on to the CitLearn portal and expect that your professors will deliver content through that portal, as well as through email, with possible live video instruction elements via Zoom. Your individual professors will provide guidance, but different courses will be delivered in different ways, some in real time, but most instruction will be asynchronous, meaning students will complete the class on their own each day at the time of their choosing.
Be proactive about reaching out for help whether it is from a professor, the IT Department's (843) 953 – HELP phone line, SSC, the Daniel Library's online "Ask Us" resource chat button, fellow classmates, and for cadets, company academic officers.
All students should be vigilant about engaging in each course regularly to be successful. Participation will be tracked by faculty.
Due to the unprecedented volume of students around the country now learning online via the same internet platform that houses CitLearn, be prepared for unforeseen glitches or slowdowns to occur. Regularly checking Citadel email will be important for all students.
How The Citadel Student Success Center (SSC) can help
The SSC's mission is to help students in their transition to college life, and to help them achieve individual academic success culminating in graduation.
The SSC is moving its tutoring services online. Soon, cadets and students will be able to request an appointment online, and they will then be scheduled with a tutor via Zoom. The Zoom app is available free on cell phones and on desktop computers. This move is in progress.
"Currently we have approximately 75 employees in the SSC," said Robert Pickering, the program's director. "This includes full-time employees, temporary tutors, graduate assistants and interns. Soon our regular subject tutoring for groups will also be converted to online, which will be posted on the SSC webpage as soon as those sessions are available."
Pickering said additional Citadel staff members are being recruited to assist periodically should they be needed.
To get more information, to schedule a tutoring appointment or if you have any questions, please visit the SSC's web section here.