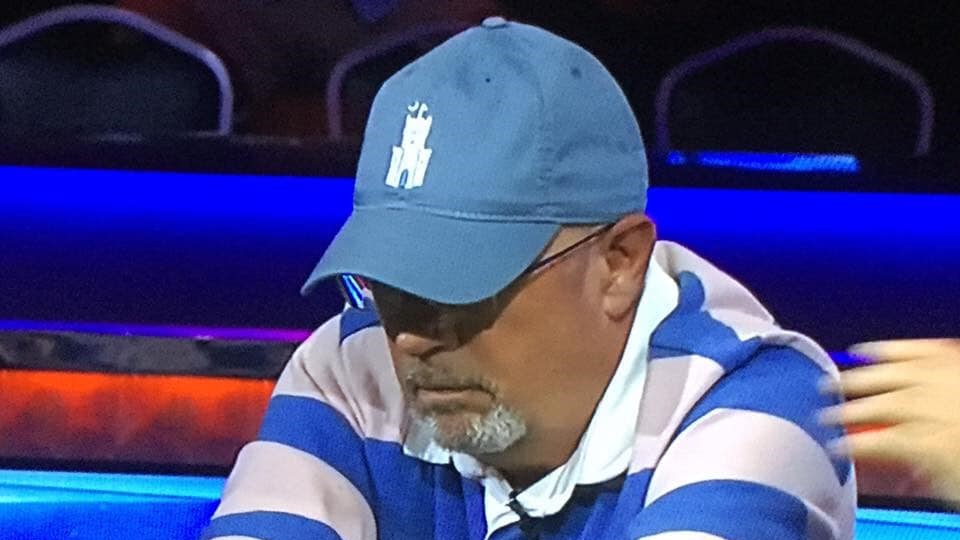 Photo: Timothy Smith playing in the third night of the World Series of Poker Main Event
Update on Smith's outcome, July 10, 2019
Smith finished in the top 10% of players in the World Series of Poker. He was knocked out on the evening of July 9, in 831 place out of 8,569 participants, earning a cash prize of $18,535. Smith said, "I'll take that!," and headed out to what he said would be a "magnificent dinner" before returning to South Carolina.
As seen on ESPN2
For months, The Citadel's director of music has been preparing for more than just the upcoming school year. He's also been getting ready to compete for $10 million at the 2019 World Series of Poker as a recreational player.
Lt. Col. Timothy Smith, USMC (Ret.), has made it through the first three days of the competition, and will be playing again during Day Four on Tuesday evening.
He's also making headlines in the news while competing.
The Main Events consists of eight days of competition, including the finale, where the final nine players compete for the grand prize. That will be on Sunday, July 14.
On the third day of the Main Event, Smith was placed at the main feature table, and was part of the hours-long, live broadcast on ESPN2.
Since joining The Citadel in 2016 as the director of music, Smith, has been leading The Citadel Regimental Band and Pipes – with Major Jim Dillahey, Director of Pipes – to new levels of accomplishment and innovation. This includes participation in the 2017 Inaugural Parade, preparing to premier Smith's original music for Friday afternoon parades in Fall of 2019, and combining The Regimental Band and Pipes in new ways.