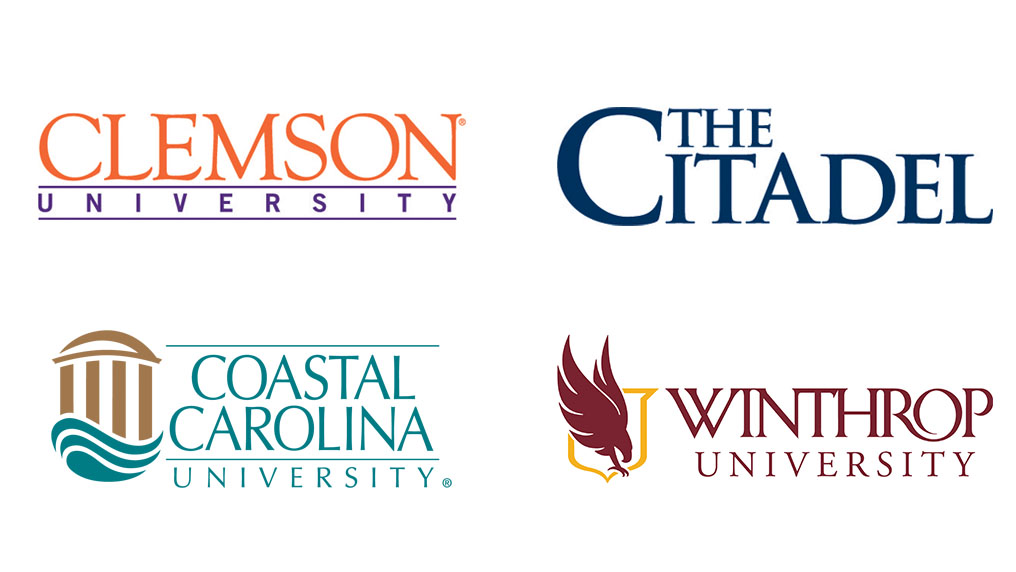 Clemson University, Coastal Carolina University, Winthrop University and The Citadel have joined forces to provide a seamless transition from each institution's Education Specialist (Ed.S.) degree programs to Clemson's Doctor of Education (Ed.D.) program in Education Systems Improvement Studies. The institutions have dubbed this combined effort the Consortium for Innovative Educational Practice, which aims to improve student outcomes by addressing ongoing, critical educational issues in the state through research initiatives.
Students completing Ed.S. programs at any of the four institutions will graduate with prerequisite courses for Clemson's Ed.D., which will speed their time of completion. Clemson will deliver the Ed.D. program in several formats—including online and hybrid—at off-campus sites across the state. The consortium has geared the program to part-time students and full-time employees who wish to remain in the school or practice setting.
"All the institutions in this consortium will be able to identify and encourage Ed.S. students throughout the state to take the next step in their professional journey," said George J. Petersen, founding dean of Clemson's College of Education. "Together we will work to solve real and persistent issues in districts, schools and classrooms. South Carolina's children and communities will be the ultimate beneficiaries of this dynamic, collaborative and innovative program."
The Ed.D. is a more applied doctoral research program that prepares educators for the application of appropriate and specific practices, the generation of new knowledge, and the stewardship of the profession, according to the Carnegie Project on the Education Doctorate. By design, Clemson's Ed.D. program in Educational Systems Improvement Studies will explore complex problems in education and will culminate with an action-based research dissertation which will see candidates working with consortium universities, school districts and communities.
According to Jennie F. Rakestraw, dean of Winthrop's college of education, every new dissertation in the program brings the chance for a new, innovative solution to a problem of education practice. She said the partnership provides a structure to address educational issues witnessed in the state through jointly-designed graduate programs, research and advocacy initiatives.
"My hope is that all of South Carolina's schools, districts and communities acquire the educational leaders they need to bring about change and that young people around the state experience the educational opportunities and success they deserve," Rakestraw said. "We hope to reach historically underserved areas of the state and bring a new collaborative approach to solving educational problems."
Educators in these rural, underserved areas have arguably been at the biggest disadvantage for equipping themselves with tools that would be afforded by an Ed.D. degree. According to Larry G. Daniel, dean of the Zucker Family School of Education at the Citadel, an Ed.D. degree has been a near impossibility for many educators in the Lowcountry due to the distance separating them from institutions that offer it. The new program's online delivery methods will make an Ed.D. degree more attainable and convenient for educators.
"Talented education professionals will now have the opportunity to fulfill lifelong dreams of completing their doctoral degrees while remaining in their own community and not having to substantially disrupt their careers," Daniel said. "We at the Citadel foresee that there may be opportunities for years to come for our alumni as a result of the formation of the consortium."
The 42 semester-hour program is divided between 24 course credit hours and 18 hours of research. The faculty have designed the curriculum so that the coursework is completed in twelve calendar months, May to April. Two on-campus experiences at Clemson are planned for each cohort to facilitate research activities. The plans are to admit the first cohort of 15 to 20 students in May 2018.
This innovative structure will keep the program as efficient as possible while also allowing it to thoroughly prepare candidates for careers as educational leaders, according to Edward Jadallah, dean of the Spadoni College of Education and vice president for online education and teaching excellence at Coastal Carolina University. He added that the consortium will encourage knowledge sharing among colleagues and professors, thus strengthening the program as a whole.
"This type of consortium agreement provides a guiding framework for future developments in collaborative graduate education that serves the needs of educators and students throughout South Carolina," Jadallah said. "Coastal Carolina University is proud to be a participant in this new collaborative degree program and excited about all the possibilities of meeting the diverse needs of the varied South Carolina school districts."
Petersen said the leadership, faculty and staff of all partner schools involved have come together to create something truly unique in South Carolina higher education that is poised to make measureable differences in the short and long term in South Carolina schools. He said it springs from the shared desire of everyone involved to transform educational opportunities in the state.
"We believe the establishment of the new doctor of education degree will greatly benefit teachers, principals and superintendents who want to continue their education and improve their communities," Petersen said. "We have accomplished this goal through our innovative spirit and collaborative partnerships."