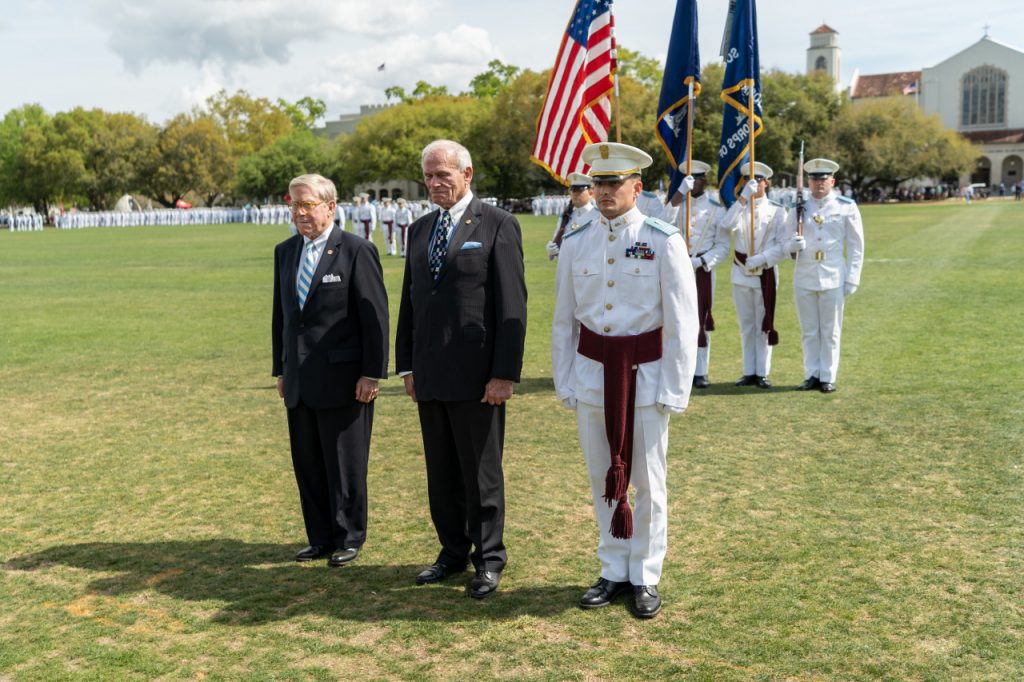 The Palmetto Medal Award, one of the highest awards presented by The Citadel, was given to four people who embody the college's definition of principled leaders during the military review parade during the 2019 Corps Day Weekend.
Logan R Barber
A member of The Citadel Honors Program, Cadet Barber is a gifted student who is majoring in Mechanical Engineering with a minor in Business Administration. In the South Carolina Corps of Cadets, he holds the rank of Echo Company commander, a responsibility he takes to heart. Barber spends hours tutoring, mentoring, advocating for and encouraging freshmen in both Tango and Echo companies, as demonstrated by the improvements earned in company grade point averages.
Described as a natural servant-leader, Barber spends much of his free time helping others. He has provided nearly 1,000 hours of volunteer service, working with numerous nonprofit organizations and most notably the American Red Cross, helping those who have suffered from the effects of natural disasters.
For his compassion, his devotion to service and his commitment to helping others in need, The Citadel Board of Visitors awards Cadet Logan R. Barber the 2019 Palmetto Medal.
Ronald C. Plunkett
Ronald C. Plunkett is a 1964 graduate of The Citadel who has served his country, his community and his alma mater with distinction. After graduating with a Bachelor of Arts degree in Political Science, Plunkett earned a commission in the U.S. Army. From 1964 to 1967, he served on active duty, earning the rank of captain. He then served in the Army Reserves for four years while he went to work in the shipping industry.
Plunkett is a natural leader whose civic engagement spans from his alma mater to his church and the Boy Scouts of America. At The Citadel, he served on the School of Humanities and Social Sciences Advisory Board and spearheaded the display presentation of the Commandant's Department, which includes curating the biographies of alumni flag officers, commandants and Greater Issues speakers. He is a generous supporter of the college and has freely given of his time and his talents.
In recognition of his long-lasting accomplishments and his devotion to his alma mater, The Citadel Board of Visitors is pleased to present Mr. Ronald C. Plunkett with the 2019 Palmetto Medal.
James Harrison Whetstone
While a cadet, James Harrison Whetstone was a Gold Star student and a member of the Summerall Guards, the elite precision drill platoon. Following his graduation in 1960 with a degree in political science, he began a career in the textile industry, eventually becoming the corporate director overseeing the global operations of Unifi Inc., the largest producer of textile yarns in the U. S. and one of the largest international companies of this type. As a senior leader there, Whetstone sought opportunities to mentor and help develop junior colleagues.
After retiring, Whetstone returned to Charleston, joining forces with his alma mater to expand mentorship opportunities for cadets of all majors and career goals. Out of his commitment grew a new initiative, the Cadet Corps Leaders Mentor Program, a mentorship program open to cadets serving in key leadership positions throughout the Corps. Assembling a diverse group of leaders from the military, civilian, government and private sectors,Whetstone built a thriving program benefitting hundreds of cadets.
For his dedication to his alma mater and his noble ambition to mentor the next generation of principled leaders, The Citadel Board of Visitors is awards James H. Whetstone the 2019 Palmetto Medal.
Sarah J. Zorn
Cadet Colonel Sarah J. Zorn earned her rank in the Corps of Cadets through hard work, determination and a spirit of selflessness that graces her every action. As the 2019 regimental commander, she has embodied principled leadership and embraced opportunities to foster excellence in the Corps.
Zorn arrived in August 2015 as a cadet recruit with an Army scholarship and a drive to excel, and she concludes her four-year tenure as the highest-ranking cadet at The Citadel with a long list of accomplishments, including a record of civic engagement and outreach. An ambassador representing both The Citadel and the U.S. Army, Zorn spent the summer of 2018 at the Supreme Allied Headquarters in Mons, Belgium, working with other representatives from NATO countries.
In the wake of her cadet leadership, Zorn leaves a legacy of generosity, commitment and moral courage that will continue to inspire cadets for years to come. For her indomitable strength and her service to the South Carolina Corps of Cadets, The Citadel Board of Visitors awards Cadet Col. Sarah J. Zorn the Palmetto Medal.