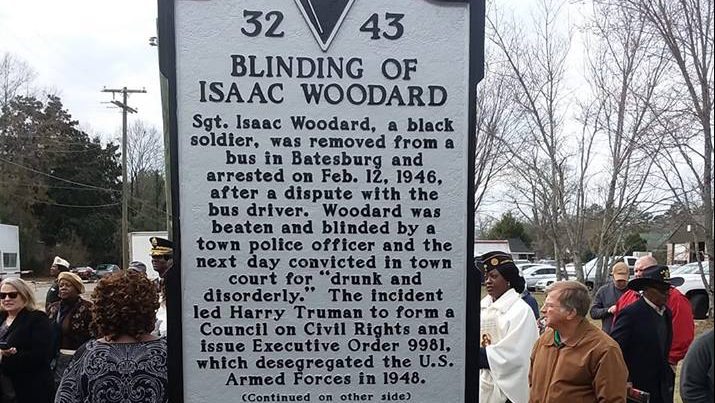 The citizens of Batesburg, SC attempted to right a 73 year old wrong on February 9 in their town with an apology commemorating a tragic event. It was there on February 12, 1946 that the town earned an infamous place in history that is largely forgotten today- the beating and blinding of Isaac Woodward.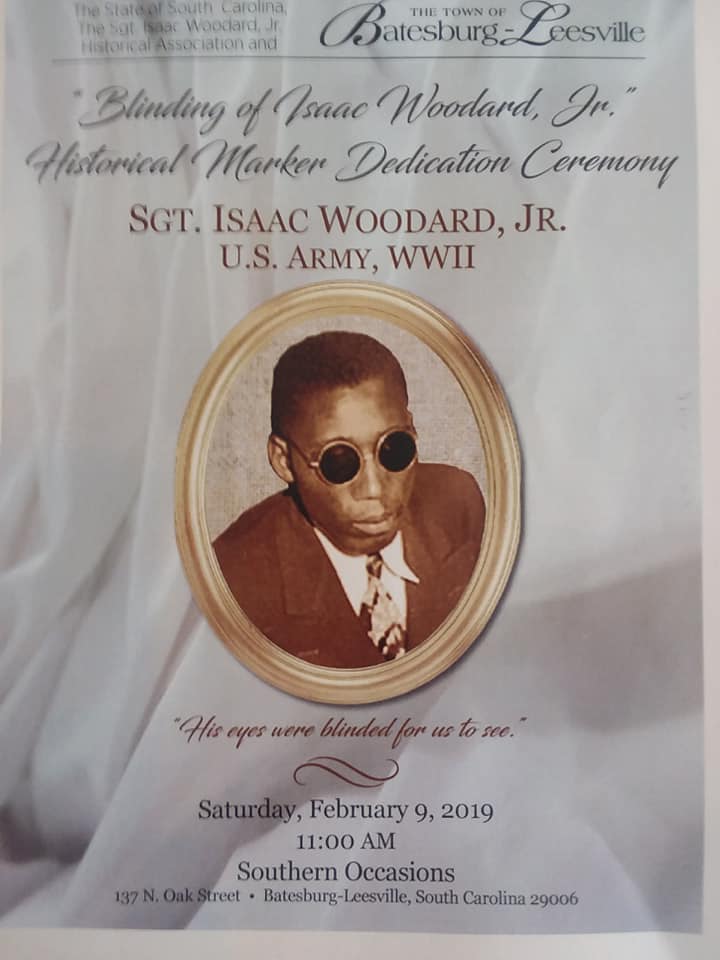 Isaac Woodward was a black soldier who was returning from World War II oon a bus from Augusta, Georgia to see his wife in Winnsboro, SC. Along the way, he asked the bus driver, Alton Blackwell, to use the bathroom. Blackwell's initial refusal led to a profane argument between the two men. When the bus stopped in Batesburg, SC, Blackwell left the bus and called the police, who came to the bus to arrest Woordard for alleged drunkenness and disorderly conduct.
Corine Johnson, who is now 92 years old and present at Saturday's ceremony, recalled what she witnessed. She was a ticket taker at the "Colored" entrance at the local movie theater, and said, "I saw more than one policeman beating him. The bus driver had done called the town. They got him (Woodard) off the bus and that's when they was hitting him and taking him to jail. I had run myself. I had to get back to the ticket booth because I still left money in the drawer. I ain't never going to forget that."
Batesburg Police Chief Lynwood Shull later beat Woodward in jail in his face until his eyes were damaged for life. After recovering in a Veteran's Hospital in Columbia, the late former Chronicle columnist John McCray was contacted and interviewed Woodard. This led to the NAACP investigating the case to bring it to trial. Walter White of the NAACP told President Harry Truman about the case in September 1946, Truman replied, "My God! I had no idea it was as terrible as that. We've got to do something!"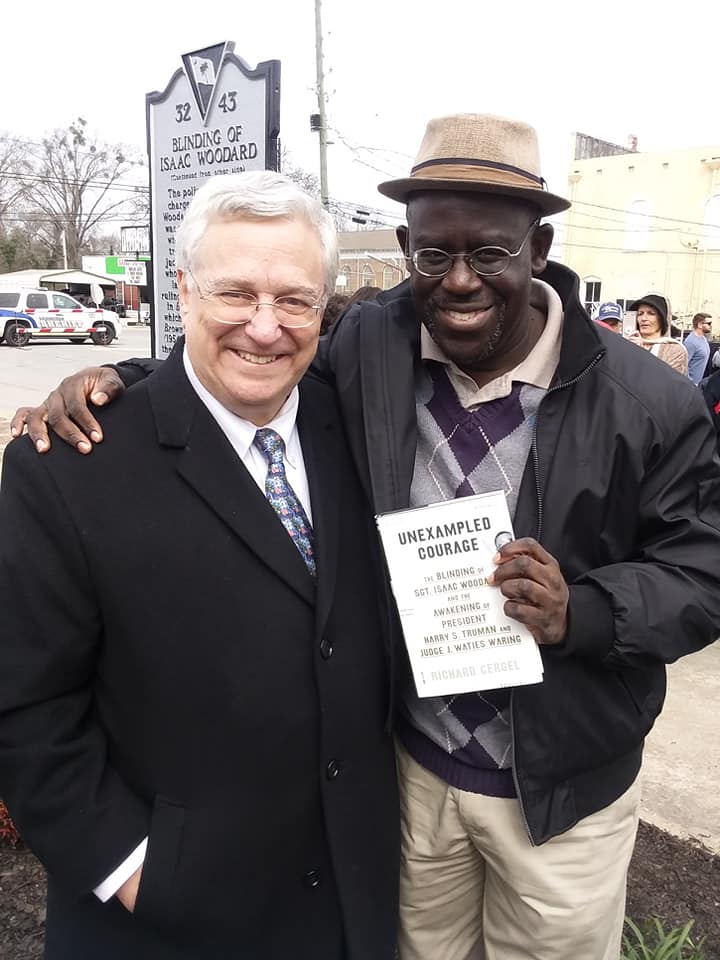 The case was tried in Columbia by Charleston Judge J. Waties Waring. True to the times, the all white jury freed Chief Shull and the courtroom cheered. Judge Waring and his wife Elizabeth were so disgusted and shaken by what they saw, that this led to them to be advocates for black Civil Rights in South Carolina, climaxing in his ruling in Briggs vs. Elliot in favor of school desegregation. This earned Waring the hatred of much of the white community, and respect of the blacks. Boxer Joe Louis and the NAACP held fundraisers for Woodard, which led him to buy a new home in The Bronx, New York, where he rented apartments and lived until his death in 1992. This case was also a major factor in Truman's desegregation of the armed forces in 1948.
Before a marker was unveiled commemorating Woodard, his nephew Robert Young explained that his uncle made the best of a bad situation. "They said in the book that I was his caretaker. My uncle was his own caretaker. He scrubbed his kitchen and bathroom floors on his hands and knees. He also boiled eggs for himself. The only thing I did for him was his banking, collecting rent from his tenants, shopping, and paying his bills. Sergeant Woodard was more than just my uncle, he was my best friend and my hero."
Charleston Judge Richard Gergel recently wrote Unexampled Courage, a biography of Woodward, and arranged with town officials in Batesburg, to conduct this ceremony. Prior to the unveiling of the marker, current Batesburg-Leesville Mayor Lancer Shull apologized to the Woodward family members, and an inscription on a program for the event captured the essence of the occasion.
His eyes were blinded for us to see.