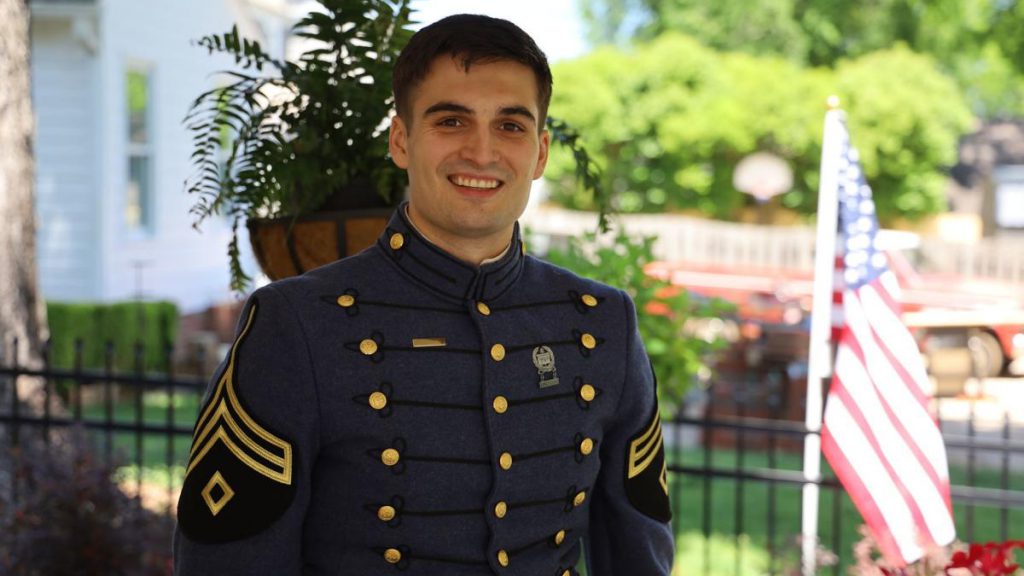 Photo: Jack Crosswhite wears his Citadel uniform for the last time
Jack Crosswhite didn't get to walk across the stage in front of his classmates and a contingent of family and friends nor did he experience tossing his hat in the air when the ceremony ended.
His experience was like that of every college senior who saw their achievement recognized in a virtual ceremony.
For Crosswhite, the traditions of graduation go beyond getting a diploma and tossing a hat in the air. For the first time in 175 years, Crosswhite and his fellow cadets at The Citadel weren't able to celebrate their graduation with the turning of their rings, at least in person, nor were they able to walk in the Long Gray Line parade.
"It was definitely different," Crosswhite said. "For four years I've been looking forward to being with my brothers at the Citadel. "It is the most important day in your college career."
Instead of graduating on the campus of The Citadel in Charleston, South Carolina, Crosswhite was sworn in and received his commission as a second lieutenant in the Army in his father, Joe's, backyard. He was surrounded by as many family and friends as could be accommodated with social distancing in mind.
"It wasn't perfect, but it was the best it could be," he said.
The setting may not have been what he dreamed about when he entered The Citadel four years ago, but Crosswhite said the virtual ceremony was just as emotional as he anticipated. "I was emotional and I was tearing up," he said.
Crosswhite said attending The Citadel was something he set his sights on in the seventh grade. He visited the school when he was "a wee little lad" but wasn't impressed. "I hated that school," he said.
A few years later, as a seventh-grader and with encouragement from local attorney and Citadel alumni Jason Ralston, he took a second look. "I got to see the cadets in uniform and I was pretty much in love with the school from then on. It was 175 years of history." Crosswhite said.
He said he decided early on that he wanted to go to a military school and forge a career in the armed forces. Serving his country, he said, is a family tradition. His grandfather, Bill Crosswhite, was a veteran as is his father, Joe, and uncle, Billy Ford.
By the time it came to apply for college, Crosswhite said, his heart was set on The Citadel. "It was the only school I applied to," he said.
After nearly four years, he was excited about taking part in all of the military traditions that come with a Citadel graduation. But it was not to be. He and his classmates left campus in March for spring break, looking forward to the break but coming back to finish their last year. The coronavirus pandemic was a part of the discussion but not one they believed would interfere with the remainder of their college days.
"When I left for spring break I had the intention of coming back," he said. "We were talking about it in the mess hall and we were sure we would be back. We never went back. That was weird that I didn't get to look around one final time as a cadet and appreciate it."
He said The Citadel did a great job organizing the virtual commencement.
Ralston said the commencement was as ceremonial as it could have been under the circumstances. "Jack was in his full dress uniform and he looked sharp," he said. "It was the best it could be without being there."
Crosswhite was surrounded by his parents, Joe Crosswhite and Stacey Crosswhite and by family and friends, including Ralston.
His first salute as an officer was delivered to his uncle, Billy Ford, who wore his Marine uniform to make sure his nephew didn't miss out on that tradition.
Ralston said the Long Gray Line is a tradition that he took part in and understands the significance of walking in one single line with classmates. But there are plans to do the parade for the class of 2020 in the fall, he said.
Crosswhite said he plans to be back at The Citadel for the parade if possible but many of his classmates will not be able to go back due to military commitments.
Crosswhite doesn't have to report for his duty station, Fort Sill, Oklahoma until January.
He said he's proud to be a graduate of The Citadel and a member of the U.S. Army. But, he said, he knows he didn't do it alone. "I want to thank everybody along the way. I wouldn't have been able to do it if not for them," he said. "I am so honored I was given the opportunity to do that."
Crosswhite said he had one message when he saluted his father after the commencement. "I've got big shoes to fill with my dad, big shoes. I told him I hope I do you proud. I will do my best to live up to the name."