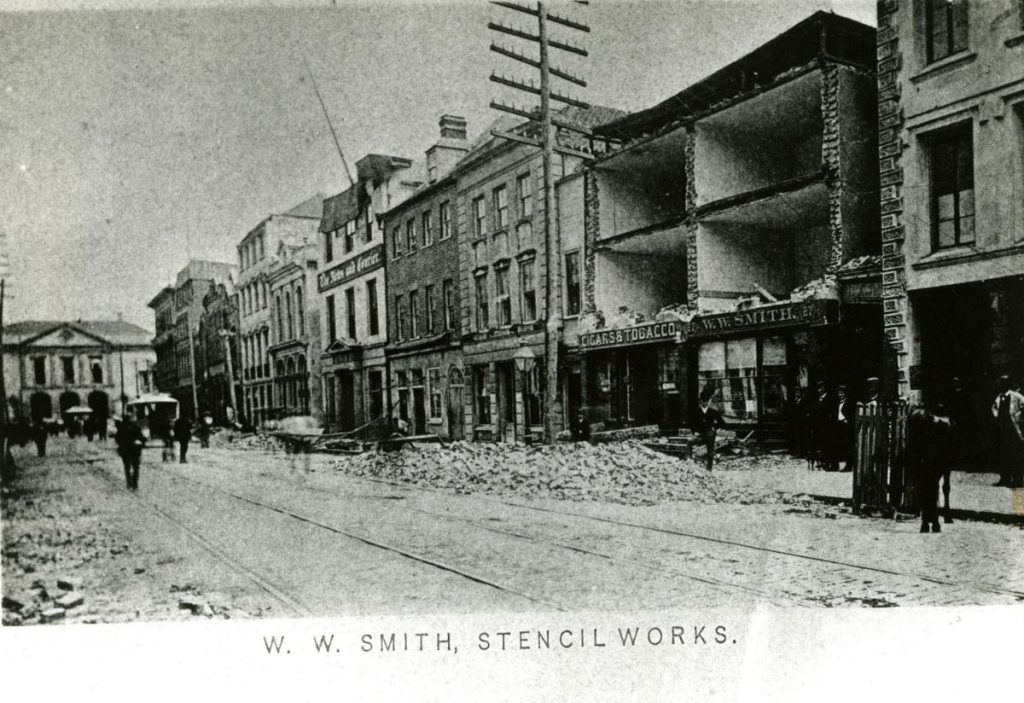 As seen in The Post and Courier, by Chloe Johnson
Rising seas have the potential to inundate homes and close roads, and new research shows they also could make it more likely that solid ground will liquefy during a major earthquake.
Charleston's peninsula already is vulnerable to this phenomenon, known as liquefaction. Dozens of city blocks were created by filling edges of the peninsula, and downtown has relatively loose soils and a high water table.
The region also is a hotspot for earthquakes, with a fault line along the Ashley River that leads to frequent minor tremors and occasional major ones.
Geological history has shown that major quakes happen about once every few hundred years. The 1886 earthquake, the worst ever recorded in the Southeast, seriously damaged nine out of every 10 brick buildings in Charleston and killed more than 100 people.
While it's unclear when the next big quake will hit; the water table looms as a growing concern as the earth warms and seas rise. Previous studies have found the relative depth of groundwater rises along with the sea.
Building off that past work, Citadel researcher Simon Ghanat projected how extensive liquefaction could get in Charleston during an earthquake.
Already, the peninsula's existing conditions would lead to severe liquefaction effects along the Cooper River in the case of a moderate quake that registers a 5.7 on the Richter scale, Ghanat said.
But by 2100, if seas rise 5 feet from their current levels, those severe impacts would be felt on the opposite side of the peninsula, too, particularly along the Ashley River. This area includes the emerging WestEdge development, just south of The Citadel's campus.
"We have these high rises, and they're sitting on liquefiable soil," Ghanat said.
In a 6.9 magnitude quake — the low end of what scientists estimate were reached during the 1886 quake — almost all of the Charleston peninsula would be subject to severe ground liquefaction, save a central spine of the city around Meeting and King streets.
Under the sea level rise scenario in 2100, that central spine could shrink into just a few pockets of land.
Soil liquefaction serves to topple poorly secured structures, bridges and roads. It also wreaks havoc on important underground infrastructure. After a severe 1989 temblor in the San Francisco area, underground septic tanks "all started popping out of the ground," Ghanat said.
Ghanat gave a demonstration of the effect Tuesday as he presented his work to a conference. As he shook a bin of wet sand with a cylinder in the middle — an example of a large building — the cylinder easily fell over and water pooled on the surface. Several members of the audience compared the cylinder to the round Holiday Inn in West Ashley.
Crucially, Ghanat pointed out that much of the area's important infrastructure, including the city's medical district and the region's port terminals, sit on artificially filled land that is the most vulnerable. Much of that land on the peninsula was filled after the 1886 earthquake.
Recent infrastructure like the Ravenel Bridge has been built to high seismic standards, he said, but they're embedded in poor soils that could easily liquefy. The bridge also might prove useless if its approach ramps are destroyed.
The best preparations include retrofitting existing buildings and infrastructure to a higher seismic standard, and using deeper pilings for new building in vulnerable areas, he said.
Another option is compacting soil to make it less likely to turn into a fluid, but that comes with a trade off. Such land would be less able to absorb water in a flood event.
"I know it hasn't happened since 1886, but what if it happens tomorrow?" he asked. "Are we ready for it?"