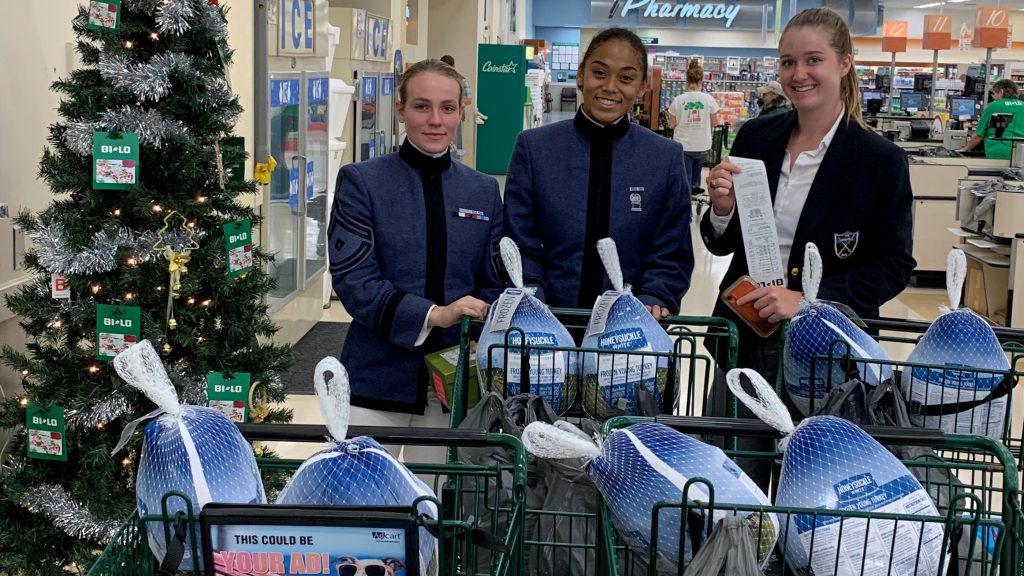 The Citadel track and field and cross country teams took part in their annual holiday food drive earlier this week to support needy families in the Charleston area.
The track and field and cross country teams began participating in the food drive in 1998 when assistant coach Kris Kut was a junior at The Citadel. The goal then was to help feed four local families and over the years the drive has grown tremendously. The team donated enough food to help over 30 different families this year.
Isaiah Beals-Kennedy and Kane Duncan helping with the food drive

Samantha Engel & Assistant Coach Kris Kut shopping for the food drive
"It is an eye opening experience for the cadet-athletes to realize that just a few miles down the road, we have countless families that are struggling and they can appreciate our blessings," said Kut. "The cadets are rewarded knowing that they made a difference to families that live right here in Charleston."
Each year, before Thanksgiving Day, the track and cross country teams split into groups based on academic class level for a friendly competition to see who can raise enough money to buy the most food and most turkeys to donate so underprivileged families can enjoy a big Thanksgiving dinner. The cadet-student-athletes gathered canned and non-perishable food items throughout the fall from their classmates, friends and family, and take any donated money to purchase discounted turkeys at local grocery stores. They then separated the canned goods and packed up 30 bags to go to each family.
Samantha Engel, Jessy Page, Maya Dollard

Jacquary Bradford

Samantha Engel
This year, the teams donated 30 turkeys as well as macaroni, corn bread, potatoes, stuffing, green beans, corn, yams, and other various Thanksgiving Day items to the East Cooper Community Outreach. When the food was delivered, ECCO announced that they had donated 977 pounds of food.