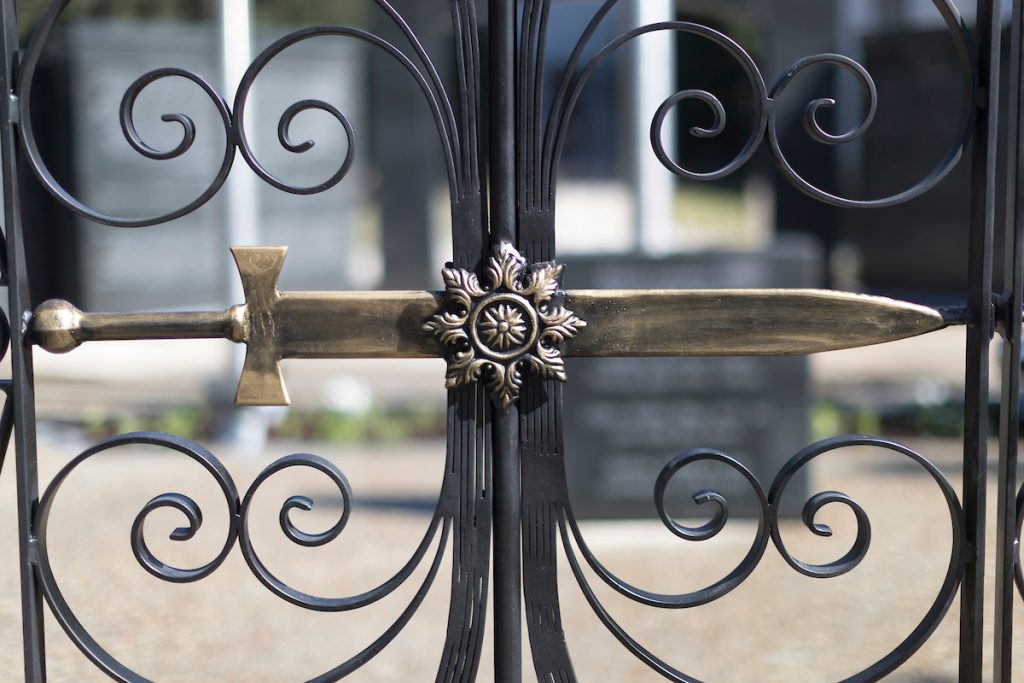 "When country calls, The Citadel answers," John Warley, Citadel Class of '67
Members of The Citadel Class of 1967 along with other college leaders and dignitaries, will dedicate The Citadel War Memorial at a ceremony at 2 p.m. on Friday, Oct. 27. The memorial honors Citadel alumni who made the ultimate sacrifice for their country. It is the vision of the class of '67 which celebrates its 50th reunion beginning on the same day that Homecoming Weekend gets underway.citadel war memorial
"We wanted to etch in stone for eternity the names of our graduates who have been killed in service to our country," said Lt. Gen. W. Michael Steele, U.S. Army (Retired), former chairman of The Citadel Board of Visitors and member of the Class of '67. "Our class lost 10 people in the Vietnam War."
The memorial, funded through a five-year campaign managed by The Citadel Foundation, is located on campus between Summerall Chapel and Mark Clark Hall in front of the Thomas D. Howie Memorial Bell Tower and Columbarium. When the black granite memorial is unveiled, it will reveal the names of alumni killed in action in conflicts dating back to the Mexican-American War. The inscribed names will represent the sacrifice of cadets and alumni from four branches of military service. Army casualties were highest at 537, followed by 89 Air Force members, 46 Marines, 34 sailors or Naval aviators, 17 who were still enrolled as cadets, and 5 sacrificed while serving with allied countries.
On a tablet in the center of the memorial are the words:
When country calls, The Citadel answers. The brave warriors immortalized here honor all who went before and who follow. Duty done, they rest, so we may live free. Speak softly in the company of heroes.
Those words were written by Class of '67 author John Warley. Warley wrote a narrative about alumni lost in battle called The Citadel at War which will be displayed on the panels. It begins with the following words:
We, The Citadel's alumni, welcome you to our war memorial. We wish to share an essential part of the school's story through the lives and premature deaths of those brave warriors whose names are etched into the walls behind you.
Other features include benches for resting and reflection, and U.S., South Carolina, and Citadel flags. The memorial was designed by Citadel resident architect, John Gardner, a Vietnam veteran who was awarded the Army Commendation Medal and the Bronze Star Medal. Prior to the construction of the new memorial, the names of Citadel alumni killed in action were displayed on plaques affixed to the front of Summerall Chapel.
"Hundreds of Citadel alumni have sacrificed their lives to protect the freedoms we all cherish," said President Lt. Gen. John W. Rosa. "The Citadel has long needed a place to honor the memory of its heroes who made the ultimate sacrifice for their country. The Citadel War Memorial will be that place of honor, and a poignant reminder of the cost of freedom."
The ceremony will include remarks from Joseph J. Keenan (Class of 1967), Col. Fred Price Jr., chair of The Citadel Board of Visitors (Class of 1975), and Citadel President Lt. Gen. John W. Rosa (Class of 1973). The guest speaker will be The Citadel's Commandant of Cadets Capt. Eugene F. Paluso (Class of 1989). There will also be a special performance by Mitchell Lee Wetherington (Class of 2010) and The Citadel Chamber Choir.