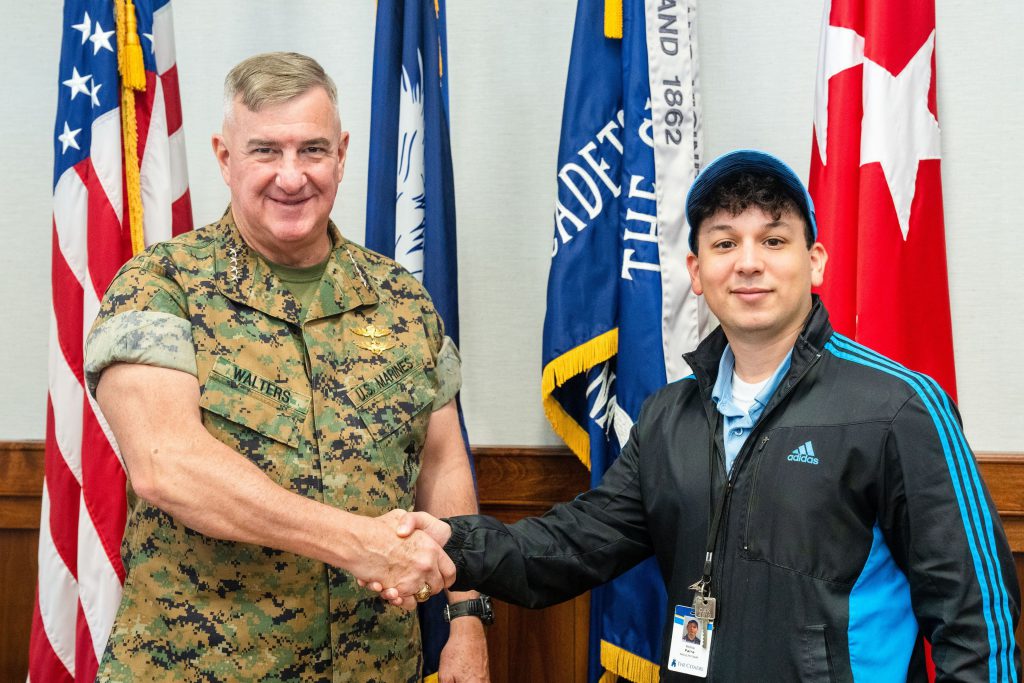 Photo: The Citadel President Gen. Glenn Walters, USMC (Ret.), '79 with Rifle team coach Richie Parra.
The Citadel rifle team finished out their season on a high note, bringing two wins home at the Southern Conference, or SoCon, Rifle Championships. The team captured a first place win in the air rifle championship. In overall standings — with their air rifle win secured — The Citadel took second place overall in the SoCon championship.
"Winning this year meant a great deal to the team. We kind of underperformed the first day, but the next day we came in with a clear mind and a level head on our shoulders, and the team pulled through," said Richie Parra, '17, head coach of The Citadel rifle team. "We upset both of the other teams in air rifle — who were leading all year — and it was a great accomplishment for the team. It shows that the mental aspect of this game really is what makes the difference between a good shooter and a great shooter."
Cadet Cameron Bates, a senior and the team captain, said the team handled the competition well by letting the stress roll off them.
"Rifle is 80% mental and 20% skill — a lot of it comes down to mental capabilities and how you manage the stress. I try to tell everyone on the team to go in there and shoot your average, because that's all you can do, and to have fun. That's a big aspect of the sport that can be overlooked – just going in there to have fun doing something you enjoy with your teammates and friends," said Bates.
Cadet Carson Wood, credits their achievements to not only the talents of the rifle team, but also the camaraderie they all share.
"Our team is unique because of our bond with each other. We all have our different struggles on the line, and everyone on the team has some sort of experience in that struggle and is willing to help you. And if they can't, they still have the courage and empathy to show the support that the team looks for. To be part of something like that, it truly means a lot to me and I know it means a lot to every one of my teammates," Wood stated.
Their wins didn't stop on the line — Parra was named the SoCon Coach of the Year for his efforts on the range this season. Parra, who is a member of the Class of 2017, joined the coaching staff after graduating and was named head coach a year later. He has been building the team up to victory since. While at The Citadel, Parra was a four-year member of the mixed rifle team. When it came to talking about this achievement, Parra explained that this wouldn't have happened without the support of his team.
"Honestly, I'm humbled. It's been a great year. When I first started, fresh out of graduating from here, the other coach welcomed me and it was a bit of a learning curve but now, being recognized as coach of the year, is a wonderful feeling. It was also my first time hosting the SoCon Conference and having all the teams together," said Parra. "But all the accolades, the achievements, it's due to the team. They put it together, I just gave them the resources and opportunity to do so."
As a former cadet, Parra brings a better understanding to cadet-athletes. His team says he's able to not only talk from a coaching perspective, but also from a cadet perspective, and is able to talk to them when they are struggling.
"He's always there for us. Like if you're having a bad day, or a bad week, especially as a freshman going through the fourth-class system, he's there to support you. Maybe it's his Psychology major, but he's personable and able to see all sides — academic, athletic and cadet lives," said Bates.
Parra winning SoCon Coach of the Year came as no surprise to Cadet James Hart.
"We see, firsthand, his interactions with our team and others. Especially when we are hosting the competition, Coach Parra always makes sure that everyone has what they need, regardless of if it's our team or not. Rifle is just one big family, so we all take care of each other and he's great at that," commented Hart. "As a Citadel grad, he knows really well how to help our team out mentally and make sure everyone is prepared during practices and the matches."
While the entire rifle team performed well, Cadet Charlotte Welsh was the top finisher for The Citadel in air rifle. Welsh, a junior from Simpsonville, South Carolina, has been a standout on the team already, being named SoCon Freshman of the Year for the 2020-21 season along with other high rankings. According to her, this competition came down to the wire.
"The way the scoring works in rifle, individual scores for each gun gets combined to make a team score. So, for the SoCon competition, our team score was one point higher than North Georgia — it was just enough to win the air rifle title," Welsh said.
They were also a one point difference in winning runner up for overall SoCon champion, making their wins even more thrilling.
"When we found out the final results, I was ecstatic. We went in knowing we were a strong small bore team, and we showed up the next day for air rifle and said, 'Let's just shoot and have fun and learn from this experience,' and then we ended up winning the air rifle title. We didn't expect it," said Welsh.
At a glance, rifle can look like an individual sport. But after talking to members of the team — it's clear that this is a team sport where they all rely on each other. Each teammate trains and puts in the work so they all trust that they'll be able to go out and do what they need to.
"It takes a team to make a score, and I want people to realize it's easy to go in there and think, 'How can I do better?' But you also have teammates to rely on. Don't focus too much on putting pressure on yourself, remember to lean on them," Bates affirmed.
The Citadel mixed rifle team practices and has local competitions at the Inouye Marksmanship Center — their competitions are free and open to the public. The rifle team's season will start back up in fall of 2023. For detailed results from the SoCon match and more information on The Citadel rifle team, visit Citadel Athletics.