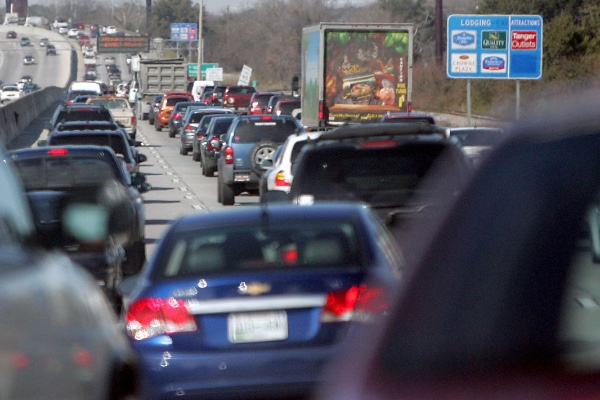 Reboot the Commute, encourages area employers to help reduce region's traffic congestion
Eighteen local businesses with a total workforce of more than 39,000 announced today their commitment to reducing the three-county region's traffic congestion as part of an effort to Reboot the Commute. Reboot the Commute is an employer-led traffic mitigation campaign, spearheaded by the Economic Leadership Council of Charleston Regional Development Alliance (CRDA), that challenges other employers to help reduce regional traffic congestion. It includes an online guide that organizations can use to implement positive changes by encouraging alternative commuting strategies like telecommuting, staggered start times, ride-sharing, and connecting employees to local transit resources like CARTA and LowcountryGO.
Traffic congestion is a critical challenge affecting the quality of life and productivity of our region's
workforce. For decades, investments in transportation infrastructure and affordable housing near job centers haven't kept up with the region's steady population growth. "If we are to create and sustain a community where people and businesses thrive for generations, where we nurture our environment, character and culture – we must invest in infrastructure and housing, and we must remake how we commute," said Anita Zucker, The InterTech Group CEO and Economic Leadership Council Chair.
Addressing traffic congestion is a priority issue for business, academic, and community leaders throughout the three-county region. During the past year, CRDA's Economic Leadership Council has worked with public, private, and academic stakeholders to understand current commuting patterns, alternative strategies for employers and employees, and the benefits – to employers, employees, the environment, and our region's economic competitiveness – of changing greater Charleston's commuting behaviors.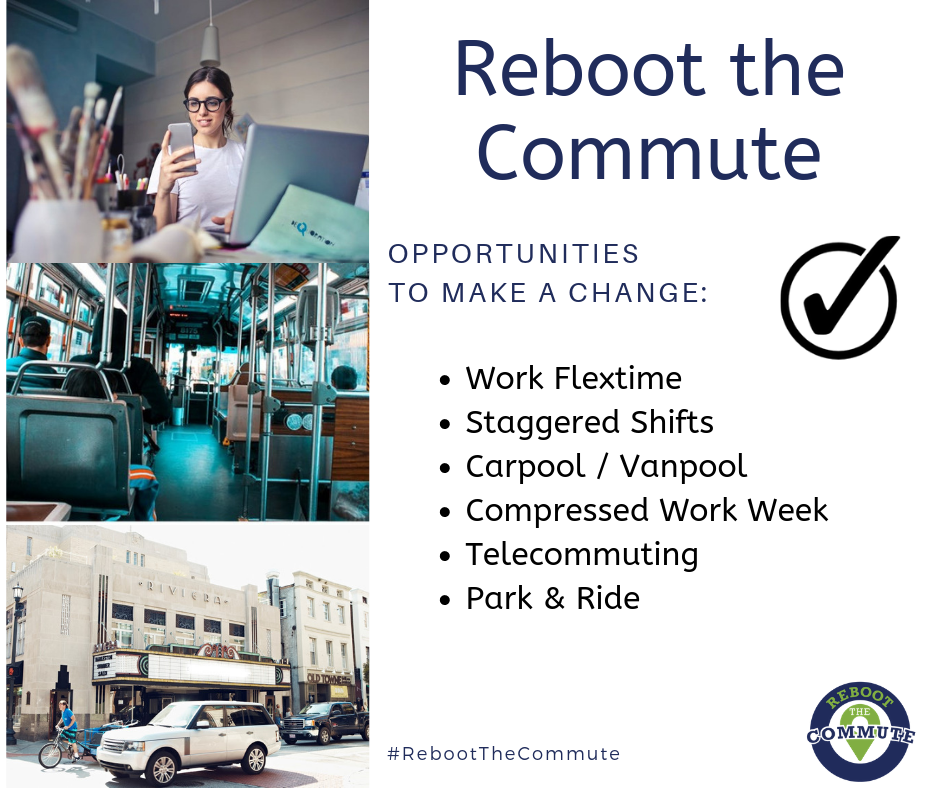 According to the Charleston Center for Business Research, 80% of area commuters drive alone in a car to work. 60% commute between 6 – 8:30 a.m. If just 4 percent of the region's commuters change their behavior during peak times, it could completely clear an entire lane of Interstate-526 for all 19 miles. Each resident can immediately be part of the traffic solution by altering how and when they commute and encouraging others to do the same. Some strategies are not viable for certain companies and occupations – but there are many ways to avoid traveling during the most congested times, and the Reboot the Commute Guide outlines those for businesses and commuters alike.
"My family and I are proud to support Reboot the Commute and the Charleston Regional Development Alliance," said Anita Zucker. "We are thrilled to witness the collaboration of business leaders, government officials, and the Lowcountry's world-class workforce in an effort to generate immediate and measurable results to the traffic congestion challenges we face. It is this combination of creative thinking and outstanding leadership that will continue to position the Charleston region and South Carolina as a premier destination for businesses and families."
The Citadel is among the organizations who have committed to encouraging their employees to Reboot the Commute.
"Compressed summer work weeks, staggered start schedules and increased online classes for evening and graduate students are a few of the things The Citadel does that help reduce traffic during traditional drive times," said Col. John Dorrian, USAF (Ret.) vice president of communications and marketing for The Citadel. "We are happy to stand with the Reboot the Commute partners working to address Charleston's growing traffic congestion."
The full list of Reboot the Commute participants
Benefitfocus
Boeing South Carolina
Booz Allen Hamilton
Charleston Metro Chamber of Commerce
Charleston Regional Development Alliance
Charleston Southern University
Charleston Trident Association of Realtors
The Citadel
College of Charleston
Evening Post Industries
Google South Carolina
The InterTech Group
Kiawah Island Golf Resort
MUSC
Roper St. Francis Healthcare
South Carolina Aquarium
Trident Health
Trident Technical College
"Leaders from Charleston area businesses and institutions large and small should feel empowered to adopt commuting strategies that improve the work experience for their employees and alleviate congestion on our roads," said Melanie Stith, Vice President of Human Resources for Roper St. Francis Healthcare and Chair of the Economic Leadership Council's Reboot the Commute Action Team. Together, if we all do a little bit, we can solve our traffic problems and bring more work/life balance to our lives."
"CRDA is proud of the work our Economic Leadership Council has done to spearhead this effort and create a valuable community resource," said David Ginn, President & CEO, Charleston Regional Development Alliance. "These 18 business and academic organizations are leading through action and their collective impact will be significant for our region. I hope many others will follow their lead."
About Charleston Regional Development Alliance
The Charleston Regional Development Alliance is a professional economic development organization representing Berkeley, Charleston and Dorchester counties in South Carolina. With a large and growing network of business, academic and governmental partners, CRDA directly assists companies with competitive location or expansion projects by connecting them with the right people, the appropriate resources and the most meaningful and relevant information. CRDA promotes the Charleston region's business, academic and lifestyle strengths worldwide to attract the world's best companies, entrepreneurs and professional talent. Ultimately, the goal is to strengthen regional employment, build our base of high-value industries, and significantly improve the economic future for all who live and work in the greater Charleston area.
The Economic Leadership Council of CRDA is comprised of 20 of the region's largest employers. This top-tier, CEO leadership group is committed to a more prosperous, forward-thinking, globally competitive three-county region. Visit CRDA.org for a list of ELC members.
CRDA Media Contact: Claire Gibbons, (843) 760.3351 or cgibbons@crda.org