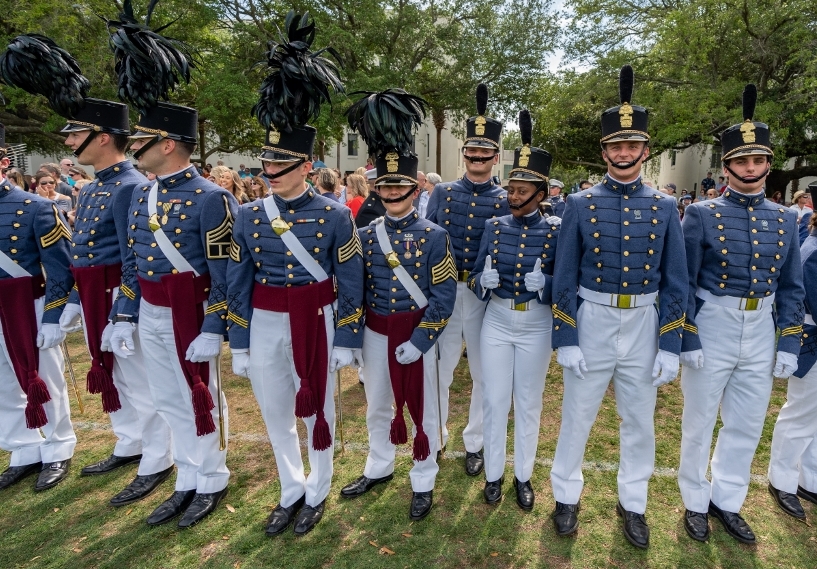 For the ninth consecutive year, The Citadel holds the distinction of being ranked the #1 Top Public School in the South offering up to a master's degree by U.S. News & World Report. The Citadel is ranked #2 overall in the South when private and public institutions are combined.
Additionally, The Citadel earned the ranking of #1 Best College for Veterans in the South for the second consecutive year.
The U.S. News & World Report 2020 Best Colleges rankings were released Sept. 9 by the news outlet; one of the first American publishers to produce a college rankings list based on a complex formula of publicly reported data to help prospective students select colleges.
How we rank
The Citadel's most prominent rankings in the newest 2020 Best Colleges rankings include:
#1 Top Public Schools in the South offering up to a master's degree; #2 (private and public) overall in South
#1 Best Public College for Veterans in the South
#3 Best Value Schools South
#6 Best Undergraduate Teaching in the South
#6 Most Innovative Schools in the South
#21 Best Engineering Programs offering up to a master's degree (nationally)
"The #1 top public college in the South ranking is not to be taken lightly," said Gen. Glenn M. Walters, USMC (Ret.), president of The Citadel. "Based on the methodology used to compile the rankings, the U.S. News & World Report college insights are among the most respected. Earning the #1 position nine times attests to the enduring quality of a degree earned at The Citadel. We are very proud of our faculty, staff, alumni and donors. Their hard work and commitment made these rankings possible."
Value matters
The Citadel moved up to the #3 position on the 2020 Best Value Schools in the South list from #11 in 2019. What does it mean to be ranked among the Best Value Colleges? According to the Best Colleges 2020 website, "These are schools that are above average academically and cost considerably less than many other schools when the financial aid that they dispense, in the form of need-based grants and scholarships, is taken into account."
"Those who select The Citadel for their higher education are investing their faith and their finances in an institution they believe will provide an excellent student outcome for the future graduate," said Sally Selden, Ph.D., SPHR, provost and dean of The Citadel. "The Citadel's mission to educate and develop principled leaders conveys a duty to provide a superior experience and a great value for our cadets and students."
The Citadel School of Engineering moved up to #21 on the 2020 national list from #23 the previous year. The college's engineering program is one of the oldest in America and has been ranked in the top 25 nationally by U.S. News & World Report since 2012.
To learn more about the Best Colleges 2020 rankings methodology click here. To review the Best Colleges for Veterans methodology click here.