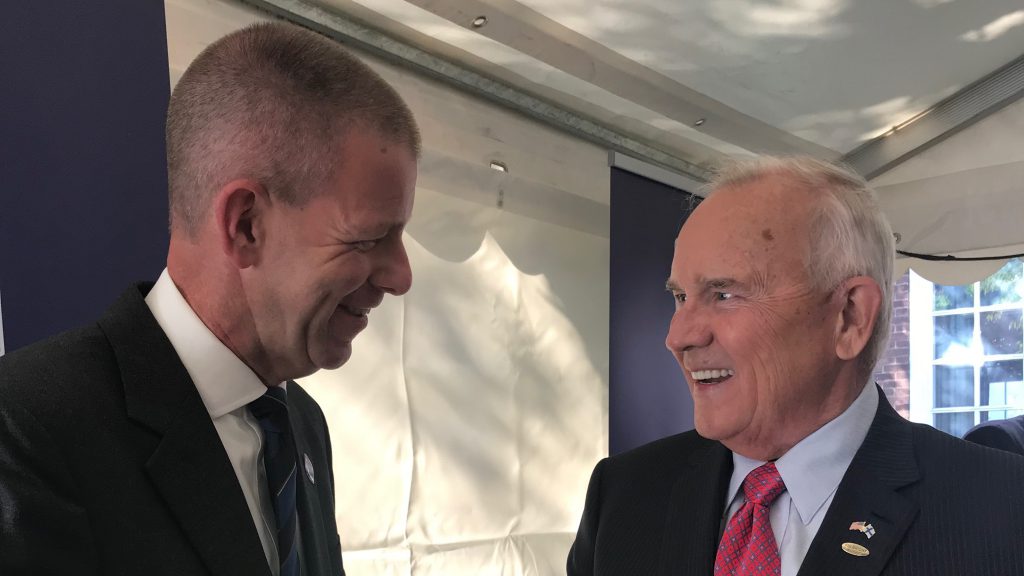 Photo: Scott Buchanan, Ph.D., with Robert Pence, U.S. Ambassador to Finland
Distinguished Chair awards are considered among the most prestigious Fulbright awards available
Professor of political science, Scott Buchanan, Ph.D., is serving as the Fulbright Bicentennial Chair in American Studies at the University of Helsinki for the 2019-2020 academic year. As chair, Buchanan will spend nine months conducting research and lecturing in Helsinki.
The Bicentennial Chair was established in 1976 to enhance the teaching of American history, culture and language at the University of Helsinki. It was the first chair to be established in the Fulbright Distinguished Chairs Program. Today it is one of the most prestigious appointments in the Fulbright Scholar Program.
The Citadel is one of only two colleges in South Carolina to claim a Bicentennial recipient. The University of South Carolina has sent two professors to fill the position in the past.
In addition to this honor, Buchanan has also been appointed by Gov. Henry McMaster to be a member of the South Carolina American Revolution Sestercentennial Commission. The Governor appoints a total of 4 of the 12 appointed Commission members.
The group was created to plan and execute South Carolina's observance of the 250th anniversary of The United States of America's establishment. That will occur in 2026.