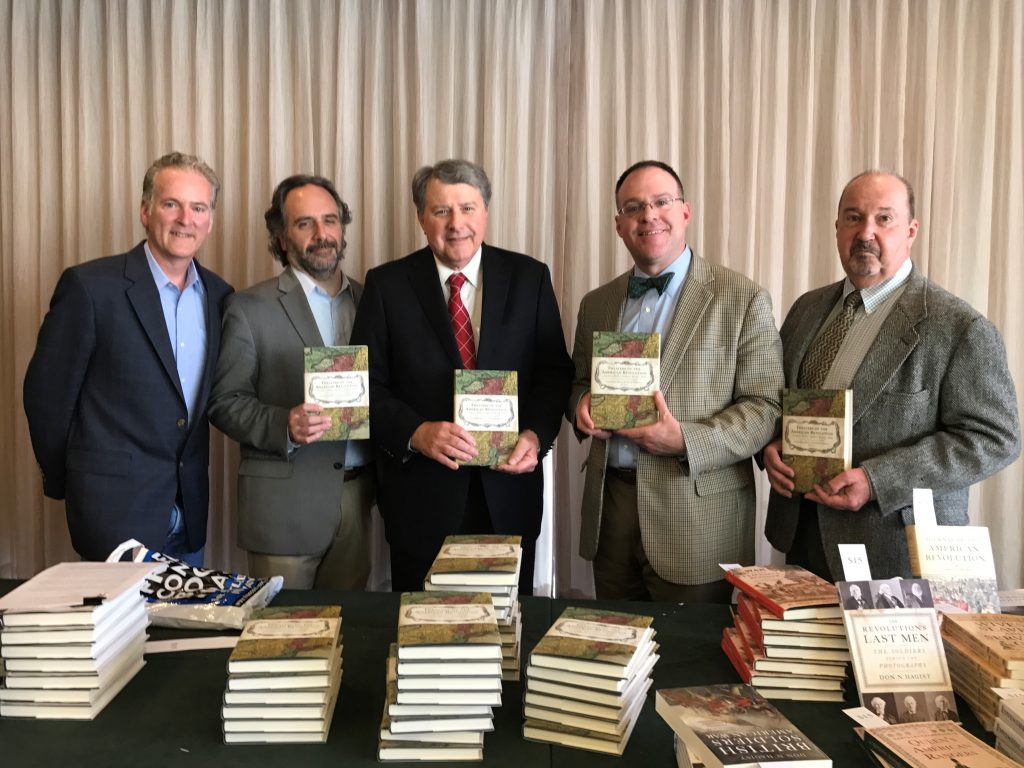 Photo: Bruce Franklin, Edward Lengel, James Kirby Martin, David Preston and Mark Edward Lender launching the book at a conference in Williamsburg, Va.
David Preston, Ph.D., an award-winning author and professor of history at The Citadel, can now add a third acclaimed book to his bibliography. Preston recently released his latest work, "Theaters of the American Revolution," a collaborative collection of essays written by a team of highly distinguished historians of the Revolutionary War.
According to Preston, The Citadel played a vital role in how the book came to be published. The college welcomed Professor James Kirby Martin for the spring 2016 semester as the General Mark Clark Distinguished Visiting Chair of History. Within the academic community, Martin is widely considered one of the greatest living historians of the American Revolution, having authored classic works such as "A Respectable Army" and "Benedict Arnold: Revolutionary Hero." During his time at The Citadel, Martin shared with cadets and graduate students his lifetime of historical study.
"It was one of the highlights of my professional career to work with Jim Martin and so many talented scholars," said Preston. "The Citadel can be proud that an eminent scholar like Jim Martin was in residence here as our General Mark Clark Chair, making such outstanding contributions to the history department and the education of cadets."
During Martin's residence, he and Preston began discussing the need for a new approach to the military history of the Revolutionary War—one that examines the dynamics of the regional theaters of the conflict, rather than focusing on specific battles. The catalyst for this new approach was The Citadel's Revolutionary War Symposium held last spring that brought together historians who explored the regional theaters of the American Revolution. It was during the event that Martin and Preston agreed to co-edit a volume of essays written by symposium panelists. Book contributors include Edward Lengel, chief historian of the White House Historical Association; Charles Neimeyer, Ph.D., director and chief of Marine Corps history at Marine Corps University; Emeritus Professor Mark Edward Lender of Kean University; and Jim Piecuch, Ph.D., history professor at Kennesaw State University.
"Six award-winning historians look at the America Revolution from a theater perspective rather than by individual campaigns or battles," said Bruce M. Venter, in an editorial review of the book. "This is a unique approach, and the result is an important, readable, and groundbreaking volume."
Preston is currently the Westvaco Professor of National Security Studies at The Citadel. His previous works include "The Texture of Contact" and "Braddock's Defeat." He has won numerous awards for his work such as the Gilder-Lehrman Prize in Military History, the George Washington Book Prize, and the PROSE Award in U.S. History.
"Theaters of the American Revolution" is now available for purchase online through Westholme Publishing.