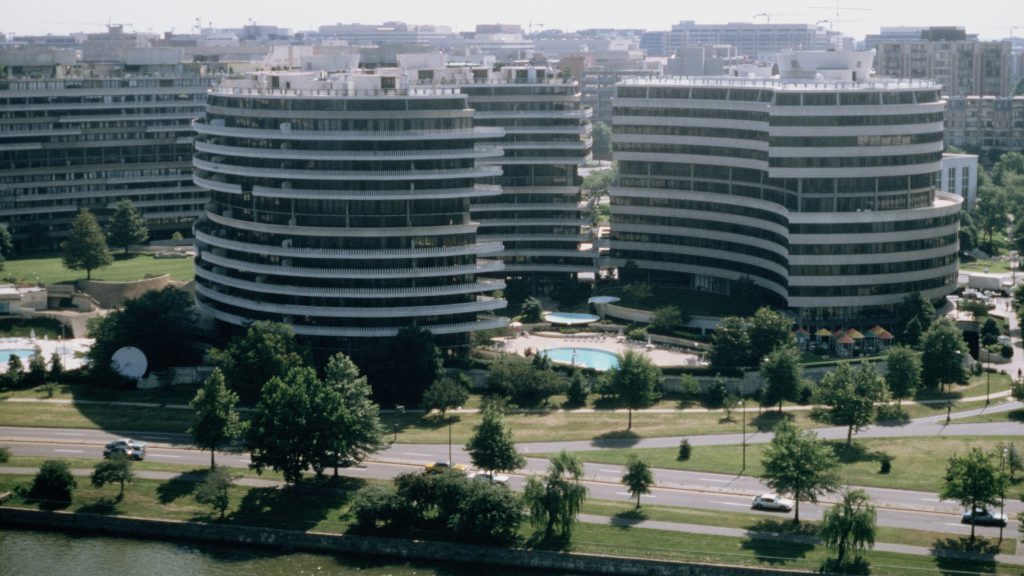 Photo: The Watergate Hotel complex in 1985 (Courtesy: National Archives)
The 50th anniversary of the Watergate break in, one of the most well-known political scandals in American history, will be on Friday, June 17.
The week before that, Melissa Graves, Ph.D., from The Citadel's Department of Intelligence and Security Studies, and Shane O'Sullivan, Ph.D., from Kingston School of Art in London, will convene a free, two-day virtual conference to reflect on the lasting impact Watergate had on American politics and culture.
The conference will be held on Thursday, June 9, and Friday, June 10, beginning at 10 a.m. on both days.
Much of Graves's research is focused on Watergate, including a book on the FBI's response. In Feb. 2020, she organized a historic panel, which reunited the FBI's lead investigators for Watergate for the first time since the scandal.
"Watergate is a great example showing the importance and expertise of the intelligence community," said Graves. "Though many Americans — and people around the world, for that matter — know of Watergate, fewer know about the fascinating stories of the case's investigators. Through this conference, we will bring together experts who will explain the myths, the investigation, the results and much more."
Five decades after it happened, and despite the amount written about the scandal, many mysteries from the case remain. The conference, titled "The Watergate Break-in: 50 Years Later," will allow experts to explore some of those questions.
The surviving investigators and prosecutors still can't understand why the burglars entered DNC headquarters in the early morning hours of June 17, 1972; or how the experienced intelligence operatives in the break-in team made such elementary mistakes, resulting in their arrests and President Nixon's resignation two years later.

from "The Watergate Break-in: 50 Years Later" conference website
Speakers at the conference will include historians, academics, as well as Watergate prosecutors and investigators. The full program can be found here.
The Citadel's Department of Intelligence and Security Studies is one of the largest and fastest-growing on campus, offering degrees to cadet and non-cadet undergraduates, as well as graduate students.