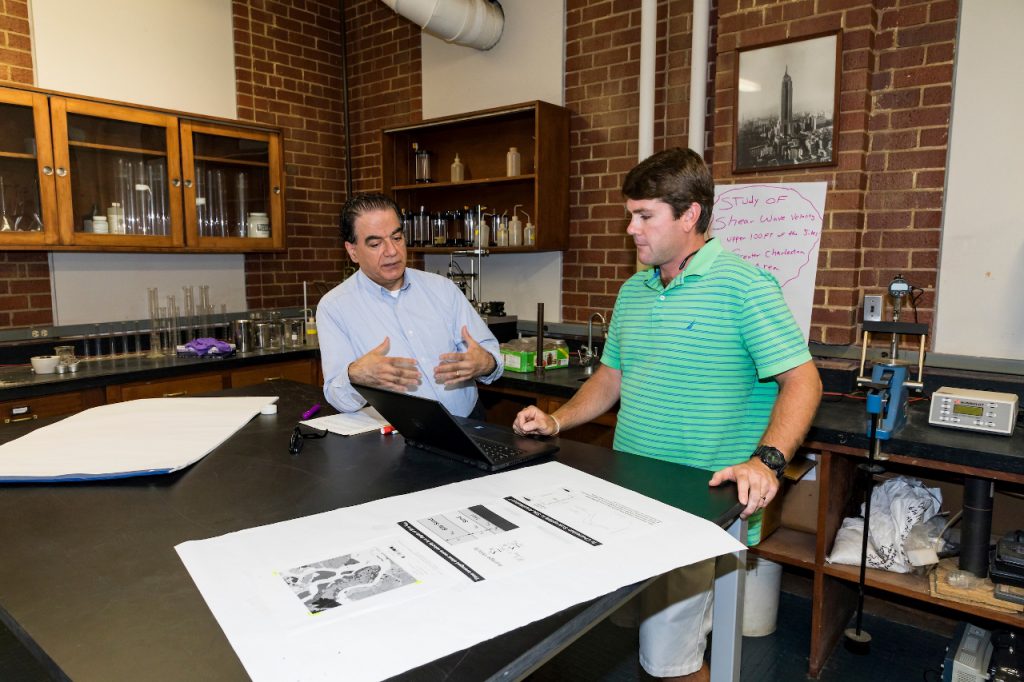 (Photo above: Prof. Simon Ghanat teaching in civil and environmental engineering lab at The Citadel)
The state's Civil Engineer of the Year, as named by the American Society of Civil Engineers (ASCE) South Carolina Section, is Simon T. Ghanat, Ph.D., P.E., a professor in The Citadel School of Engineering.
The award was formally announced at the South Carolina ASCE conference this month. The award letter states:
"As current President of the South Carolina Section of the American Society of Civil Engineers, I would like to extend my congratulations to you on behalf of the Section Board for being awarded the 2019 SC Civil Engineer of the Year for demonstrating outstanding contribution to the profession in South Carolina." Shane Smith, P.E.
Ghanat received his Ph.D., M.S., and B.S. degrees in Civil and Environmental Engineering from Arizona State University. His research interests are in engineering education, seismic site response studies, engineering characteristics of strong ground motions, and probabilistic seismic hazard analyses. Among his research awards is a $765,887 grant he earned in conjunction with Citadel civil engineering colleague and co-principal investigator, Jeff Davis, Ph.D., P.E., to study coastal flood resiliency.
"My first passion lies with teaching and service to my students," Ghanat said. "It was a special surprise and honor to receive this award and to be recognized by my fellow Civil Engineers in the state of South Carolina."
The mission of the Department of Civil and Environmental Engineering at The Citadel is to provide a nationally recognized student-centered learning environment for the development of principled leaders.