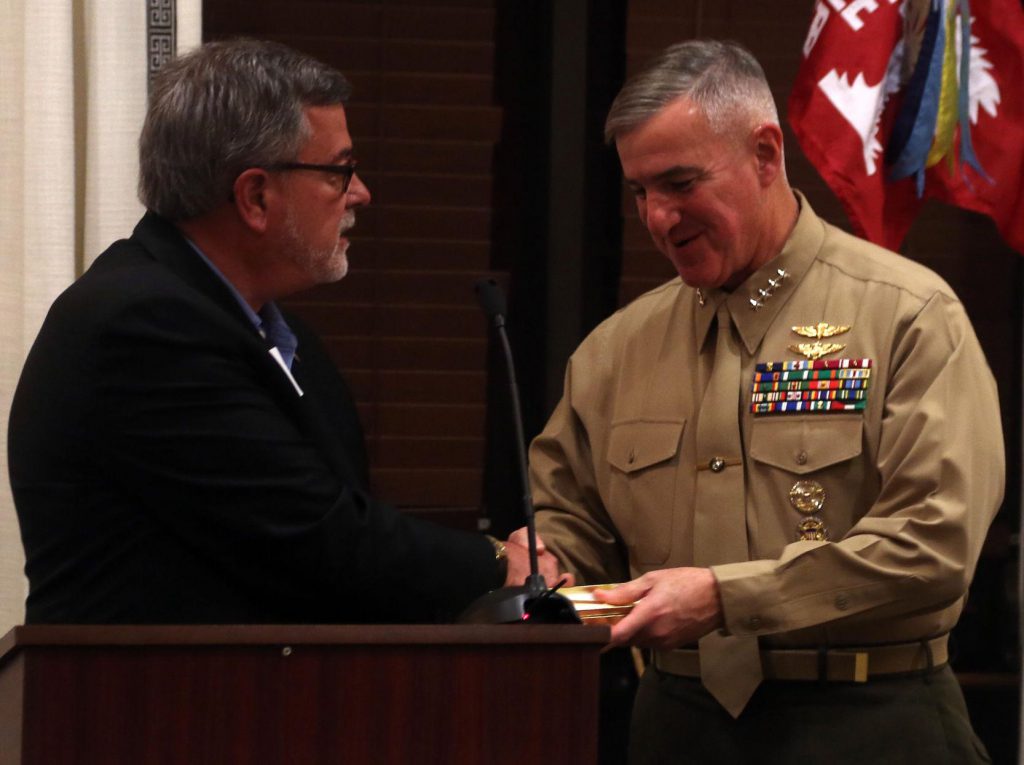 Photo courtesy of SCNow.com, by Matthew Christian. 
Florence Mayor Pro Tempore Buddy Brand presented a key to the city to Gen. Glenn Walters, the president of The Citadel, Tuesday evening.
Walters came to Florence to speak to the Pee Dee Citadel Club at Victor's Tuesday evening.
He said when he met with the Corps, The Citadel student body, recently he was asked about his legacy. Walters said he hoped it would be helping the cadets become happy, healthy, productive members of society.
Walters also said there was a need to get all the students at the school to live in the barracks.
Brand said it was his third time getting to present a key during his 15 years on the council. Brand, an investment banker, represents City Council District 3, which includes the southwestern portion of the city. He is the only Republican on the seven-member city council.
Walters was named the 20th president of The Citadel by its Board of Visitors in April 2018. Prior to being named president of The Citadel, Walters served as the assistant commandant of the U.S. Marine Corps, the second-highest-ranking officer in the Marines.
He has deployed overseas to Korea, the Persian Gulf, and Afghanistan. Walters also served as the first commander of VMX-22, the initial squadron to field the MV-22 Osprey tilt-rotor aircraft, for operational testing. He has served as a test pilot and, according to his biography on The Citadel's website, was instrumental in testing the AH-1W Super Cobra attack helicopter.
Walters attended flight training in Pensacola, Fla., and was designated a naval aviator in 1981 after serving for two years as an infantry officer. He graduated from The Citadel in 1979 with a degree in electrical engineering.
The Citadel, the Military College of South Carolina, was founded in 1842. Cadets at the college are credited with firing the first shots of the Civil War upon Union soldiers attempting to supply Fort Sumter in the Charleston Harbor. The college is on the Ashley River, northwest of downtown Charleston.