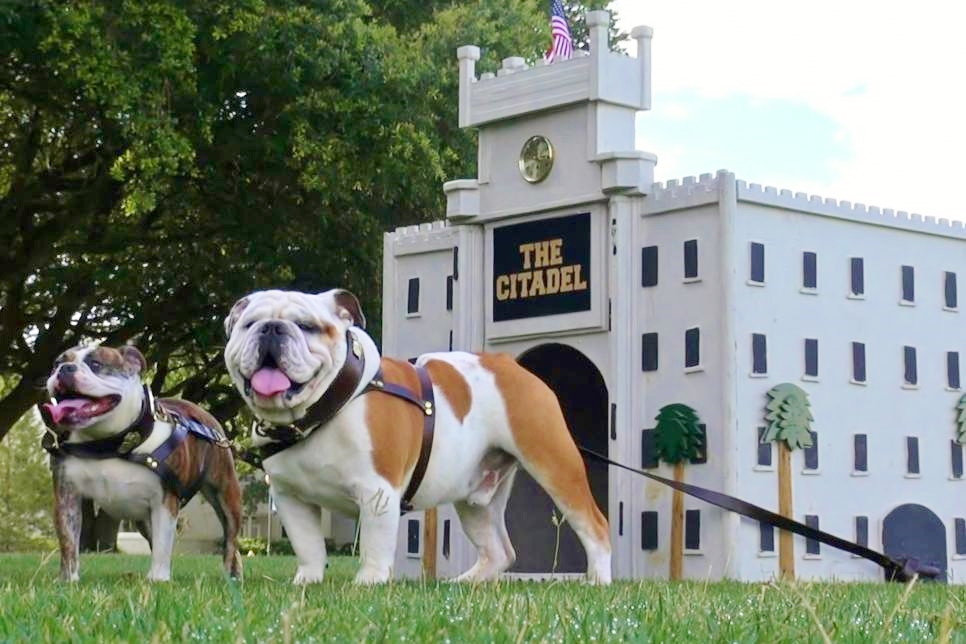 Photo above: General Robert P. Carson (right) and Boo X
He adored going to football games almost as much as cadets adored him.
General Robert P. Carson, also called General or G2, was known to stand facing the corner of his back yard fence pointing his nose to the direction of the stadium early on Bulldogs' home football game days. "He just couldn't wait to get there to see everybody…he just knew it was a game day," said John Bradford, DVM, General's veterinarian and caretaker. "One of his other favorite things was sprawling out on ice when it was hot."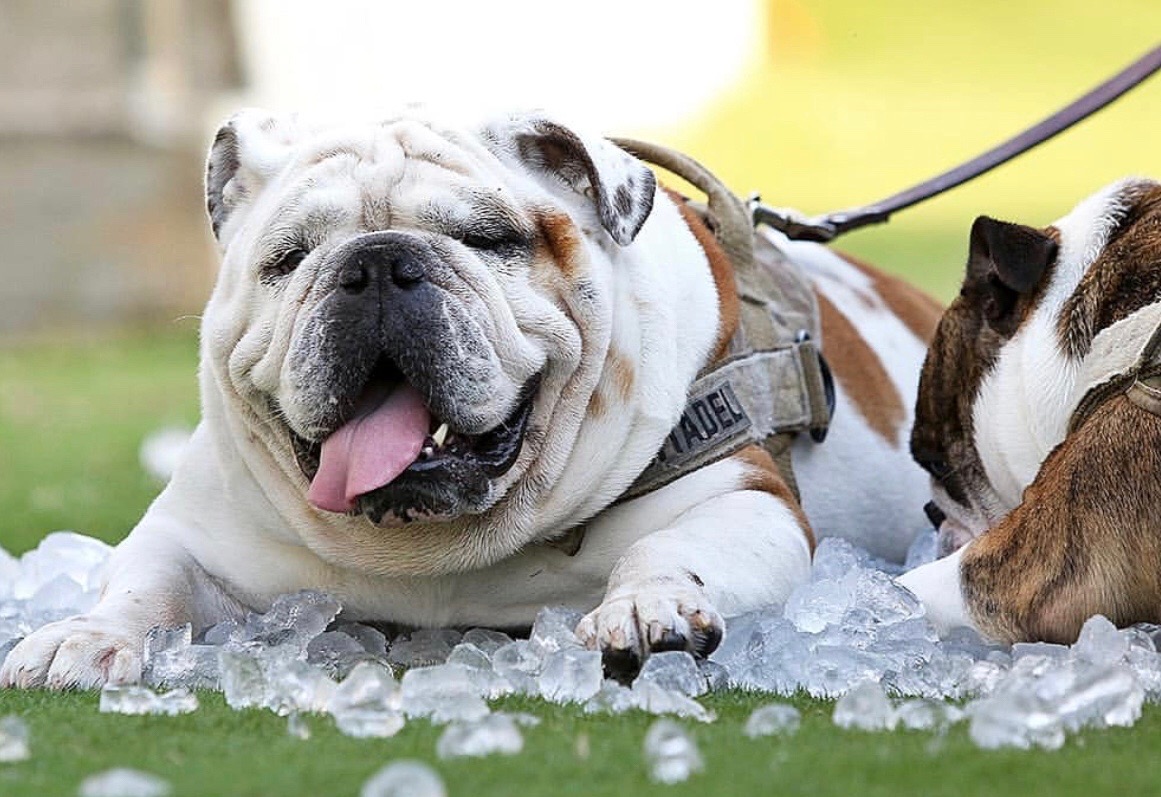 General, one of The Citadel's two beloved mascots, passed away quietly in the evening hours of Sept. 13 in the campus home where the mascots lived with the Bradford family. General was 8 years old.
"General was playing not 20 minutes before he passed away with no suffering and with Boo curled up next to his side," Bradford said.
Bradford, who had cared for G2 and Boo X since they were puppies, said the bulldog had not shown any signs of illness. He explained that G2 likely died from an embolism which he said is not uncommon for bulldogs, who often don't live past the age of 10.
Boo X and G2 playing as puppies

G2 (left) as a puppy with predecessor and Boo X (right)
Bradford waited until Sunday to report General's death to campus administrators. "I just couldn't do that to the cadets on the same day as the big win against Georgia Tech. I couldn't do that to them when they had so much to celebrate."
"We are all sad to hear about the passing of General," said Cadet Breana Broad, regimental public affairs officer for the South Carolina Corps of Cadets. "The Citadel's mascots are dearly loved by cadets — they are an important part of campus life and of our culture. We'll make sure to look out for Boo. We know she'll be lonely without him."
A member of The Citadel Class of 1977, Bradford moved onto campus several years ago with his wife and youngest son so they could all help care for the mascots.
"General was a rock star. It would take us forever to get from our house on campus to the stadium or basketball games there were so many cadets and visitors wanting to take pictures," Bradford said. "He was a diva – he loved the attention. He knew exactly how to pose, too. General was a natural."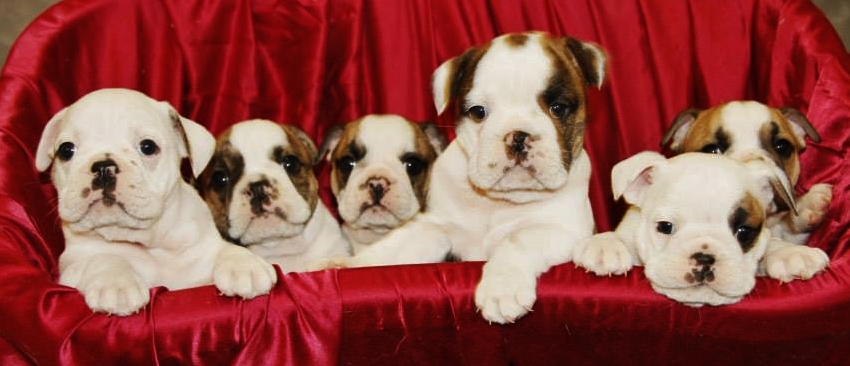 General and Boo X, who became The Citadel mascots in 2013, had two litters of puppies together. It is not yet known if one of those bulldogs will eventually be asked to report to duty to replace G2.
The college will plan a memorial for General later in the semester, when he will be interred in The Citadel Mascot Memorial Columbarium located at Johnson Hagood Stadium.
Charelston Magazine photo shoot with G2 and Boo X
Past Citadel mascots included:
Mascot Mike, 1928-1930
Mascot Mike II, 1930-1934
Mascot Duke, 1937-1939
Mascot Sonny Sue, 1939-1946
Mascots Suzie and Jake, 1947-1948
Mascot Joker, 1949-1951
Mascot Plebe, 1952-1956
Mascot Plebe II, 1957
Mascot Plebe III, 1958-1961
Mascot Plebe IV, 1962-1963
Mascot Boo, 1964-1971
Mascot Boo II, 1972-1973
Mascot Boo III, 1974-1975
Mascot Boo IV, 1975
Mascot Colonel Ruff, 1977-1985
Mascots Colonel Ruff and Boo V, 1985-1989
Mascots Colonel Ruff and Patrick, 1990
Mascot Boo VI, 1991-1995
Mascot Boo VII, 1996-2001
Mascot Boo VIII, 2001-2003
Mascots General Thomas Curtis Metsker and Boo IX, 2003 – 2013
Mascot General Robert P. Carson (G2), 2013 – 2019
Mascot Boo X, 2013 – present
Bradford family photos of G2