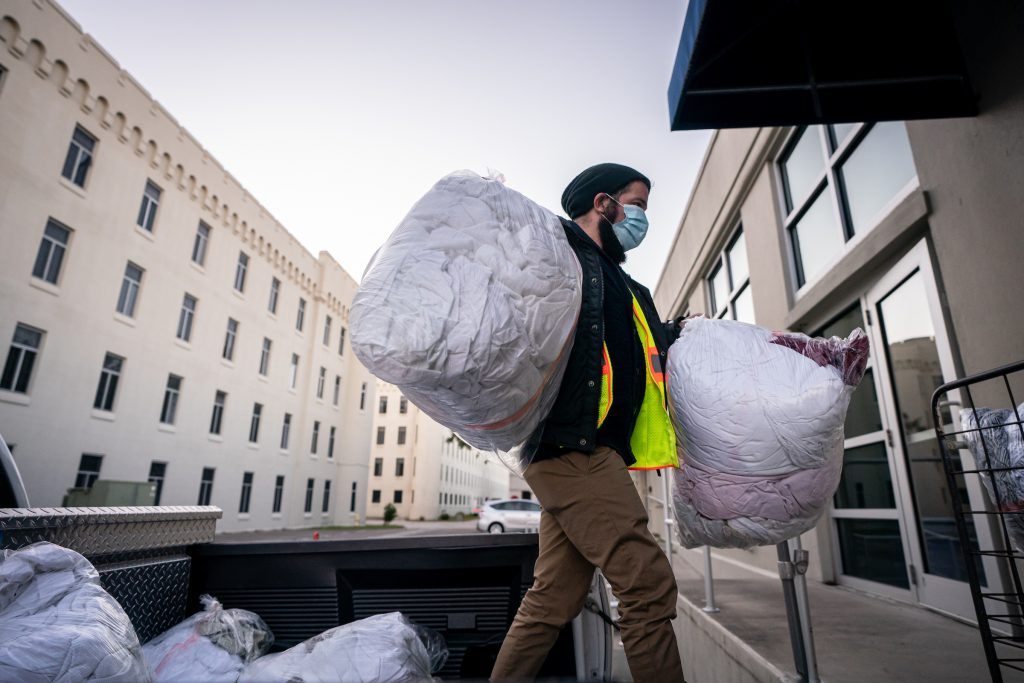 Photo above: Christopher Jardin, the community liaison and homelessness coordinator for the City of Charleston, unloads laundry from the city's warming center at the Cadet Laundry at The Citadel in Charleston, South Carolina on Wednesday, December 2, 2020.
Safely operating warming shelters on cold nights is more complicated this year due to the COVID-19 pandemic. Most churches in Charleston that operated warming centers for the homeless on frigid nights in past years can't this winter as they reduce possible exposures to the coronavirus for their staff and members.
However, the City of Charleston is meeting the challenge by providing one, larger warming center with COVID-19 protection protocols in place. The warming center is at the Arthur W. Christopher Community Center, located at 265 Fishburne St., across from Burke High School.
"There is tremendous need in our community, just like others, especially as many people have lost their social safety nets due to the pandemic," said Christopher Jardin, community liaison and homelessness coordinator for the City of Charleston. "We had to find a solution to help those inadequately sheltered on cold nights."
The warming center has 80 beds for men, women and children and opens each time the weather is predicted to drop to freezing temperatures.
The Citadel campus is just a few blocks away, so now the campus community that prides itself on servant-leadership is helping out.
"The city's homeless coordinator is dropping off about 200 lbs. of bed linens each morning following a cold night when the warming center is needed," said Janice Danser, director of Laundry and Dry Cleaning Services at The Citadel.
"It's really been a tremendous benefit to have the help of The Citadel in ensuring we have clean linens each night the center opens," Jardin said. "It's been very encouraging to me in this whole process to see how many people around our community are stepping in to help."
Danser says the laundry team has really come together for this effort. "They love it. I think they are very proud to be able to do this kind of work to help our neighbors in the Charleston community."
Laundry rock star provided tens of millions of lbs. of fresh laundry for U. S. soldiers
Speaking of laundry, Danser, who joined The Citadel early in 2020 to direct the college's laundry and dry cleaning services isn't intimidated by a few hundred pounds of extra laundry a day.
Prior to joining the college, she oversaw laundry operations at Ft. Jackson for 25 years which she says averaged about 4.5 million lbs. of wash annually.
25 years
X
4,500,000 lbs. of laundry annually
=
112,500,000 lbs. (about 56 tons) of clean laundry for soldiers at Ft. Jackson
Danser oversaw the cleaning of about 5.6 million tons of laundry at Ft. Jackson during her time there. Prior to that, she managed the laundry services at Ft. Dix in New Jersey.
"My entire career has been spent making sure service people have the clean laundry they needed, so The Citadel was the perfect next step for me at this stage of my life," Danser said.
Ma'am, thank you for your service!