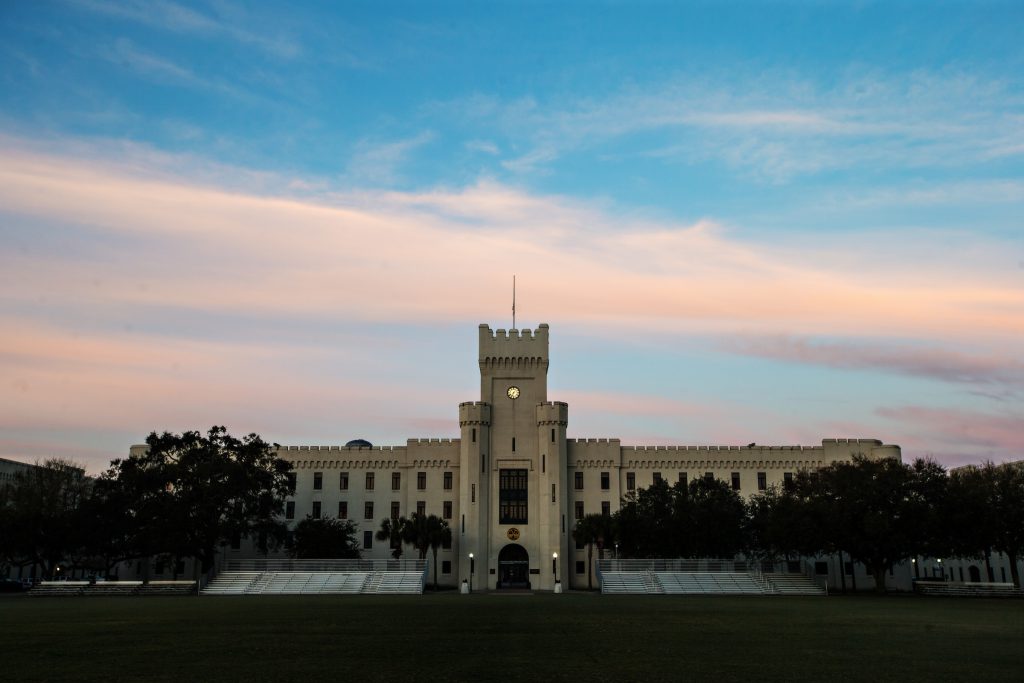 September 6, 1 p.m.
South Carolina governor Henry McMaster has lifted the evacuation order for remaining S.C. Counties, and the Citadel has begun recovery actions in preparation for the reopening of the campus and reconstitution of the South Carolina Corps of Cadets.
The Citadel campus remains closed today and Saturday, and all campus activities, including classes, sporting events, visits and meetings are canceled. Online classes continue as scheduled unless faculty notify students otherwise.
Members of the South Carolina Corps of Cadets should plan on returning to campus Sunday September 8. The barracks will be open that day by noon, and there will be a 4:30 p.m. Muster formation for the Corps. Coward Hall dining facility will be open for dinner. Members of the Corps of Cadets with questions should contact their chain of command and their TAC officer.
At this time, Citadel officials are planning a return to normal operations, including classes of both The Corps and The Citadel Graduate College on Monday September 9.
Essential personnel should continue to report for work as required. Employees who may be delayed in returning to work due to hurricane impacts should communicate with supervisors.
College officials are committed to ensuring a quality academic experience for all students this semester, despite the extended cancellation of classes. The Citadel's faculty have begun planning to enable the achievement of course objectives and preparation for exams later this semester. These adjustments will be announced later.
---
September 1, 8:45 p.m.
Hurricane Dorian has continued moving toward the Southeast Coast, and poses a threat of high winds, coastal flooding, life-threatening storm surge and potential tornadic activity as it approaches our area Thursday.
Therefore, Governor McMaster has directed a mandatory evacuation of South Carolina Coastal Counties beginning at noon September 2. In compliance with that order, all campus activities with the exception of hurricane preparation, are canceled until further notice. The Citadel Corps of Cadets will be released after their last duty September 2, which will be no later than noon. Once these duties are complete, every member of the Corps of Cadets will depart the campus in an orderly fashion, in accordance with the Citadel's hurricane evacuation plans. Faculty & staff members who are non-essential for securing the campus and taking campus closure or emergency actions should not report to work September 2. Online classes will continue as scheduled, unless faculty notify students otherwise.
The Commandant's office designates representatives to account for and monitor the transportation and relocation of all cadets. Under this process, TAC Officers check tracking and accountability rosters to insure that all cadets are included and have a form of transportation out of the evacuation area. Cadets will be instructed to keep their families informed of their departure arrangements and their location throughout the evacuation process.
The South Carolina Department of Public Safety and the South Carolina Department of Transportation have announced that at noon September 2, they will reverse the direction of traffic along I-26 so that all four lanes will be westbound until the I-26 crossover to I-77 just outside Columbia in Lexington County. Please stay tuned to local news for further traffic updates.
Campus emergency response personnel will continue to monitor the situation and issue updates as necessary. The Citadel's Athletic Department is examining hurricane impacts on each team's schedule, and will announce any schedule changes once determined.
Our top priority at present is the safe evacuation of all members of our community. Once evacuation actions are complete, cadets, students, faculty and staff should continue to monitor The Citadel website and social media sites for additional updates, including resumption of classes and the reopening of the college when recovery actions allow.
August 31, 9 a.m.
The National Hurricane Center continues to track Hurricane Dorian as it continues moving northwest for the next few days, then turns more west-northwest toward Florida and the Southeast U.S. this weekend, likely strengthening into a major hurricane. It is too soon to know with certainty if there will be any direct impacts from Dorian for the Georgia Coastal Empire and South Carolina Lowcountry. Current models have the storm turning northward after approaching Florida, and we expect strong impacts in Georgia and the Carolinas Thursday, September 5.
However, moderate to major levels of tidal flooding are expected through at least the middle of next week, even if Dorian remains well away from the area. In addition, the threat for heavy rainfall-induced freshwater flooding will also increase early next week.
The Citadel's hurricane planning processes and resources
The safety of our cadets, students, faculty and staff is always the college's primary concern. It is The Citadel's mission during inclement weather to take all actions necessary to ensure the well-being of the campus community and to protect campus facilities and resources.
The Office of the President, emergency response leaders and Department of Public Safety officers monitor weather that could negatively impact campus 24 hours a day. For example, some streets in Charleston commonly flood as a result of the convergence of heavy rains and high tides. When that is projected to occur, the college's Department of Public Safety emails notices to the campus community.
Tropical storms and hurricanes are among the most serious meteorological developments that can impact campus due to its coastal location. As a storm develops that may impact the Charleston area, the college's emergency response team coordinates operational plans in conjunction with county emergency management officials.
As the storm or hurricane approaches, the campus community is notified via email, and through the campus command structure, to prepare well in advance of any impact to the region. Updates are then provided with each operational stage of storm safety management.
If it is determined that classes and athletic events must be canceled, campus will close, or a full evacuation is needed, The Citadel BulldogAlert system sends emergency messages via phone, text message and email to subscribers who include cadets, students, faculty and staff, as each development occurs. BulldogAlerts are also posted on this public page.
Additionally, emergency notifications are posted on the The Citadel Today newsroom and on the college's Facebook and Twitter pages as needed.
Corps of Cadets operating procedures during a hurricane
If the Governor of South Carolina or Charleston County Emergency Response Officials direct government offices to close or issue an evacuation order for the area, The Citadel will comply. The Citadel's leadership team will keep cadets, students, faculty and staff informed of any closures or operational impacts on campus.
The Office of the Commandant of Cadets has plans in place for safe, orderly evacuation of campus if this measure is necessary. The Citadel's administration remains in close touch with state and county emergency response officials so we can take these measures if necessary.
If a decision is made to evacuate campus, the Commandant's team of TAC officers, staff and cadet leadership lead members of the Corps through standard operating procedures that include securing personal belongings, turning in rifles and an accountability system to ensure every cadet has transportation to a safe location and back to campus when it is time. Cadets are responsible for keeping their families apprised of their whereabouts.
Following an evacuation, reconstitution schedules will be communicated through the channels listed above.
The Citadel's general hurricane and inclement weather procedural and policy information is here.