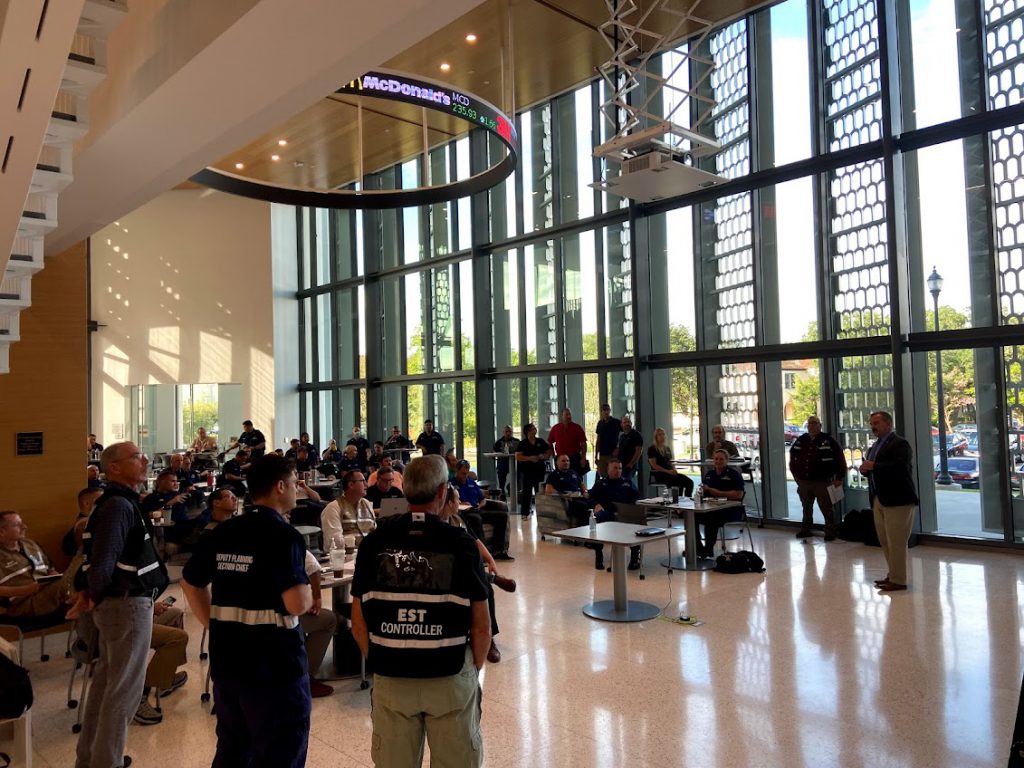 More than 60 agencies represented during U.S. Coast Guard led exercise
Emergency response and crisis management professionals from agencies across the state gathered recently on The Citadel campus for a mass training exercise.
The two-day event was organized and directed by the U.S. Coast Guard, Sector Charleston. The central gathering space for the exercise was hosted by The Citadel's Baker School of Business in its new home, Bastin Hall.
The details of the mock emergency scenario, and corresponding drills and responses, are protected to preserve their integrity. However, event organizers permitted these photographs to demonstrate to the community the breadth of the event which involved five-dozen federal, U.S. Coast Guard, state, county and local agencies and authorities, and numerous non-government organizations and businesses.
Some of the participating entities included Navy Criminal Investigative Services, the Federal Bureau of Investigation, the U.S. Fish and Wildlife Services, the National Park Service, Joint Base Charleston, South Carolina and Charleston County Emergency Management agencies, South Carolina Ports Authority, and the Charleston and North Charleston Police Departments.
"The Baker School of Business was honored to be a resource for this important U.S. Coast Guard training exercise by providing Bastin Hall as the central hub for for the event participants," said David Desplaces, Ph.D., professor of Management and Entrepreneurship for The Citadel, and the Baker School of Business liaison for the training event.
U.S. Coast Guard Sector Charleston training exercise at The Citadel, July 20 – 21, 2021.