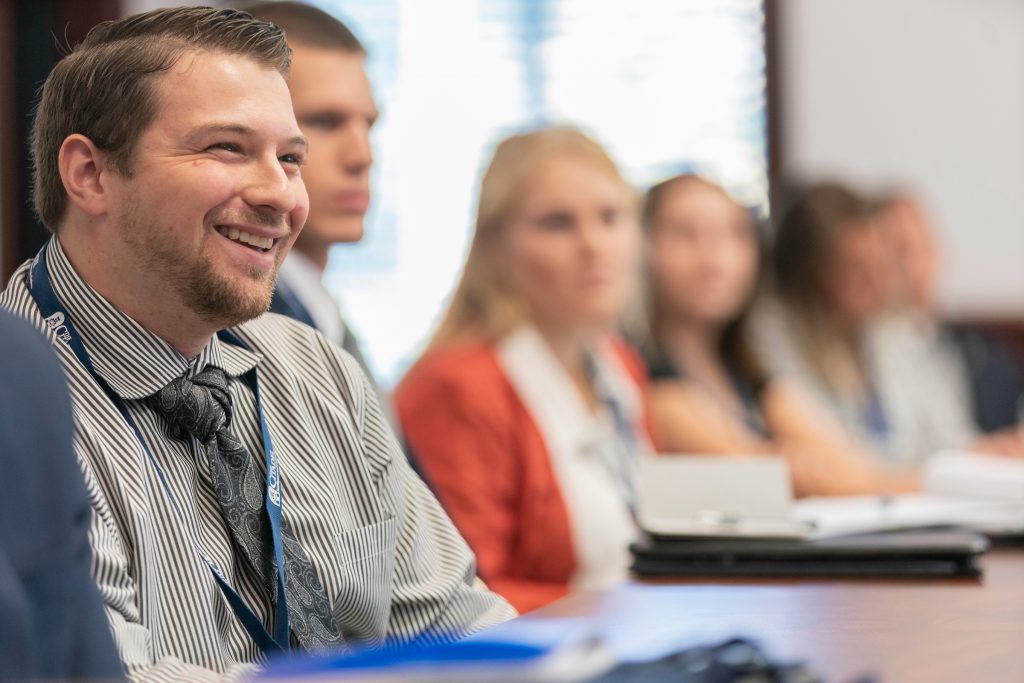 Photo above: Citadel Graduate College students meeting with the Director of National Intelligence, Daniel Coats, on campus in 2018
It is easy for individuals that are not familiar with the complex nature of security professions to assume that a security education is part of criminal justice. The truth is that there are many types of security specialists. The growing need for security professionals leads to the need for those interested in security to receive a a high-quality education, such as a masters in security degree.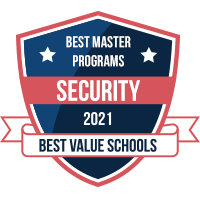 What Can I Do with a Master's in Security Degree?
There are a variety of master's in security programs available to individuals that have an interest in providing security at national and international levels. Pursuing a masters in security in the field that a person wants to enter requires selecting the right program. This helps to determine what a person can do with a master's degree in security.
Consider a master's degree in security studies if you want a career that focuses on security leadership, crisis management, or security analysis. Individuals that want a career in cybersecurity or homeland security often find ideal master's in security programs that fulfill the goals or requirements for working in these fields. Do you want to focus on the security of populations or on security efforts after a disaster? Earning a master's in security that focuses on human security is an option that leads to a rewarding career.
The pay and job growth in security is likely a reason that some people choose to earn a master's degree in security. The 2019 median pay was $99,730 for information security analysts, with an anticipated job growth of 31 percent through 2029. The National Security Agency (NSA) lists the entry level pay for a mid-level investigator at more than $72,000, and the pay for an NSA Forensic Analyst starting at $93,822 a year.
Some schools allow students to complete program requirements online to accommodate the busy schedules of working professionals. Other programs require on-campus coursework and other face-to-face meetings. Exploring the best master's in security programs allows for determining the best school and program that meets your goals and interests.
About The Citadel Master of Arts in Intelligence and Security Studies: an online program offering real-world skills
The Master of Arts (MA) degree program in Intelligence and Security Studies (ISS) prepares students to enhance national security through intelligence and homeland security leadership. Best practices for intelligence collection and analysis and national security combined with current theory, research, and experience give students the background necessary to cultivate critical thinking, concise writing, and effective briefing. By introducing applicable management principles and policy analysis, the program fosters the leadership skills to successfully address security and intelligence challenges facing the United States.
Unlike traditional graduate programs that take a theoretical and conceptual track in preparing students for further academic research, The Citadel's ISS program combines theory and practice to provide the real-world skills necessary to enter and advance in the public and private intelligence arenas.

This program is entirely online to provide maximum flexibility for students, and at the same time allow the ISS program to attract instruction from intelligence professionals located around the world. Our program is taught by internationally recognized experts, with real-world experience at agencies like the FBI, CIA, DHS and at the White House.

Citadel.edu
Learn more and find information about how to apply to The Citadel Graduate College here.