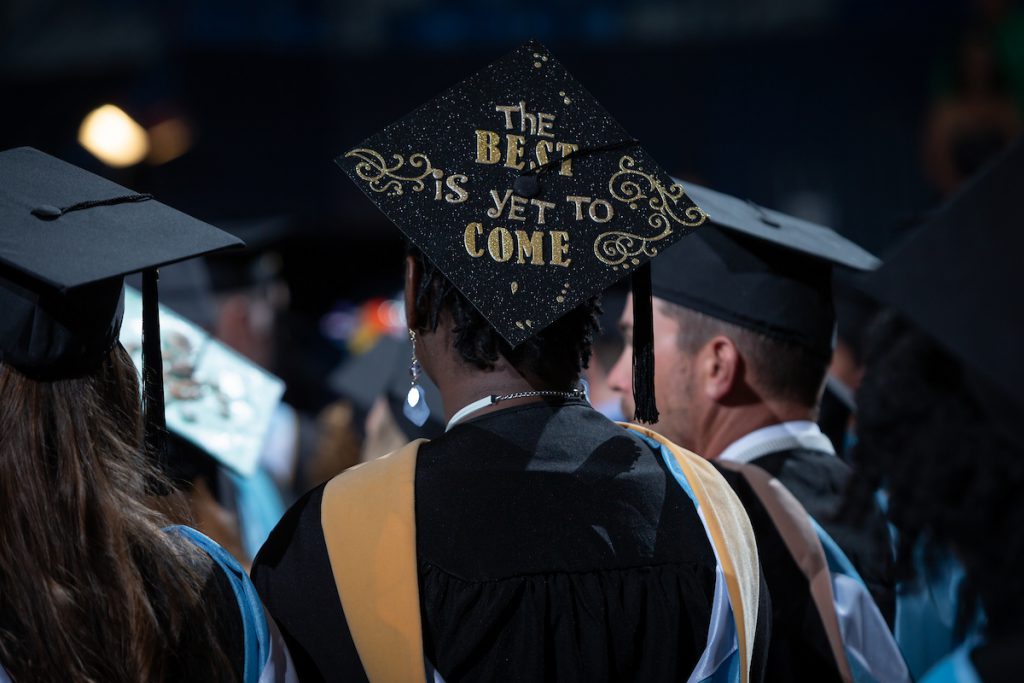 The Citadel Graduate College Class (CGC) of 2019 has 456 graduates who have earned either graduate degrees, or undergraduate degrees through the evening or online (non-cadet) programs. That number includes the 20 men and women who earned Bachelor of Science in Nursing degrees through the CGC's new evening undergraduate nursing program.
Several hundred graduates will walk the stage in McAlister Field House at 3:30 p.m. on May 4 to accept their diplomas during the CGC commencement ceremony. The ceremony follows several days of special events including the first nursing graduation pinning ceremony in the history of the college and an awards gathering. All of The Citadel Graduate College commencement information and instructions can be found here.
Watch The Citadel Graduate College commencement ceremony live
Facts about The Citadel Graduate College Class of 2019
Total graduates 456 (21 legacy graduates)
Men 231
Women 225
Caucasian 286
Unknown 99
Black, Non-Hispanic 48
Asian or Pacific Islander 10
Hispanic 7
American Indian 5
Honor Society Members
Phi Kappa Phi 66
Tau Beta Pi 12
Psi Chi 5
Chi Sigma Iota 4
Top Graduate Programs
Master of Education (all disciplines) 84
Master of Business Administration 77
Master of Science Project Management 40
Master of Arts Clinical Counseling Psychology 21
Master of Science Leadership 17
Specialist in Education Psychology 14
Master of Science Health, Exercise and Sport Science 14
Top Evening Undergraduate Programs
Bachelor of Science in Business Administration 26
Bachelor of Science in Nursing 20
Bachelor of Science in Electrical Engineering 16
Bachelor of Science in Civil Engineering 14

Learn more about The Citadel Graduate College
The Citadel Graduate College offers 25 graduate degree programs with 16 concentration options, 27 graduate certificate programs, and 11 evening undergraduate programs. Because classes are offered in the evenings, the programs excel in providing a quality education that is tailored around students' professions, family and lifestyles. Classes typically meet once per week in a civilian atmosphere. Some programs also offer the option to complete coursework and requirements 100% online.
Email cgc@Citadel.edu for more information or visit the website here.