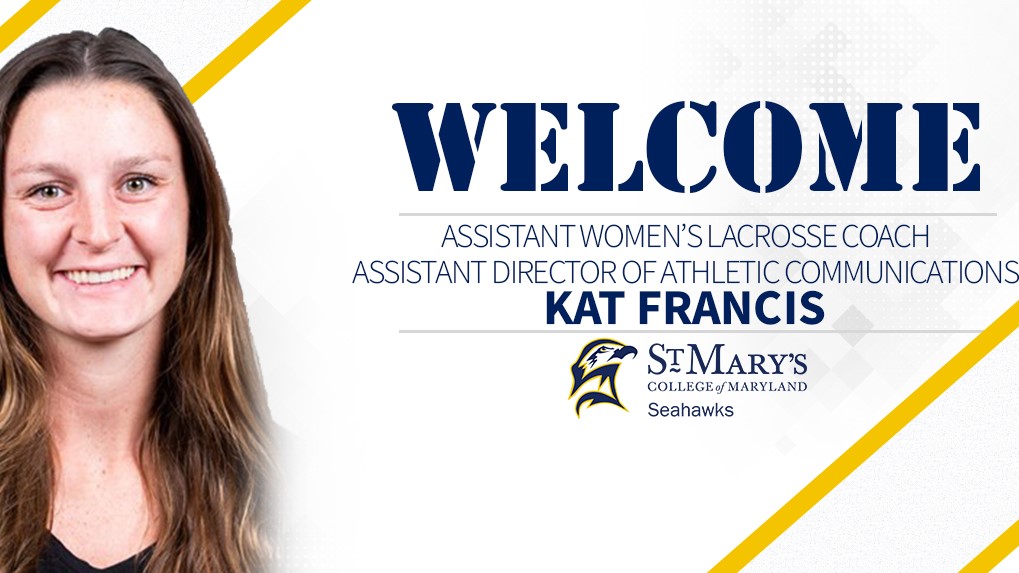 St. Mary's College of Maryland is pleased to announce the hiring of Kat Francis as the Seahawks' women's lacrosse assistant coach and assistant director of athletic communications. Francis began her duties on August 1.
Head Coach, Erin McDonnell stated, "Kat was a standout throughout the interview process and we could not be more excited to have her on board. She aligns with our core values and mission and is going to be a phenomenal addition to our coaching staff!"
Francis joins the Seahawks after a one-year term with Capital Athletic Conference competitor, Christopher Newport University. While in Newport News, Francis worked with the draw takers, goalies, and the attacking side of the ball. She was able to mentor a 2019 IWLCA All-American, five All-CAC conference honorees, and two IWLCA All-Region players.
"I am thrilled to join the Seahawk family and St. Mary's College community," said Francis. I loved the small school feel when visiting campus and the competitive edge that comes along with being in the CAC. I'm excited to work alongside Coach McDonnell and take this team to the next level."
Before working with the Captains, Francis completed her Master's in Health, Exercise, and Sports Science at The Citadel Graduate College. While completing her Master's, Francis started a Varsity Lacrosse program at James Island Charter High School and coached for local club lacrosse programs.
Prior to her time in Charleston, Francis earned a Bachelor's in Athletic Training and played four years of lacrosse at Lynchburg College. During her time with the Hornets, Francis earned All-ODAC honors four years in a row, was named ODAC Rookie of the Year in 2013 and held the program's record for draw controls at the time of her graduation in 2016.