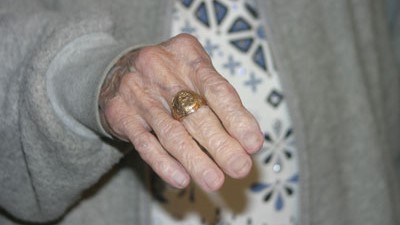 A Citadel ring returned home after being lost for 50 years.
The Citadel class of 1920 ring belonging to the late Angus Wilson Riley was presented to members of his family at the home of Wilbur Brock in Cheraw on Dec. 7.
Brock, who found the ring, gave it to Mr. Riley's daughter Mary Douglas "Dougie" Riley Hope of Bennettsville.
With Dougie Hope was her grandson Wilson Riley Hope (who was named after Riley), and his dad, Jay.
Wilson Riley Hope and his twin brother, John William Hope are Citadel class of 2016 graduates.
"We want to thank your family so much for this honor," Jay Hope said. "You thought enough about the owners of this ring to get it back to us."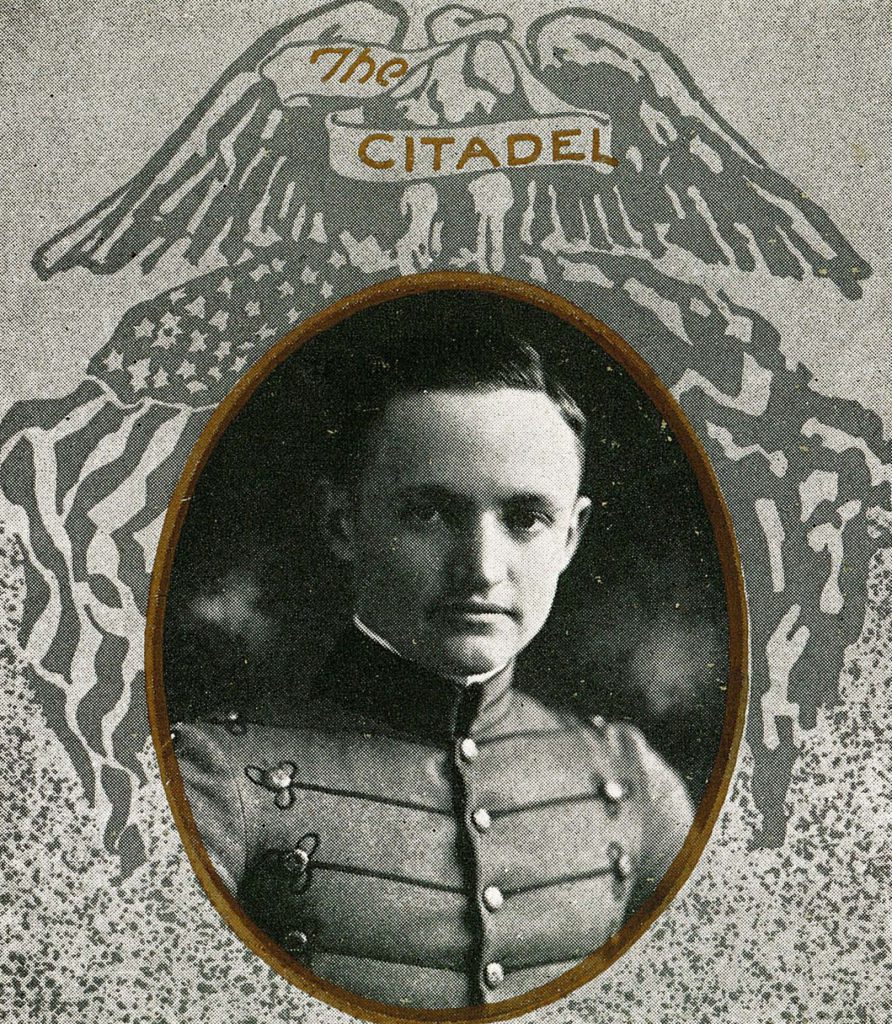 Angus Riley was born in 1899 in Allendale. His brothers attended the Citadel and it was where he wanted to go. He entered The Citadel in 1916 during World War I.
Jay Hope said his grandfather was famous for his good looks, outgoing personality and fun-loving nature.
Upon graduation, Riley met Margaret Edens in Bennettsville where they wed in 1922. Here, they raised three daughters — Nancy, Dougie, and Margaret.
Riley worked in banking, advertising, and was a newspaper columnist. At the end of his career, he was appointed magistrate for Marlboro County by Fritz Hollings.
Riley overcame a dependency with alcohol and in 1947 co-founded the first Alcoholics Anonymous chapter in the Pee Dee. He died in 1981 in Bennettsville and is buried at Cave Methodist Church in Allendale.
His brother helped found Allendale County. Some well-known Riley relatives from Allendale include the Honorable Richard Riley, two-term SC Governor and US Secretary of Education, and Jasper Johns.
Ring's journey
The ring's journey began 50 years ago when Wilbur Brock received the ring from a friend who had found it in Bennettsville.
Brock wore the ring for three years until he got his class ring and then put it inside a jewelry box.
This year during Thanksgiving, Brock and his family were together when his granddaughter Gracie asked to see his collections of rings.
When they came across a small ring, she asked where he got it.
He told her how he had gotten the ring from a friend who had found it.
The Brocks looked at the ring and saw that it had 1920 and was inscribed with initials "A W Riley."
Brock asked his son, Jason to post it on Facebook and see if they could find the family to whom it belonged.
Every morning, Joy Hope checked The Citadel Parent Facebook site. So during her morning routine at Thanksgiving with her family, she found the post from the Brocks.
Jay Hope said when his wife read the post that it sent chills down her spine.
The Hopes knew when they saw the ring photo that it had belonged to Riley.
After calling and establishing that the ring was Riley's, Jay Hope thanked Brock.
Jay Hope talked to him about when the Hopes lived in Cheraw during in the 1960s.
Brock noted that when he attended Cheraw High School that he had a class with Jay Hope's sister, Kathy, and probably wore the ring during the class and sat next to her.
Also at the presentation was Todd Davis and Catherine Thompson, who had also written Facebook posts about the ring.
Davis is the Citadel Alumni District 5 Rep and a class of 1985 graduate. His son and the Hope twins were cadet classmates at The Citadel.
Davis said he was very excited that the ring was returned to the Riley family.
Thompson said she knew Riley and the family. She wrote in her post that "as soon as I saw the post I realized this was more than just a ring. It is a story about a man and a family of integrity, leadership, and honor."
"It is the most touching thing I have ever seen in a long time," Thompson said.
Dougie Hope was happy the ring was returned to her family.
"Isn't it pretty," she said as she looked at it on her finger.