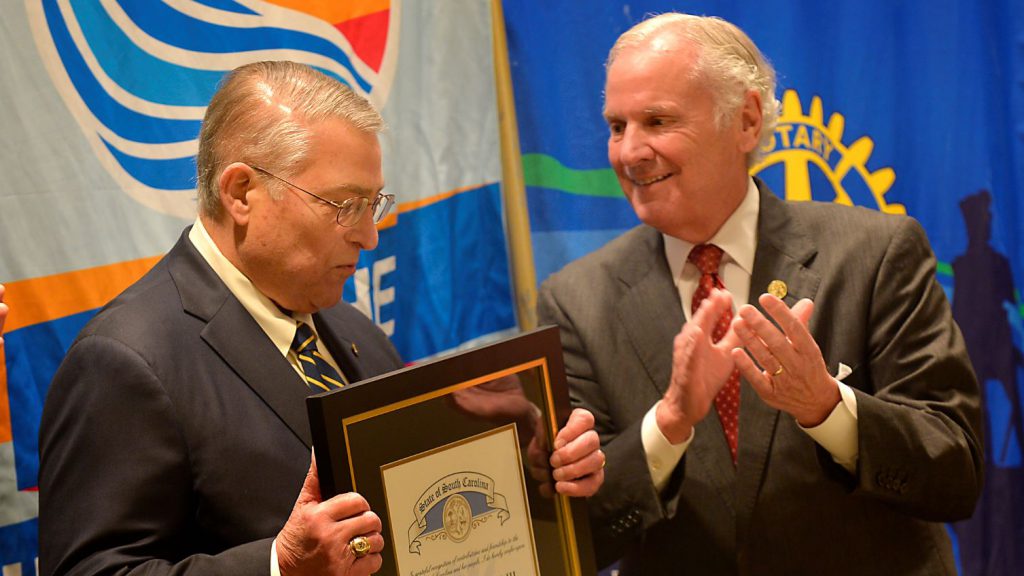 Photo: Gov. Henry McMaster presents Order of the Palmetto award to Tommy Young, III
(Courtesy: Alex Hicks Jr./Spartanburg Herald-Journal)
The Order of the Palmetto recognizes a person's lifetime achievements and contributions to the state of South Carolina
Tommy Young, III, The Citadel Class of 1974, is being honored for his years of service and leadership with multiple organizations throughout the state.
Gov. Henry McMaster awarded Young with the Order of the Palmetto at the Rotary Club of Spartanburg luncheon on April 30, 2019.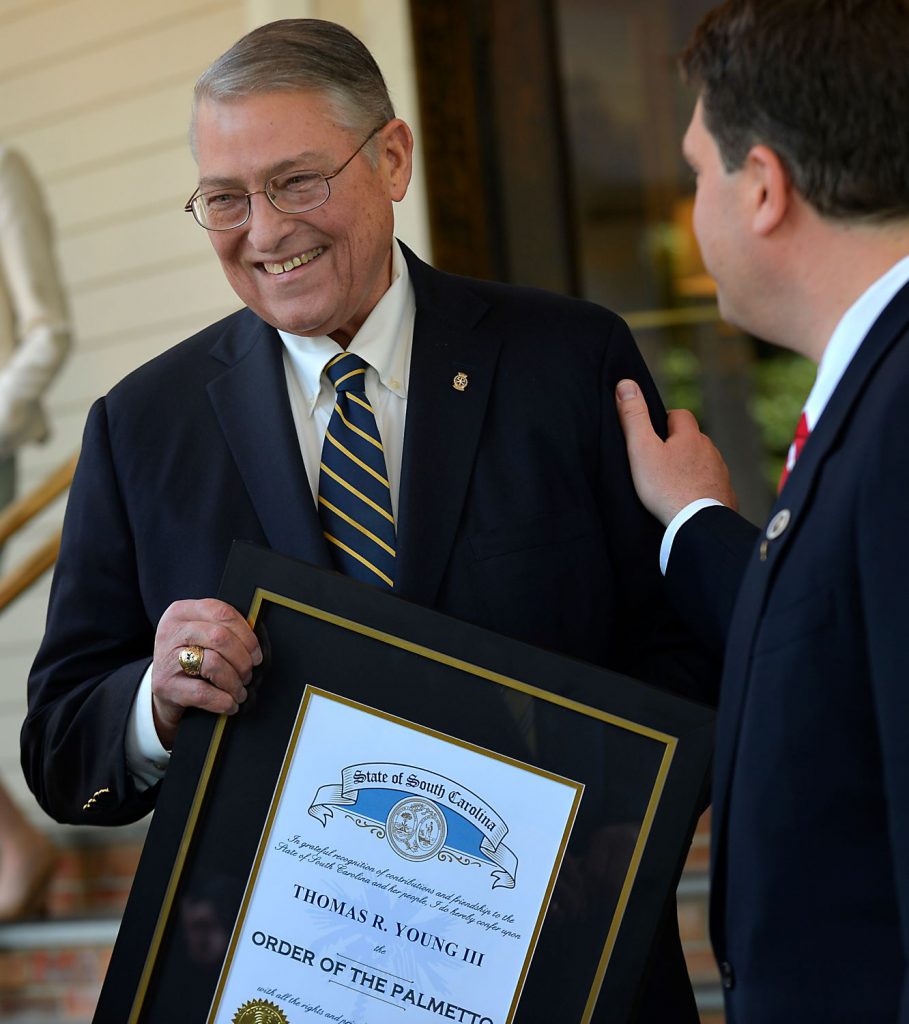 Eight fellow South Carolinians wrote letters of recommendation on behalf of Young, including The Citadel president, Gen. Glenn Walters, USMC (Ret.). In his letter, Walters says in part:
As an alumnus and father of a graduate, Mr. Young's impact on the furtherance of The Citadel's 'product' – Principled Leaders to serve their communities, South Carolina and America – cannot be overstated. His impact resonates across campus, across South Carolina, and across the decades as his work makes what we do here possible.
After graduating from The Citadel, Young joined his family's business, Young Office Supply. He currently serves as the chairman and chief executive officer of Young Holdings and Young Office Environments, which employs more than 60 people and has annual sales exceeding $28 million.
Young has also served as a chairman, president and board member for nearly 20 organizations, including the Rotary Club of Spartanburg, the Spartanburg Citadel Club, the American Cancer Society and Boy Scouts of America.
Some of the more well-known people to have received an Order of the Palmetto are singer James Brown, author Pat Conroy, tap dancer Clayton "Peg Leg" Bates, and Civil Rights activist Septima Clark. In 1986, Governor Richard Riley awarded one to the "Unknown Confederate Soldier." A host of politicians have also been granted the honor – including several governors.