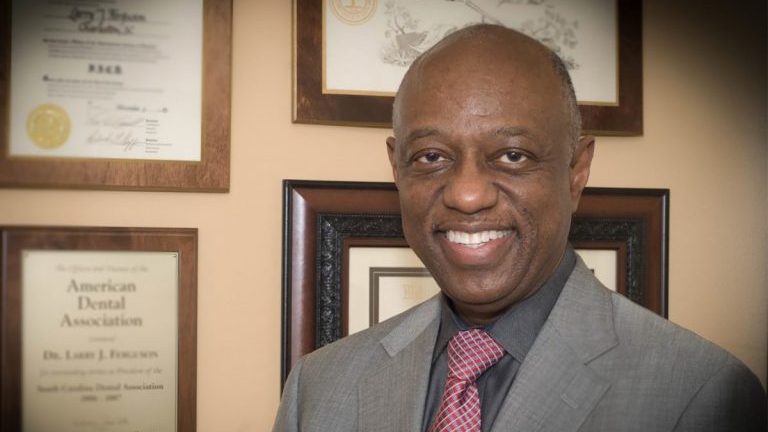 Note: Larry Ferguson, a member of the Class of 1973, was one of the first African Americans to graduate from The Citadel. His freshmen class was the first in Citadel history to have multiple African Americans matriculate.
First and foremost, they could not have selected a more appropriate candidate than Larry Ferguson. His lifetime activities have circled around civic engagement. This is not something anyone takes lightly. It is befitting that it comes from someone who has really been through the fire and who understands how important it is to be involved in the community. He understands it on many levels: from business to spiritual to being a strong mentor — and understanding how important that is — and by being a trailblazer, because he led our school in making history as one of our very first African American students to attend The Citadel. For someone who has made a mark on our institution as high as he has, it's very important that people understand he didn't just get there by someone giving him this — he earned it, and he earned it by going through a lot of trials and tribulations and truly understanding how important his role is in America.

Bruce Alexander, Class of 1982, president of The Citadel African American Alumni Association
An interview with Larry Ferguson, conducted by The Citadel Archives & Museum during Homecoming 2019, can be found at the bottom of this article.
The first African American to teach at an all-white high school in South Carolina, the first African American president of the South Carolina Dental Association, a restauranteur who founded the nonprofit Feed the Need, and an organization enriching the lives of local youth will be honored with awards at the 48th Annual Reverend Dr. Martin Luther King, Jr. Celebration next week, while a well-known police chief will lead the 2020 MLK Day Parade as parade marshal.
Thaddeus J. Bell, MD, and Larry Ferguson, DMD, will be honored with the Harvey Gantt Triumph Award at the MLK Ecumenical Service taking place at 4:00 p.m. on Sunday, January 19 at Mount Moriah Missionary Baptist Church.
The Harvey Gantt Triumph Award for Lasting Contributions to Civil and Human Rights was established in 1984. It was named after its first recipient, architect and statesman Harvey B. Gantt, the first African American student to attend Clemson University. Previous Harvey Gantt Triumph Award recipients have included U.S. Representative John Lewis, a prominent leader of the civil rights movement in the South, and Senator Ted Kennedy, U.S. Representative James E. Clyburn, South Carolina Representative Lucille S. Whipper, renowned civil rights activist Septima P. Clark, and Esau Jenkins, a community organizer during the segregation era.
Before going into medicine, Dr. Bell began his career as a schoolteacher in Gaffney, S.C., where he was the first African American to teach at an all-white high school in the state. In 1980 he co-founded the Elijah Wright: Cross Family Health Center, a free clinic for the underserved in Cross, S.C., where he was the only physician for 10 years. He went on to serve as a physician at the Ralph Johnson Veteran Hospital in Charleston and enter private practice in family medicine in North Charleston. While in private practice he served as a medical consultant to the Charleston and Berkeley County Jails and medical director of the Fenwick Hall Drug & Alcohol Abuse Treatment Center. He has also served as a sports medical consultant to the USOC at the Olympic training center in Denver, CO.
The first African American president of the South Carolina Dental Association, Dr. Larry Ferguson has been honored with multiple awards, including his induction into the Academy of Dentists International, the American College of Dentists, and as a Fellow of the International College of Dentists for his outstanding service to the dental profession. He was also named Dentist of the Year in 2004 by the Charleston Dental Society, and has served as president of the Charleston Avery Research Center Advisory Board, the Charleston Dental Society, and the Coastal District Dental Society, as well as the governor's appointee to The Citadel Board of Visitors.
Mickey Bakst and R3, Inc., will each be honored with the Joseph P. Riley, Jr. Vision Award at the MLK Business and Professional Breakfast taking place at 7:30 a.m. on Tuesday, January 21 at the Charleston Gaillard Center.
Named for Mayor Joe Riley, a highly respected and visionary leader who capped a 40-year career as mayor of Charleston on January 11, 2016, the Vision Award was created to carry on his legacy.
Bakst, the general manager of Charleston Grill, one of the most acclaimed restaurants in the nation, has been inducted into the Fine Dining Hall of Fame and named Maître D' of the Year by Restaurant Hospitality magazine, but his heart is in helping others. In 2009 he founded Feed the Need as an answer to the stress put on area homeless services as a result of the economic downturn, and in 2014 he created Teach the Need to train at-risk teenagers in the skills needed to work in the front of the house in Charleston restaurants. Feed the Need has served more than 500,000 meals in three cities and donated nearly $2 million to those in needs, but Bakst hopes his legacy will be Ben's Friends, a support group and organization he co-founded to bring together food and beverage professionals seeking sobriety and provide them a bridge to a sober life across 11 states, with five more planned for 2020.
Real Talk Real Action Real Results (R3), Inc., is an organization inspired by a love for doing the work of God, a passion for youth empowerment, and a dedication to community development. It was founded in 2011 in Charleston by Eric A. Jackson with the goal to encourage and support all youth despite their backgrounds. Its programs include enriching experiences for youth, and it provides both a supportive, family-like environment and encourages support and interaction from community partners, family, and friends.
North Charleston Police Chief Reginald "Reggie" L. Burgess, who will serve as the 2020 MLK Day Parade Marshal, grew up in two historic black neighborhoods in North Charleston, and went on to attend Morgan State University in Baltimore after obtaining a full football scholarship. While serving as a wide receiver for the Morgan State Bears, he received a number of industry honors, and in his senior year he was chosen to play in the Freedom All-Star Senior Bowl. After graduation, he chose law enforcement with the North Charleston Police Department as his career in part because he wanted to protect the rights every citizen is afforded. He rose through six positions and six ranks until he was sworn in as the chief of police in January of 2018.
Attendance of the 2020 MLK Ecumenical Service is free and open to the public, as is the 2020 MLK Day Parade. Individual tickets to the 2020 MLK Business and Professional Breakfast were available to the public but have sold out. Doors will open at 7:00 a.m. and the breakfast will begin at 7:30 a.m. More information about both of these events can be found at ywcagc.org.
Larry Ferguson's interview with The Citadel Archives and Museum