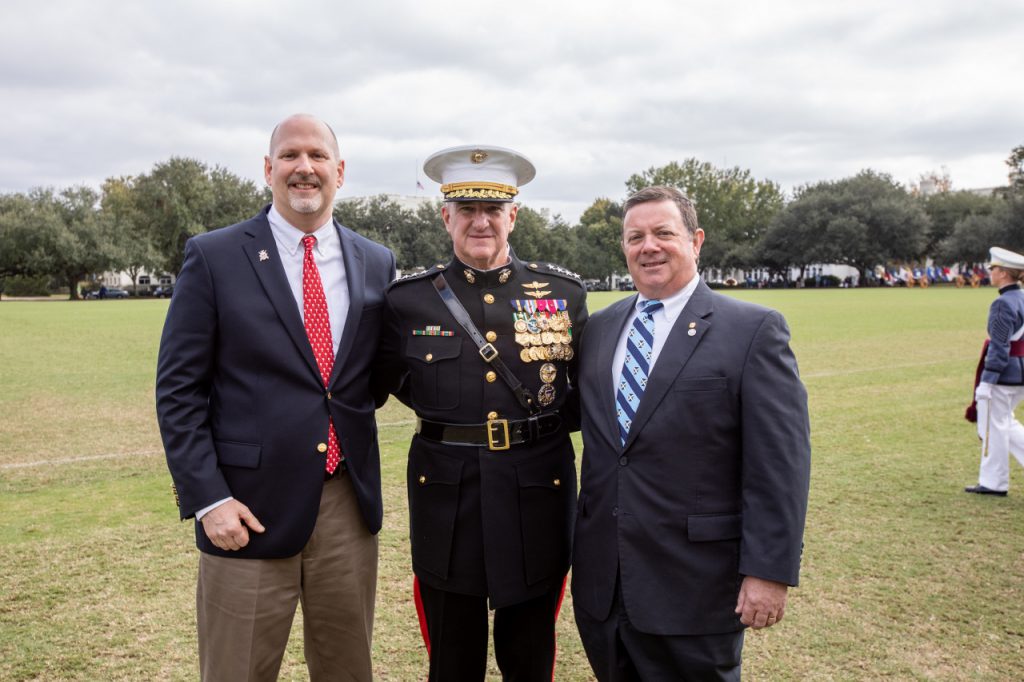 On Left: The Citadel 2018 Alumnus of the Year, Lt. Col. Doug Kelley, USAF (Ret.) 
Lt. Col. Doug Kelley, USAF (Ret.), Citadel Class of 1982, is The Citadel Alumni Association's (CAA) Alumnus of the Year for 2018.
According to the CAA award citation:
Kelley has selflessly served The Citadel and The Citadel Alumni Association for decades. He has attended countless events to support the recruiting efforts of the college as a volunteer alumnus and is the National Chairman of The Citadel Volunteer Recruitment Program which is a vital component of The Citadel's overall recruiting plan. Doug is also the president of the Tennessee Valley Citadel Club, which has continually earned Gold Star Club status due to the time, talent and philanthropic support the club provides to benefit The Citadel and the CAA.
"Lt. Col. Doug Kelley's deeds and and actions reflect and recognize the importance of his education at The Citadel. He exemplifies our core values of honor, duty and respect. The Citadel Alumni Association is proud to recognize him as the 2018 Alumnus of the Year," said Tom McAlister, interim executive director for the CAA.
Kelley was recognized at The Citadel homecoming parade on Nov. 10.
The Alumnus/Alumnae of the Year Award recognizes outstanding achievement, acts of humanity or service to The Citadel Alumni Society, or the nation, city, state or an organization. The actions or achievements may be career-oriented, heroic efforts, special recognition in their field, work on special significant projects, or other significant personal achievement. This action or achievement must bring honor and credit to the individual receiving the award and represent The Citadel and its core values of honor, duty and respect in the recipient's private and professional life.
Other CAA members honored for their contributions:
CAA District Director of the Year
Lucien "Lucky" Lane, '70, District 11
CAA Club President of the Year
Duane Flemming, '82, The Citadel Club of Greater Washington D.C.
CAA Large Club of the Year
The Citadel Club of Charleston
CAA Small Club of the Year
Pittsburgh Area Citadel Club
CAA Star Clubs 2018
Atlanta
Beaufort
Central Savannah River Area
Charleston
Charlotte Area
Chester-Fairfield
Chicago-Midwest Area
Colleton County
Columbia
Delaware Valley
Greater Greenwood
Greater Washington
Greenville
Horry
Lexington
Maine
New Jersey
North East Florida
North Texas
Pacific Northwest
Pee Dee Area
Piedmont Triad
Pittsburgh Area
Rock Hill
Savannah
Southern California
Southside Atlanta
Summerville
Tampa Bay
Tennessee Valley