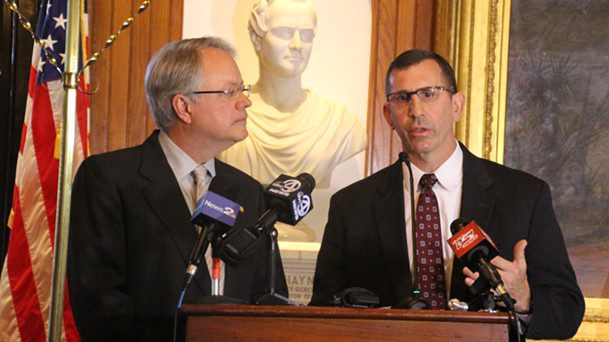 Photo: Charleston Mayor John Tecklenburg (left) and Police Chief Luther Reynolds will participate in an interfaith dialogue on April 24 (Courtesy: Charleston City Paper)
Charleston's Mayor John Tecklenburg and Police Chief Luther Reynolds will host a dialogue to explore how the faith community responds to discrimination Wednesday night.
The talk will start at 5 p.m. at the Central Mosque of Charleston (1082 King St.), according to a press release from the city. The event is free and open to the public.
The keynote address will be delivered by J. Goosby Smith, the Assistant Provost for Diversity, Equity and Inclusion at The Citadel. Mount Zion AME Church Rev. Kylon J. Middleton will moderate the discussion.
Panelists include Imam Shamu Shamudeen of the Central Mosque of Charleston, Rabbi Greg Kantor of the Kahal Kadosh Beth Elohim synagogue, and David Goltra of the Church of Jesus Christ of Latter Day Saints.
Attendees will be required to remove their shoes prior to entering the main room of the mosque. Women will be given the option to wear a traditional head scarf.
Charleston has seen a handful of crimes in recent months that some have attributed to discrimination.
This month, a family's LGBTQ pride flag was burned in front of their home. The police are investigating the incident as a possible hate crime, and a local LGBTQ rights organization gave out free rainbow flags to homes and businesses in response.
In August, the Charleston Police Department backtracked after initially announcing that a trans woman's assault near a downtown parking garage had nothing to do with her being trans. A "follow-up investigation" found that the attacker did, in fact, confront the victim about her gender identity. Officers underwent trainings to improve encounters with the trans community in October.
The state of South Carolina is one of five states with no hate crime laws on the books. Charleston passed its own such law in November, punishes crimes that intimidate on the basis of "race, color, creed, religion, ancestry, gender, sexual orientation, gender identity, physical or mental disability, or national origin" with a $500 fine, 30 days in jail, or both, on top of a regular sentence for an underlying offense.