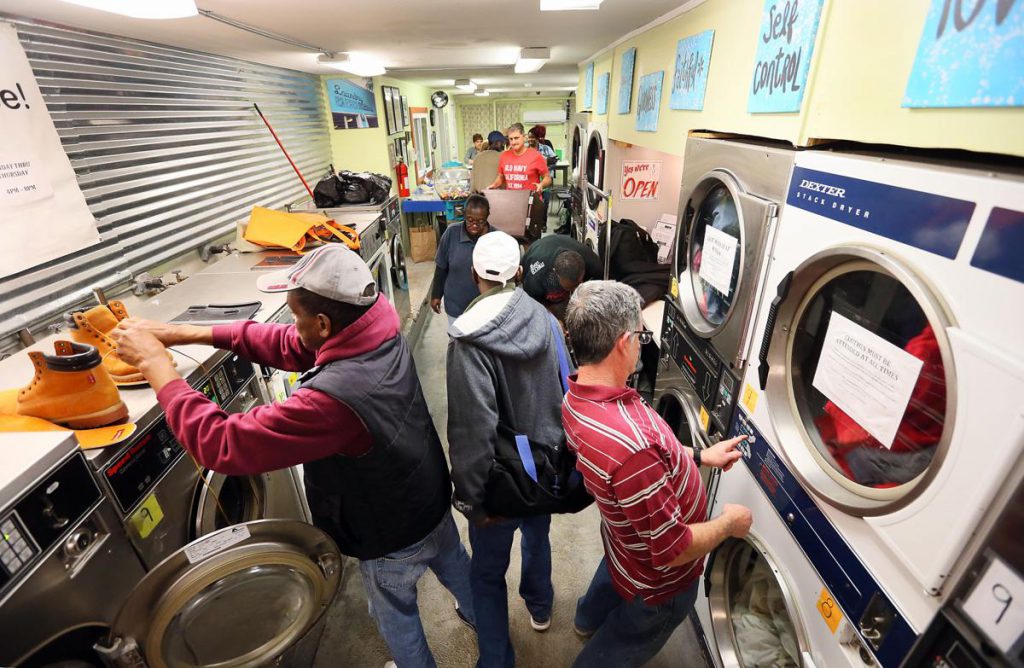 As seen in the Post and Courier, by Angie Jackson and Wade Spees
At least once a week, Charleston residents short on cash can count on washing their clothes free of charge at Laundry Matters, a Reid Street laundromat tucked next to a corner store in the East Side neighborhood.
People come for the free laundry service — sponsored by churches and organizations — and stay for a cup of coffee, a slice of pizza or a Bible study lesson.
Customers often walk in and call out "Miss Samantha!" as they greet Samantha Sammis, a 28-year-old neighborhood resident whose faith-based nonprofit Loving America Street took over the laundromat in 2015.
The laundromat holds 13 washing machines and a dozen dryers, all of which Sammis acquired through fundraising. In looking at the building's vibrant eggshell blue exterior and pastel-colored walls, it's hard to tell the space was once dilapidated.
The building has long functioned as a laundromat, but before Sammis took over the business, customers would need to complete two or three wash cycles before their clothes were clean.
In starting Laundry Matters, it was important to Sammis not only to keep the East Side's only laundromat functional and in business but also to carve out a space in this traditionally black and low-income neighborhood where residents can share the gospel, work on homework assignments and get other assistance.
"It's about the people," she said.
Customers pay between $2 and $7 for a wash or dry cycle, and underprivileged residents are offered free laundry service every Monday provided by the First Baptist Church of Mount Pleasant. Other groups frequently pitch in.
"We have so many of them, it's not really worth advertising," Sammis said of the free laundry days.
On a recent Tuesday afternoon, Martha Vasey waited near a washing machine as volunteers from the Junior League of Charleston handed out quarters. She attends free laundry nights once a week, pushing a buggy of dirty clothes from her special needs apartment three quarters of a mile away. Without Laundry Matters, she could probably only afford to wash her clothes once a month.
"I don't have a lot of money, so it's a great service," Vasey said.
George Dean said he's in a similar situation financially. Laundry Matters keeps him from having to wash his clothes by hand, and he likes that the laundromat also holds a weekly Bible study and provides snacks.
"It's a nice atmosphere," Dean said while sipping on an apple juice provided by the laundromat.
Nearby, a young girl danced and giggled with a volunteer. Toward the back of the laundromat, Ramsey Hamilton, one of two employees from the neighborhood, received a fist bump from a regular customer as he wiped down a table.
Hamilton keeps the place organized and helps people with their laundry. He's known Sammis for seven years, since she first approached him about attending a Bible study at her home. The opportunity to work for Laundry Matters in 2016 brought him back into the workforce after five years without a job.
Hamilton said he's been embraced here. He has cerebral palsy in his legs, which sometimes requires him to use a wheelchair. Sammis and the customers treat him as an equal.
On any given day during his shift, Hamilton can be found cracking jokes.
"We're the only laundromat I've ever known that'll give you a smile and a good sense of humor," he said. "It's something about (Sammis) and the way she has established this place…
"It's friendly. People just enjoy it."