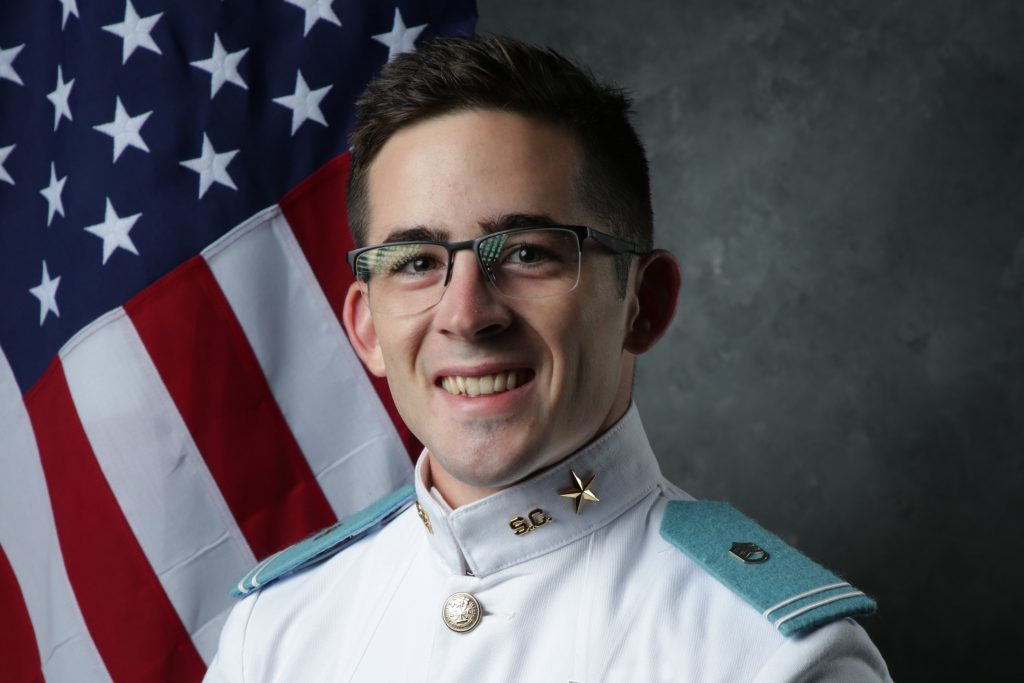 With his sights set on becoming a pediatric nurse, Cadet Jesse Crook, from Gastonia, North Carolina, will be continuing the servant leader work that has long been a part of his life.
As an Army contract cadet in his junior year, he has already completed 635 hours of volunteer service. He devotes his spare time to two things: supporting those in crisis following a disaster or trauma and promoting equal access for children with special needs and their families.
In recognition of his civic service, Crook was selected as a 2020 Newman Civic Fellow, after being nominated by The Citadel President, Gen. Glenn M. Walters, USMC (Ret.).
A portion of that nomination letter reads:
As one of the first Citadel cadets on path to graduate in our new Bachelor of Arts in Nursing program, Cadet Crook is a fine scholar and cadet, achieving Dean's List or President's List each of his six semesters at The Citadel. He has distinguished himself as an outstanding young leader. He is a leadership scholar, working toward a minor in Leadership Studies, and served in our cadet chain of command as a squad corporal. In this role, Cadet Crook was directly responsible for training and mentoring freshmen cadets.

Cadet Crook is on track to commission in the Army as a nurse upon graduation, and ultimately aspires to specialize in pediatric nursing. He chose this discipline in part as a result of his extensive volunteer service to children with special needs. He volunteered at Camp Rise Above, an outdoor summer camp for youth with Sickle Cell disease, Down syndrome, cancer and other chronic conditions. He assists less-experienced cadets and volunteers in adjusting while maintaining an authentic presence and finding strengths in everyone.

As an Eagle Scout in a rural North Carolina community, he built and distributed close to two-dozen "Free Little Libraries" promoting literacy in impoverished neighborhoods.

In word and deed, this exemplary nursing major demonstrates selfless service to his classmates and our community.

Gen. Glenn M. Walters, USMC (Ret.) President, The Citadel
The Citadel's nomination for this position is one of the highest awards the college offers to a rising senior. As a Newman Civil Fellow, Crook will network with other "world makers" from around the country, both electronically and in person at the November annual conference.
The Krause Center for Leadership and Ethics at The Citadel will recognize Crook's achievement during the annual Community Partner Awards celebration on Friday, April 24, following the Corps' military dress parade. The college's 2019 Newman Fellow, Braxton McDuffee, will assist in this recognition.
Crook's personal statement on Campus Compact.com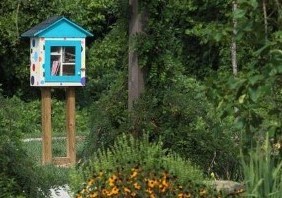 My mom was a librarian in a high-poverty school in Gastonia, North Carolina. She would return from school and tell me that children were taking books from the library. One might think they were 'stealing' them, but it was much more riveting and unnerving than that. These children were taking books from the library because at home they had none to call their own.

I wanted to change that, so for my Eagle Scout project I built 21 Little Free Libraries in their communities. I remember seeing children run in joy to the boxes, knowing they would have free books to take home – their own books.

This was my first of many encounters with children facing problems that I did not have. As I went into college, I began volunteering with organizations that support children with a parent affected by cancer, families in disaster environments, and children with chronic health conditions to give them what every child deserves – a normal life.

As I work toward a career as a pediatric nurse, the bravery and perseverance of the young people I have tried to serve inspires me to live my own life as an engaged and grateful member of my community.

Citadel Cadet Jesse Crook, Newman Civic Fellow