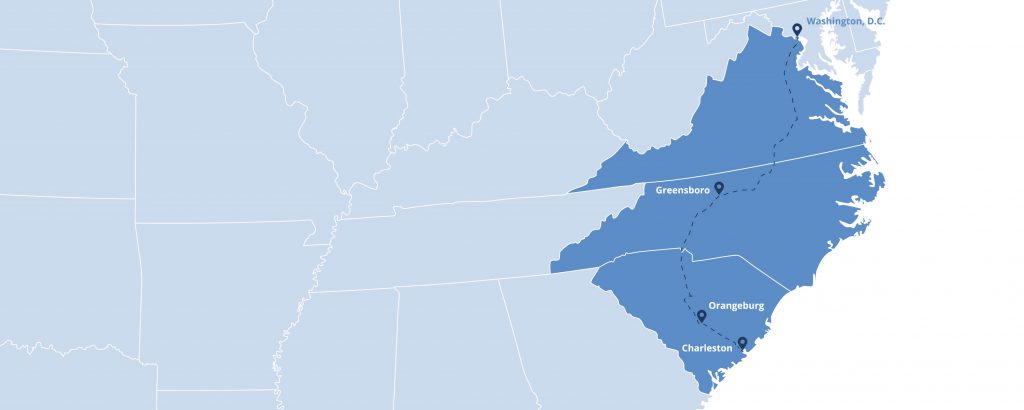 Citadel cadets are spending part of their Spring Furlough on a four-day trip to locations important to the Civil Rights Movement.

From March 8 – 11, the cadets will visit historical sites, museums and colleges in Orangeburg, South Carolina; Greensboro, North Carolina; and Washington D.C.
Cadet Rhaei Brown is one of the twelve students taking part in the trip. He will provide blog posts frequently to allow The Citadel community a chance to follow along the cadets' journey.
Brown is a native of Madison, Tennessee. He is a business administration major and is also the editor-in-chief of The Brigadier, the South Carolina Corps of Cadets newspaper.
---
Day 1: Orangeburg, South Carolina
Twelve cadets and three Citadel faculty members started a four-day journey to explore black history together on Thursday, March 8. There hasn't been a trip like this in The Citadel's history, so when we left, nobody really knew what to expect.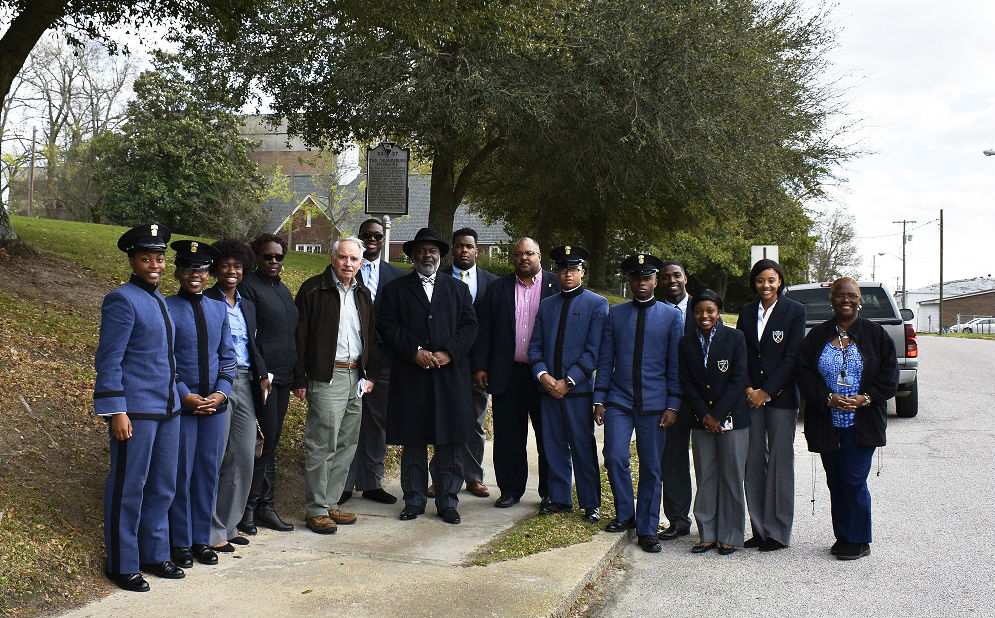 Prior to our departure, we were encouraged to read about and watch documentaries on the historical events and sites that we were going to be visiting on our trip, with our first stop being the location of the Orangeburg Massacre.
The massacre took place in February 1968. At least 31 black students were shot and three were killed on the campus of what was then South Carolina State College. The group of students was fired upon state law enforcement officers during a civil rights protest that had rapidly escalated. It was one thing to read or even watch the documentary about this historical event, but it was another matter entirely to stand right where someone had lain dying 50 years ago.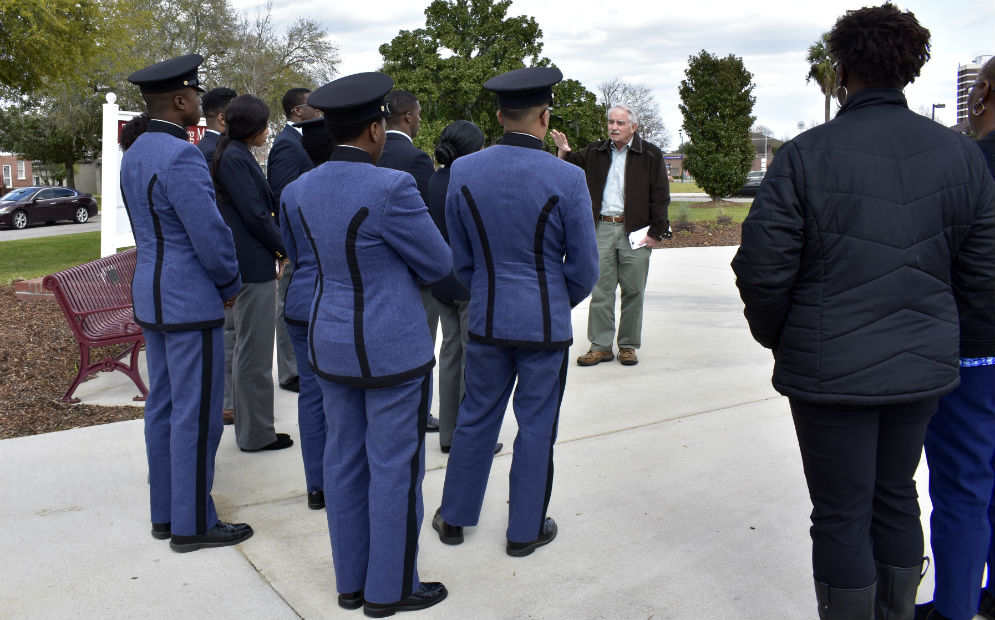 As we learned more about what happened leading up to the massacre, I tried to place myself in the shoes of the leaders on both sides to better understand what they could have done to handle the situation better or even possibly prevent it entirely. In doing that, the lesson that I was able to take away is that communication is key on all levels from the top down in order to prevent chaos, violence and unnecessary loss of life.
After leaving Orangeburg and stopping for dinner, we arrived safely in Greensboro, North Carolina. We all look forward to learning about the significance of this location in the Civil Rights Movement on Friday.
Until next time, press on warriors!
---
Day 2: Greensboro, North Carolina
We started the second day of our journey on Friday, March 9 in Greensboro, North Carolina, where the first sit-ins of the Civil Rights Movement occurred.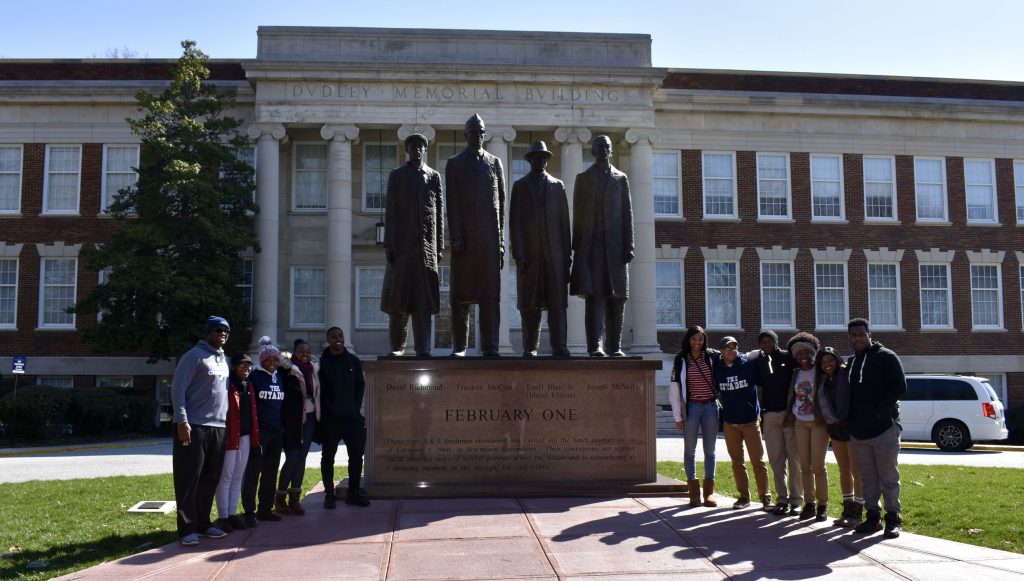 We visited The Greensboro Four monument on the campus of North Carolina A&T State University. One of the security guards, a friendly Air Force veteran, talked to us about the school's history and the role the students at the university played in the Civil Rights Movement.
On February 1, 1960, four black freshman, David Richmond, Franklin McCain, Ezell Blair Jr. and Joe McNeil, went to Woolworth's and sat down at a lunch counter designated "For Whites Only." The four men were denied service but sat at the counter peacefully until the store closed.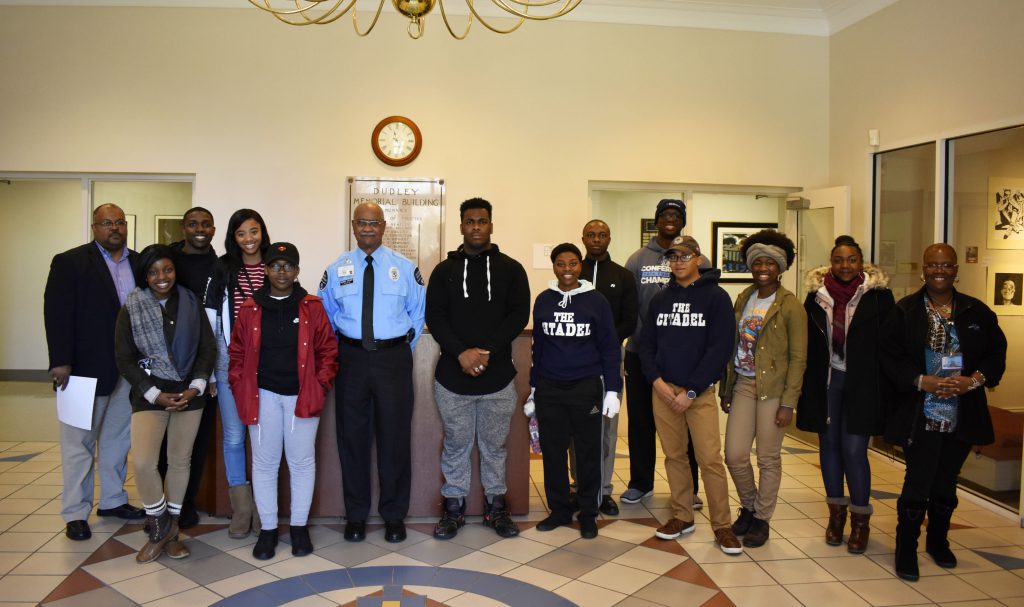 Word spread about the four men's sit-in at Woolworth's, and the very next day, local college and high school students joined the demonstration and organized shifts to keep the peaceful protest going. News of the sit-in spread across the nation, and other towns launched similar protests, cementing the Greensboro Four's place in history. After protesting for more than 5 months, Woolworth's and surrounding businesses finally desegregated.
After our visit at North Carolina A&T State University, we visited the International Civil Rights Center and Museum. The museum's building formerly housed Woolworth's, so we were able to see the scene where the first sit-in took place firsthand. Also at the museum were pictures and exhibits about lynchings and murders that took place in America; there was even a blood-stained Ku Klux Klan outfit on display. Everyone in our group marveled at the strength and courage that protesters had to demonstrate during the Civil Rights Movement.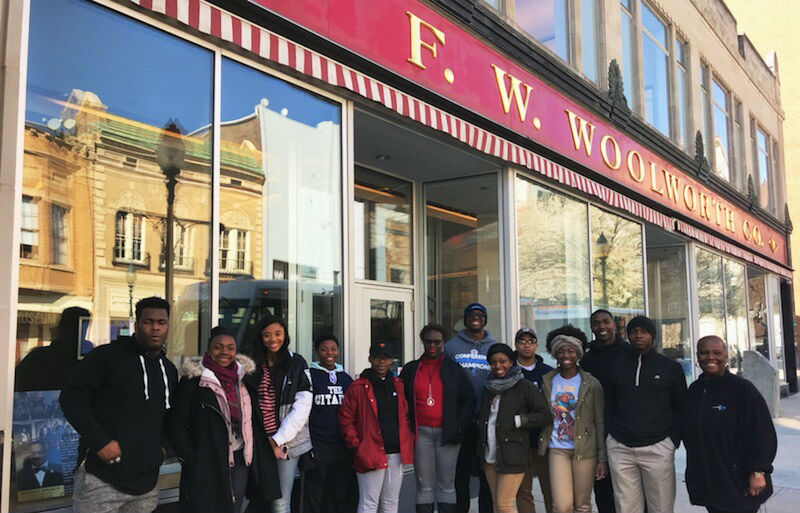 As cadets, we especially admired the discipline that students of the sit-in movement maintained. They were constantly insulted and physically harassed but still sat quietly and organized, and even managed to do homework during their demonstrations. We all agreed that not even bracing on-line for cadre as knobs quite measured up to their feat!
After long conversations and an even longer drive, our group finally arrived to Washington D.C. Our camaraderie is even stronger, and so is our excitement for our big day in the nation's capital tomorrow.
More to come. Press on warriors!
---
Day 3: Washington D.C.
The final stop of our journey was the Smithsonian National Museum of African American History and Culture in the National Mall in Washington D.C.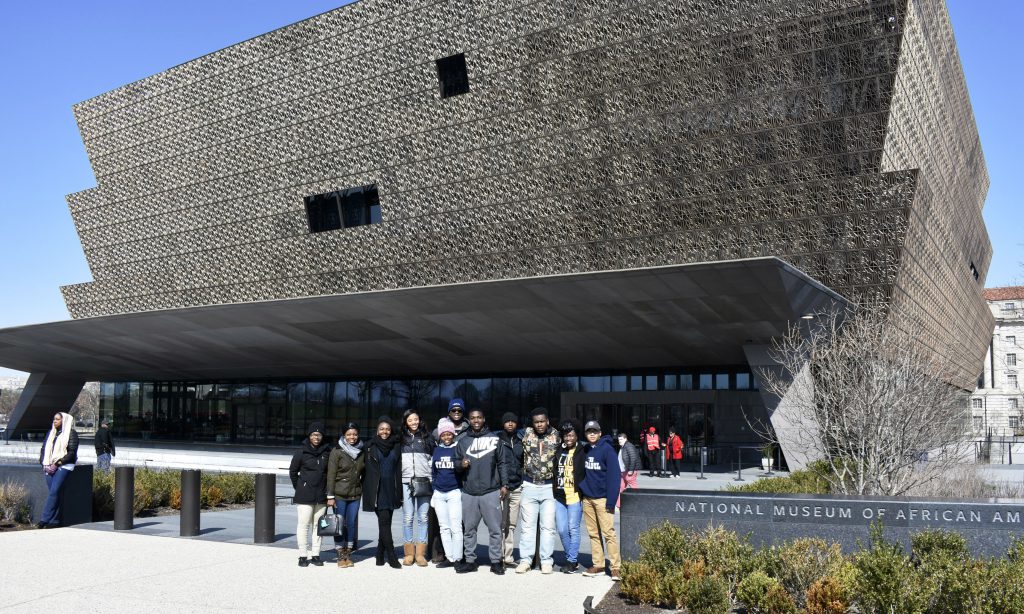 Over the course of five hours, we wandered seven floors of exhibits and galleries displaying years of African American history and culture, including slavery, the Civil Rights Movement and the development of modern black culture.
After our visit, I asked Cadet Asyria R. Daniels some questions about her experience at the museum:
What made the greatest impact on you at the National Museum of African American History and Culture?
Seeing and being able to be apart of the history made the greatest impact on me. The museum made you feel like you were there, in that era, in that riot or situation, even in times of victory. It made the history feel real.
Were you surprised by anything you saw or learned?
Surprised is not the word I would use; I would say that I was amazed. So much of African American history is not taught. Not in our schools. We are taught about the "likeable" figures but not about the rebels who stood for what they believed in. We are taught about how the slaves were brought over, but not about the gruesome and violent crimes that were enacted upon them. It was amazing to see and learn about the unsung heroes of every aspect of African American history. This museum showed it all – the good, the bad and the ugly. No rock was unturned and that's why I would say it was amazing.
What will you take back with you to The Citadel?
I will take back the history I've learned as it will help me better educate other cadets in our rich culture and past. I'll also take back the emotions I experienced of being proud of being an African American woman, and knowing that I am striving at The Citadel and that I am my ancestors wildest dreams.
For three days we traveled from Orangeburg, South Carolina to Greensboro, North Carolina to Washington D.C. to visit landmarks important to black history. Now we head back to Charleston with more knowledge and understanding about black history. The knowledge we've gained from this trip is endless, and the opportunity to learn about the actions of those who came before us is invaluable.
I am reminded of our Citadel alma mater, "In the paths our fathers showed us, follow without fear." I know that those words in the alma mater refer to Citadel alum, but after this trip, they have an even deeper meaning to me, as I now know more about black history and the significance of my own heritage – a heritage that I am proud to soon add to the Long Gray Line.