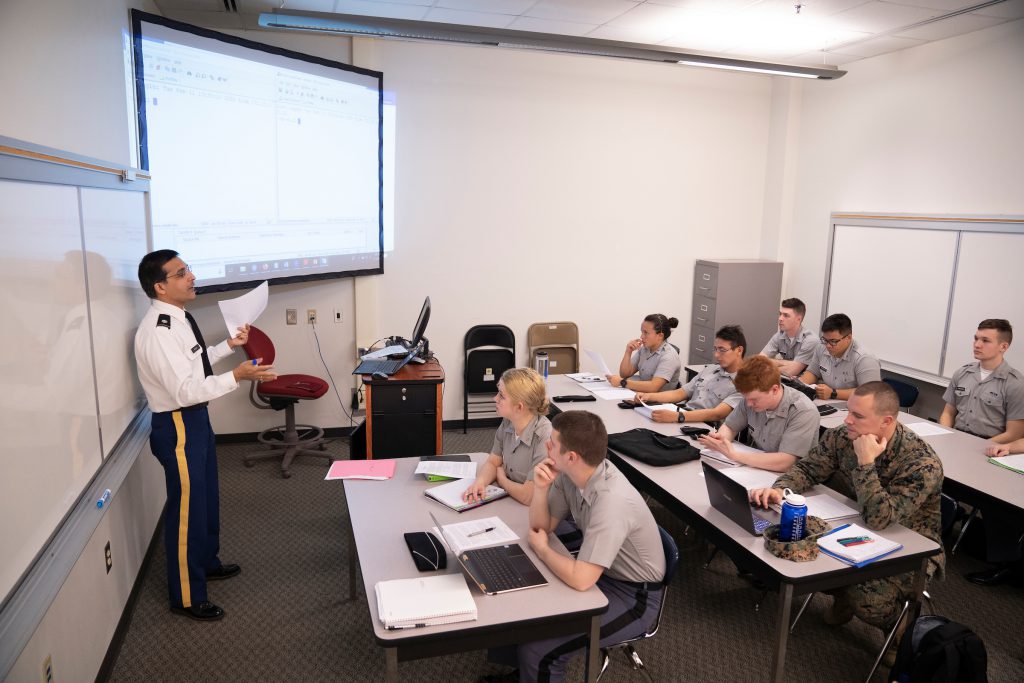 As seen on HolyCitySinner.com, by Claudie Benjamin
Photo above: Cadets in a Computer Networks class led by Professor Shankar M. Banik, Ph.D., at The Citadel in Charleston, in February 2020.
"It's like a battlefield. Cyberspace adversaries are always out there," Shankar Banik, Ph.D. always tells his cadets and students. "Learn how to prepare yourself and others against them."

Dr. Shankar Banik, professor and program director for The Citadel Cybersecurity and Computer Engineering initiatives
Dr. Shankar Banik is an esteemed expert at The Citadel in Charleston. He holds several leadership positions at the Military College of South Carolina, including head of the Department of Cyber and Computer Sciences, co-director for The Citadel Center for Cyber, Intelligence, and Security Studies, and director of The Citadel Department of Defense Cyber Institute (CDCI), which is funded by the federal government. The Citadel has been designated as a National Center of Academic Excellence in Cyber Defense Education (CAE-CD) by the National Security Agency and the Department of Homeland Security. 
These days, by definition, the battle in cyberspace is everywhere, at home, in the office, in hospitals, banks and in military operations on land, sea and in the air and in space. Dr. Banik is an engaging teacher who makes complex topics readily understood, riveting and relevant to our personal well being.
On the subject of cyber security, we are all very vulnerable. This is increasingly true as everyone acquires more smart technologies that range from phones and to refrigerators, cameras and light bulbs. All connect through wifi to make our daily lives more enjoyable. The enormity of the challenge to ensure security is almost unfathomable.
The way Dr. Banik puts it, "If you have a house with four doors, you can shut them and feel secure. If your house has 15 doors, the task is more complicated."
All it takes, he explains, is one entry point and an adversary has a way of infiltrating a network. Passwords are definitely an issue. Challenged by coming up with many passwords, Banik says some people always use 1234567 as their password or Charleston residents may select the word Charleston – "Those are too easy to guess."
Most recently phishing has become a common and increasing problem. People open texts with warnings of credit issues or enticing prize offers from "fake" but seemingly familiar sources. Once a bank account identification or social security number, or other sensitive information is provided to the sender, there's no turning back.
Outside the home, similar challenges confront nearly every human enterprise and touch all the many different ways that data and sensitive information is stored. This multiplies the range of specialized security systems tied to the Internet that potentially could be breached. As important as ongoing monitoring is, an essential challenge is finding a means to identify breaches of a system while not bogging it down.
On the subject of adversaries. Dr. Banik does not minimize their ingenuity or intelligence.
"They are always devising new ways to corrupt or infiltrate our networks," Dr. Banik said. "We have to be one step ahead or we're left with having to backtrack and figure out what went wrong."
The Department of Defense (DoD) is heavily involved in preparing the upcoming generation of military officers to understand the challenges of maintaining cybersecurity and in marshalling their creative efforts. Toward this end, Dr. Banik is tremendously optimistic about the formation of The CDCI that was launched last September in which he holds a leadership role. The program is organized to include all of the six Senior Military Colleges: The Citadel, Virginia Tech, University of North Georgia, Virginia Military Institute, Norwich University, and Texas A&M. Each of these academic institutions received a 1-year grant of approximately $1.475 million of federal money to establish cybersecurity institutes as pilot programs .
Each Senior Military College has its own curricula and also exchanges ideas with its other partners. An internship in industry or other government agencies is a requirement of the program and is aligned with The Citadel's commitment to experiential learning. The idea is that college graduates who are in the Cohort of Cyber Leaders Development Program (CLDP) from the DoD funded Cyber Institutes will be ready for duty right after they leave their campuses." says Dr. Banik.