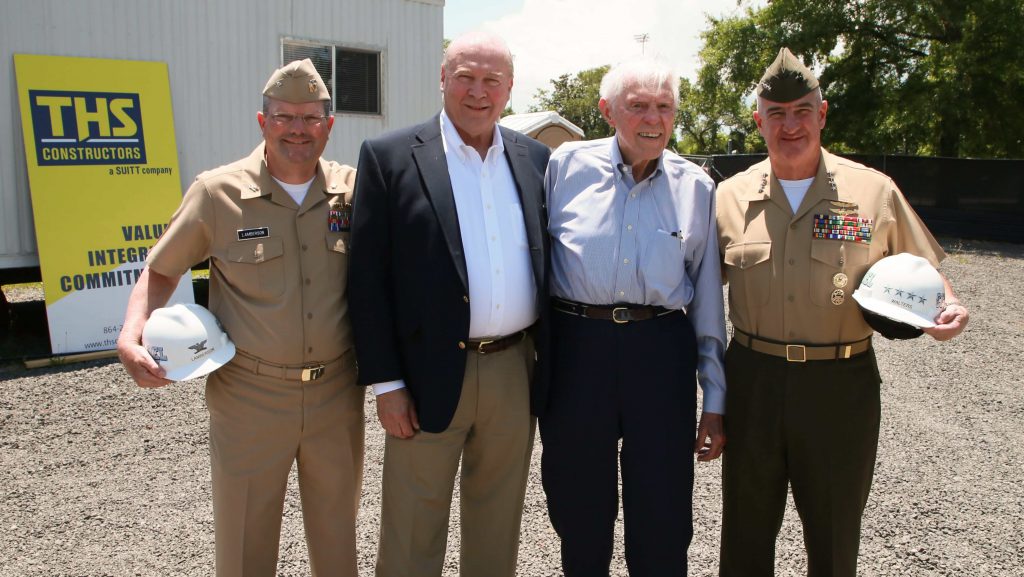 Photo: (left to right) Capt. Jeffrey Lamberson, Tom Suitt, Howard Suitt and Gen. Glenn Walters, USMC (Ret.)
With the first phase of construction underway on the future home of the Baker School of Business, the leaders of the construction company heading the project took the president of The Citadel on a brief tour of the site on Thursday, May 16.
"It's been over four decades since we've built an academic building on this campus, and it's long overdue. Now that we've started, thanks to the generosity of donors, I'm hoping that this is the first domino that's going to get this campus revitalized over the next 10 or 12 years," said Gen. Glenn M. Walters, USMC (Ret.), president of The Citadel.
The chairman and founder of the Greenville-based THS Constructors, Inc. wanted to come to his alma mater to see the project for himself. Howard Suitt is a member of The Citadel Class of 1948, graduating with a Bachelor of Science in Civil Engineering. He founded Suitt Construction in 1968. Suitt has been responsible for placing over $12 billion in construction value, representing a total installed cost of approximately $36 billion for more than 2,000 projects.
"With three Citadel alumni in the company, including me, this project is especially important to us. We couldn't be more excited about serving the school and bringing a first class building to campus," said Suitt.
Suitt's past notable experience includes managing three sites simultaneously for a single client that employed over 3,500 construction workmen and represented an owner's investment of more than $700 million. Tom Suitt, the son of Howard, senior vice president of the construction company, and a member of The Citadel Class of 1974 accompanied his father and other members of their team on the tour of the site.
The Citadel received a $6 million gift to construct the new business school building from Rick Bastin, The Citadel Class of 1965, and his wife Mary Lee, who were honored for their generosity through the naming of the new facility, Bastin Hall.
View the plans for Bastin Hall here.