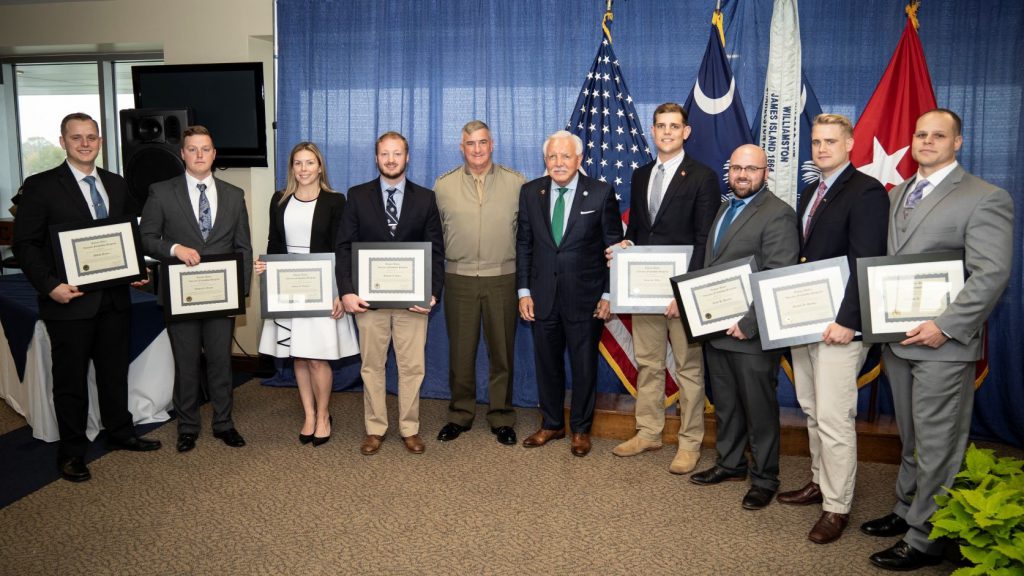 Photo, left to right: Phillip Martin, Thomas Guess, Ashley Towers, Anthony Pasco, Citadel president Gen. Glenn Walters, Tommy Baker, Brian Allen, Jesse Brooks, Michael Dunbar and Thomas Taylor
The Tommy Baker Veterans Fellowship recipients for the 2019-20 academic year include eight veteran students studying through The Citadel Graduate College in a variety of undergraduate programs.
The eight recipients are:
Brian Allen, USMC, Intelligence and Security Studies
Jesse Brooks, USN, Psychology
Michael Dunbar, USA, Mechanical Engineering
Thomas Guess, USN, Business Administration
Phillip Martin, USN, Exercise Science
Anthony Pasco, USAF, Criminal Justice
Thomas Taylor, USA, Exercise Science
Ashley Towers, USA, Intelligence and Security Studies
The fellows are provided with a $5,000 stipend for tuition and educational expenses and a semester-long internship with a supporting agency or organization, arranged through The Citadel Career Center. One component of the internship experience is a research project, where students complete an assessment of an organizational issue with recommended strategies and solutions. This document can then be added to the student's e-portfolio as evidence of academic excellence. The program represents one part of The Citadel's commitment to serving those who served America.
"We have a proud history of supporting the nation's Armed Services and veterans –  two of the many reasons The Citadel was named the Best College for Veterans in the South for the last two years by U.S. News & World Report.  We're thrilled to include the Baker Veterans Fellows Program in our list of advantages enjoyed by veterans continuing their education here," said Kelly Brennan, Ph.D., associate provost of enrollment management. "Thanks to the generous support from the program's namesake, Tommy Baker, we're happy to be able to help our veterans distinguish themselves in their studies and in their chosen fields."
The fellowships are provided through the generosity of Tommy Baker who is a veteran and the namesake behind the Tommy and Victoria Baker School of Business at The Citadel. Baker, founder and owner of Baker Motor Company, studied business while attending the college as a veteran student, enrolling after returning from service as an enlisted Marine in 1968.
Ranked as the No. 1 College for Veterans in the South by U.S. News & World Report in 2019 and 2020, The Citadel offers veterans the opportunity to complete or advance their educations in an environment that understands and appreciates military service. Approximately 240 veterans currently attend The Citadel as day student undergraduates, evening undergraduates, or graduate students.
Tommy Baker Veterans Fellowship applicants must be full-time undergraduate or graduate students at The Citadel who are career-centered and community-minded and received honorable discharges from U.S. military services. Applications for consideration for the 2020-21 fellowships will be accepted until October 9, 2020. To apply, or to learn more, click here.
To learn more about how The Citadel supports continuing education for veterans, click here.