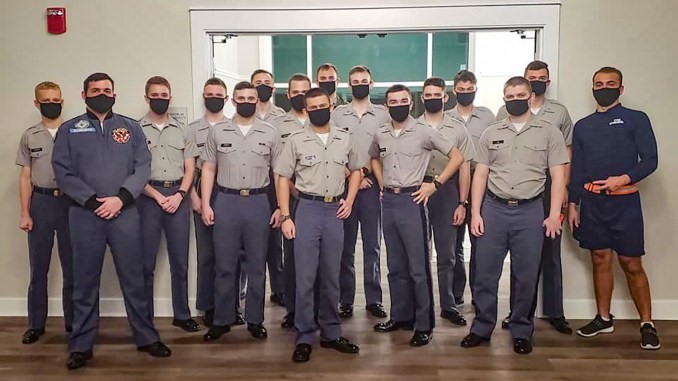 Photo above: Members of The Citadel Eagle Scout Association in January 2021 in Charleston, South Carolina
The saying, repeated at Eagle Scout courts of honor for generations, goes something like this: "The Eagle Scout Award isn't the end of your journey. It's the beginning."
It should sound like a challenge — something to remind young people that they remain Eagle Scouts for life.
And yet, when Eagle Scouts turn 18 and are no longer youth members of the BSA, the Scouting part of their journey often does end.
They move away to attend college or start a career, effectively closing their Scouting chapter until they have kids of their own.
Ted Fienning and his colleagues at the Citadel have a plan to change that.
"As an Eagle myself, I'm very familiar with the feeling many young Scouts have that it's, 'get it done by 18 or you're out!'" he says. "That's a consistent message to our Scouts: You're done at 18. In effect, it means that at a time when Scouts are leaving their home towns to head to college, we allow them to disappear. And we do so right when they're at the pinnacle of training, having earned Scouting's highest award."
Fienning is the staff advisor for the Citadel Eagle Scout Association, or CESA — a group of 50 Eagle Scouts who attend the senior military college in Charleston, S.C. These Eagle Scouts take trips together, host events for local packs and troops, and complete acts of service in the community.
They're led by CESA President Jackson Jenkins, an Eagle Scout from Troop 392 of the Quapaw Area Council in Arkansas and a junior political science major at the Citadel.
"It was always taught to me by my Scoutmasters — Mr. Ken, Mr. Scott, Mr. Mark and others — that giving back to the program as an adult is one of the most important things I could do," Jenkins says. "When I learned that the Citadel had an Eagle Scout Association, I jumped at the chance to get involved with the group and stay involved with Scouting as a college student."
Through CESA, Jenkins says he's been able to make friends, serve others and "continue to grow both myself and other young Eagles as leaders, all while being able to have fun and fulfill that promise I made to give back to the program that gave so much to me."
So how do they do it? How has CESA bridged the gap between youth and adult Scouting? By taking a three-pronged approach.
Members of the Citadel Eagle Scout Association in Fall 2017. (Courtesy of CESA)
1. Give them a shared purpose
Young people, especially those in college, want to make an impact. They want to know that their work matters.
For the members of CESA, that shared purpose is serving others.
"We identify an annual project or two that they can plan, serve and sink their teeth and skills into," Fienning says.
Last year, they launched a Cub Scout Adventure Rodeo. This year, they're hosting a Scouting University (at an actual university), as well as designing and building a trail for a nearby state park.
"We also train them on adult Scouting opportunities and connect them to packs and troops to help out where they can," Fienning says.
2. Remove financial barriers
CESA members pay no dues.
CESA covers all costs, including transportation to and from service events, like CESA's "Mom & Me" and "Dad & Me" camps or support at the Coastal Carolina Council's other Scouting events.
To make this work, you need an advocate who works for the college. In addition to his role as CESA advisor, Fienning is the associate director for professional leadership programs at the Citadel, meaning he has the administration's ear.
Fienning worked with the college's foundation to build a Citadel Eagle Scout Association Fund. The fund raised more than $6,000 in a campaign last year, which will go a long way toward meeting the group's $1,500 annual budget for some time.
Over the years, this fund will kick out 5% of endowed funds to keep these Eagles serving in perpetuity. The fund will pay for equipment, logistics, food and more.
"Working with the college foundation really reduces the administrative burden of tracking accounts and donors, plus it lends credibility to the Eagle Scout Association and its ties to the college," Fienning says.
3. Feed them
It's a tradition as old as colleges themselves.
"College students will gather for free food," Fienning says.
Sure enough, CESA leaders understand that food isn't the only reason members attend meetings, but it helps. CESA cooks its meals outdoors in large batches — a delicious serving of nostalgia that makes these Eagle Scouts remember time spent in their home troops.
"Scouts bring their mess kits, and we eat well," Fienning says.
Starting your own collegiate Eagle Scout Association
Want to start an Eagle Scout Association at your school and keep these young Eagles around the Scouting campfire?
To help CESA grow, Fienning says he worked closely with Ray Capp and the BSA Alumni Association. That's a great place for anyone to start.
To learn more about the Citadel Eagle Scout Association, visit the group's official Facebook page.
'One of the greatest influences on my life'
Jenkins, the CESA president and Eagle Scout, is a shining example of why we need groups like CESA.
We need to keep young people like him engaged — especially while their greatest Scouting memories are still fresh on their minds.
Jenkins has been an unofficial Scout since he was 4 and started tagging along on his older brother's Cub Scout adventures.
The instant he could join, Jenkins did.
"Ever since then, it's been one of the greatest influences on my life," he says. "The Scout Oath and Law, the examples of my adult leaders, and the amazing experiences gained on so many countless days and nights of camping have shaped me into the person I am today. I am so very thankful for all of it."