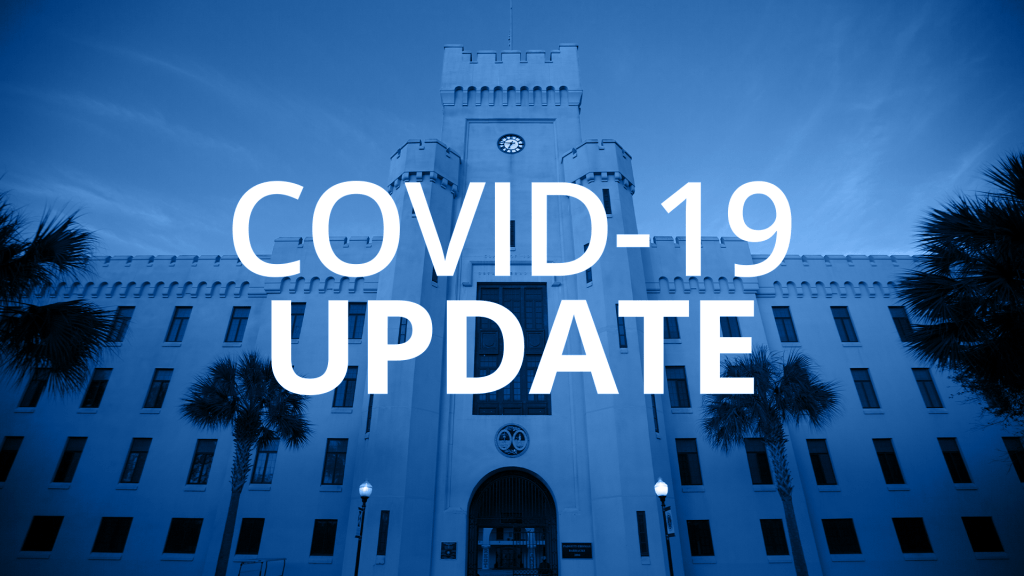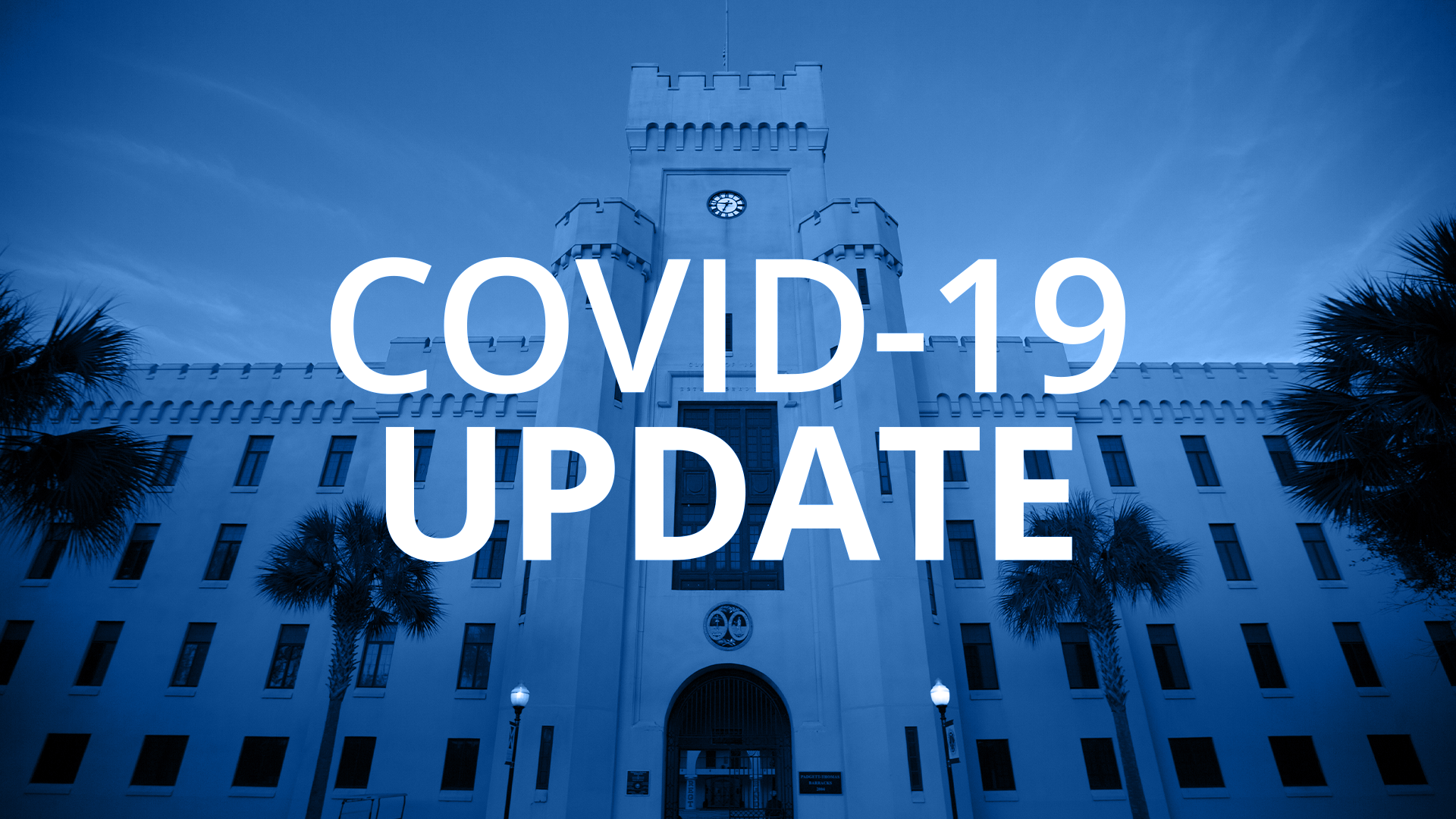 Citadel Family:
Greetings. I trust this finds you and yours well.
Recently, The Citadel was given a unique opportunity to assist The Marine Corps in training the next generation of Americans answering the call to service to our nation. Specifically, The Citadel will assist the Marines by providing lodging and services for Marine Recruits about to begin their military careers. As we've done since 1842, The Citadel is proud to again answer America's call in times of crisis.
I'll first share some background. Recruit Training ('Basic Training' or 'Boot Camp') is designated an essential mission by The Secretary of Defense and Commandant of the Marine Corps during the COVID-19 crisis. Parris Island South Carolina, near Beaufort and a short drive from Charleston, is home to one of two Marine Corps Recruit Depots (MCRD) where Recruit Training continues.
Before commencing Recruit Training, new enlistees now spend 14 days in a holding status to ensure they are COVID-19 free. All recruits are medically evaluated before departing home for Recruit Training.
MCRD Parris Island cannot easily house these new personnel during this 14 day observation period, and turned to The Citadel for help.
We are proud to support our Armed Forces in this time of crisis, and understand such support comes with questions and concerns for our cadets, students, faculty, staff and neighbors. We have a great plan and team here on campus who, with the Marine leadership from MCRD Parris Island, will ensure impacts to The Citadel and our personnel are minimized. Some initial thoughts:
-When Marine support begins. Starting on or about 1 May, the Marines will utilize Citadel barracks and other facilities while in this 14 day observation period. Active Duty Marines and Sailors, including medical and other support personnel from Parris Island and Camp Lejeune North Carolina will oversee these recruits while on The Citadel campus.
-Impact to The Citadel. We expect several increments of recruits, and are committed to this program ending with adequate time to prepare campus for the return of cadets and students for Fall semester, based on government instructions, best practices related to the COVID-19 crisis, and how events play out over the coming months. No impact is anticipated on the continued clearing of barracks by cadets, or the online academic program.
–Campus Operations. Current activities at The Citadel will continue uninterrupted, to include normal cleaning of spaces and other services. The Marines will coordinate with the Administration and Public Safety to ensure campus, our residents, faculty, staff and the community remain safe and can operate normally. Relatively few Citadel personnel will be in regular, direct contact with the Marines, and those who are will observe rigorous social distancing and hygiene practices as appropriate. Marine personnel will practice these same habits.
-What the Marines will do. Recruit activity will be closely monitored by the Marines, and include basic clothing and gear issue, physical training, fundamental military drills and classroom instruction. No weapons will be brought to campus. They have no plan to operate in the vicinity of campus residences, and recruits will not be permitted to leave campus.
-The Medical Mission. A big part of the Marines' time here will be careful and repeated medical observation of all recruits. Plans are in place to isolate any recruit suspected of COVID-19 infection, or anyone believed to have been exposed. Navy medical personnel will oversee this observation, as well as other medical needs for recruits. Citadel personnel involved in supporting the Marines will be monitored as required.
–Where the Marines will operate. The Marines will spend most of the 14 day observation period in a portion of campus to include the barracks, mess hall, athletic fields, a few classrooms, and Deas Hall. They will have limited access to public facilities in other places on campus. All spaces used by the Marines will be extensively and regularly cleaned.
The Citadel is proud to partner with the Marine Corps in this time of national need. This collaboration furthers the mission to prepare our next generation of American Marines while providing The Citadel resources and opportunities for employment, and utilization of idled facilities and services since classes moved online. Citadel revenues generated will partially offset the immense fiscal impact this crisis caused. The partnership is great for both institutions.
I would like to thank Governor Henry McMaster, Mayor John Tecklenburg, Senate President Harvey Peeler, Senate Finance Chair Hugh Leatherman, House Speaker Jay Lucas, Ways and Means Chair Murrell Smith, House Majority Leader Gary Simrill and their associated staffs who offered support and rapid endorsement of The Citadel's efforts to support our fighting forces. This is another great chapter in the annals of South Carolina and Charleston supporting our military and its great men and women.
I'll close by thanking members of our staff, faculty, and contractors from every department who are part of the team preparing for this project, and will make it a success. I'm equally impressed by the Marines planning the operation- their professionalism, dedication to mission, and respect for how The Citadel operates have been a pleasure to observe. It is reminiscent of the Second World War, when The Citadel campus supported over 10,000 military personnel training in various programs before shipping overseas. I am proud to be a part.
Please continue to keep yourself and those you love safe. I look forward to seeing you all soon.
Semper Fi and Go Dogs!
Glenn M. Walters '79
General, USMC (Retired)
President