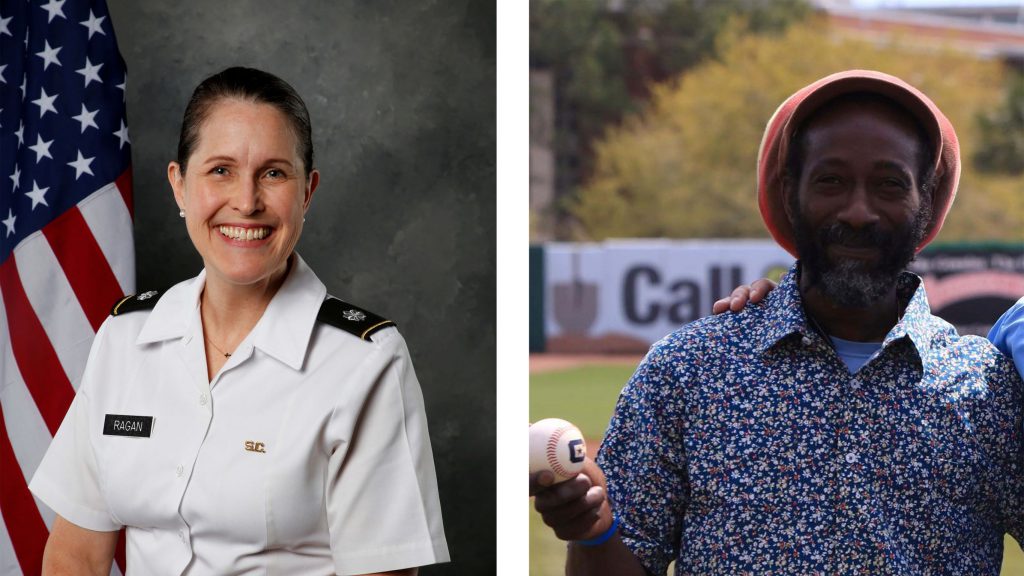 The Southern Conference named its All-Southern Conference Faculty and Staff Team on Wednesday, with two representatives each from all 10 member schools being recognized by the league.
While the selections were left up to each institution's discretion, the recipients all shared the common characteristics of demonstrated service to the institution and contributions to campus life and the local community. Faculty members selected have demonstrated strong contributions to teaching, research and/or service, while staff members are being recognized for bringing out the best in others and creating conditions for success.
The faculty and staff recipients include: The Citadel's Dr. Deirdre Ragan and Kester Melville; ETSU's Dr. Don Good and Levi Smith, Furman's Dr. John Harris and Hunter Reid; Mercer's Dr. Caryn Seney and Katie Johnson; UNC Greensboro's Dr. Susan Phillips Keane and Melinda Wolf; Samford's Laura Promer and Doug Wilson; Chattanooga's Dr. Michael D. Thompson and Will Watson; VMI's Col. Tom Timmes and Sergeant Major Tom Sowers; Western Carolina's Dr. Cyndy Caravelis and Brian Boyer; and Wofford's Dr. Cecile Nowatka and Dr. James Stukes.
"The Southern Conference is proud to once again recognize outstanding faculty and staff members from each of our member institutions," SoCon Commissioner Jim Schaus said. "They are all integral parts of each of their campuses and it's our honor to commemorate their service. I look forward to meeting all of them at our recognition ceremonies throughout the next couple of months."
 
The recipients will be recognized at one of their institutions' home men's basketball games this year.
Dr. Deirdre Ragan, The Citadel
Dr. Deirdre Ragan is an assistant professor in the Department of Mechanical Engineering as well as the director of the Honors Program at The Citadel. Ragan delivers excellence through her unwavering passion and commitment to students and her faith in the mission of The Citadel. Students remark on her level of knowledge of her subject matter as well as an ability to teach and explain topics well. Although challenging, students appreciate Ragan's emphasis on reasoning through a problem and understanding the implications of a result. Ragan's dedication to students, her work ethic, and her love of teaching are celebrated by those who have had the privilege to work with her. Ragan previously worked for PPG Industries, a Fortune 500 company with specializations in glass, coatings and specialty chemicals, and Los Alamos National Laboratory. She holds five patents for ideas conceived and implemented while working in the industry. She previously received a Fulbright Fellowship to conduct research on electrochromic materials at Uppsala University in Sweden and her research interests include materials science, nanotechnology and solar power.

Kester Melville, The Citadel
Kester Melville serves The Citadel as a Grounds Crew Leader within the Facilities and Engineering Department. Extremely knowledgeable in the disciplines of landscape development and maintenance, Melville inspires and mentors the other members of his team to improve their overall service to the college's buildings and grounds as well as highlighting The Citadel's campus. Melville also maintains the Sweet Grass along the Jay Beam Memorial Crosswalk on Lee Avenue. In addition to the challenging gardening and landscaping required to manicure this native species, he led the effort to donate the Sweet Grass cuttings to local basket weavers. His efforts ensure this Lowcountry cultural icon remains sustainable. Melville's professionalism, perseverance and untiring devotion to duty reflected great credit upon himself and the Facilities and Engineering Department and are in keeping with the highest traditions of The Citadel and the state of South Carolina.

Dr. Don Good, ETSU
Dr. Don Good, a professor in the department of Educational Leadership and Policy Analysis at ETSU, is also the program coordinator for the doctoral program in Higher Ed Leadership. He has chaired over 30 dissertations and served as a committee member on over 200, chairs the Clemmer College Curriculum Committee, serves as a faculty advisor for Cru Campus Ministry and the ETSU Wrestling Club, and as a member of the Academic Freedom and Faculty Ethics Committee. He has also served on the Intercollegiate Athletics Committee and is a strong supporter of ETSU student athletes. Good is the author of The Campus History Series: East Tennessee State University as well as numerous publications in the area of higher education. In addition to his service to ETSU, he is a member of the Bristol Motor Speedway Fan Advisory Board and is an extra in the movie and series, Mayberry Man.

Levi Smith, ETSU
Levi Smith began his professional career at ETSU in 2016 as a transcript analyst in the Office of Undergraduate Admissions and since August 2021 has served as the Coordinator for Transfer Evaluation and Articulated Programs. He also handles all processing and admission of second-degree students and performs the initial evaluations for prospective student athletes. Smith also serves on the General Education Review Committee. Although his work is almost entirely behind the scenes, what he does has a direct impact on students and their success at ETSU. A true legacy of the Johnson City, Tennessee, area, Smith's sixth-great-grandfather was Henry Johnson, the founder of Johnson City, and as a student and employee, Smith has been coming to ETSU's campus nearly every day since 2006.

Dr. John Harris, Furman
Dr. John Harris is a professor of mathematics and the director of the Cothran Center for Vocational Reflection at Furman. In the Mathematics Department, he enjoys teaching courses at all levels and appreciates the opportunities to get to know his students well. He has worked with dozens of students on undergraduate research projects, and he is always proud to see students do great things. His professional activity involves work in recreational mathematics (the study of games, puzzles, and magic) and in sports analytics, where along with colleagues he consults with ESPN, the NCAA, and The Athletic. In his work with Furman's Center for Vocational Reflection, Harris participates in programs designed to help students (and others) think about and develop ideas and experiences that lead to lives of meaning and purpose. He loves getting to know and work with student-athletes, and he enjoys attending their matches, races and games. Harris can trace his support for athletic endeavors to his high school days when he supported his own basketball team from the very end of the bench.

Hunter Reid, Furman
Hunter Reid is now in his 38th year at Furman, having joined the department as assistant sports information director in 1985. The Southern Conference's longest-tenured active SID, Reid works alongside a loyal and immensely talented Furman staff in overseeing publicity efforts for the school's 18 intercollegiate sports, with direct responsibility for football and women's basketball. In addition, he serves as liaison to Furman's Athletic Hall of Fame. He was named SID in 1986 and added the titles of assistant athletics director in 1989 and associate athletics director in 2010. He served as media coordinator for both the 2017 and 2022 NCAA Division I Men's Basketball Championship first- and second-round games played at the Bon Secours Wellness Arena in downtown Greenville, South Carolina, and will coordinate media operations for the 2023 NCAA Division I Women's Basketball Championship regional, slated for BSW Arena in March. Reid, who served as SID at his alma mater, Presbyterian, for four years, enjoys the broad spectrum of sports, as well as history, reading, gardening, music and classic Ford Mustangs. He is married to Jeanne Symmes and has a son, Alexander, a senior at Christ Church Episcopal School.

Dr. Caryn Seney, Mercer
Dr. Caryn Seney is a professor of chemistry in the Mercer University College of Liberal Arts and Sciences. Seney maintains a robust research program and frequently collaborates with colleagues in the Mercer University School of Medicine and Department of Chemistry. Her publications include research in chemical education and mercury toxicity, and frequently include student co-authors. She was part of a team that won a $200,000 Artisanal Mining Grand Challenge award. In addition to her excellence in teaching, Seney has also served as Associate Chair of Chemistry. Seney is married to her husband, Rod, and they have two daughters – Ruthe and Abbie. In her spare time, she enjoys evenings of culture (watching her children act in plays and dance), attending Ruthe's high school volleyball matches, hiking and attending Mercer sporting events.

Katie Johnson, Mercer
Katie Johnson, Director of Access and Accommodation/ADA Coordinator, came to Mercer University in 2017. There, she works to provide services to students and seeks to create an accessible and inclusive environment. Throughout her career, she has worked to build programs that are inviting to students, serving their needs to make programs, services, and activities accessible to all students. She has built braille production programs at two universities, served on the executive board for the Mississippi Association for Higher Education and Disability, and served as the vice president and president of the Georgia Association for Higher Education and Disability. She has presented at national and state conferences and enjoys interacting with colleagues. She and her husband, Robert, have two beautiful daughters, Alexa and Denielle, who are the delight of her life. In her personal time, she loves to visit family, travel, go on family adventures, hiking, trying new food and activities, and loves animals.

Dr. Susan Phillips Keane, UNCG
Dr. Susan Phillips Keane is a professor within the Department of Psychology at UNCG and has held major administrative roles within the department that directly impact student competency development for most of her career. Keane conducts research on mental health and health outcomes in children with early identified behavior problems and has served as principal investigator or co-investigator on federally and locally funded grants for 27 years. She also successfully secured federally funded clinical training grants continuously since 2002 which provide stipend support and community-based clinical training experiences for students. Keane was instrumental in establishing the UNCG Psychology Clinic as a resource for underserved populations and developed a summer camp program to foster social, communication and emotion regulation skills in children on the Autism Spectrum. She also instituted several initiatives to support graduate student retention and success including a pre-matriculation summer research initiative called Running Start and an Alumni Mentoring program for training grant recipients. To celebrate alumni success, she developed the Department's Alumni Award program, which recognizes recent and distinguished alumni including those whose contributions directly impact North Carolina. Keane was recognized as UNCG's Outstanding Faculty Mentor in 2019.

Melinda Wolf, UNCG
Melinda Wolf works as an administrative assistant in the UNCG Psychology Department and considers it an honor to work with the wonderful faculty, staff and students on the beautiful UNCG campus. Wolf has been the Undergraduate and Graduate Administrative Assistant and is now the Business Services Coordinator. She worked previously in the EUC Reservations office and the HDFS Department at UNCG. She lives in Greensboro with her husband, Melvin, and their dog Ruby. She has three adult children and four wonderful grandchildren.

Laura Promer, Samford
Laura Promer is the Director of Undergraduate Studies in the department of Communication Sciences and Disorders in the School of Health Professions at Samford University. She founded Communication and Reading Therapies in 2001 where she evaluates and treats language, reading, writing and related disorders in children and adults. Promer is an Associate in the Academy of Orton Gillingham Practitioners and a certified Structured Literacy Dyslexia Interventionist (SLDI) through the International Dyslexia Association. In 2017, she started the Literacy Specialty Clinic through Samford University's Academic Enhancement Center to provide evaluations and treatment to athletes with learning disabilities in the areas of language, reading and writing.

Doug Wilson, Samford
Doug Wilson joined the Samford staff in 2000 as a major gifts development officer and is now the Assistant Vice President of Advancement for the university. A 1983 graduate of Samford, where he lettered on the track and cross country teams, Wilson served 28 years in the Air Force and the Air National Guard, where he had multiple deployments, including Operations Deny Flight, Allied Force, Enduring Freedom and Iraqi Freedom. He retired from the Air National Guard in 2011 with the rank of Lt Col.

Dr. Michael D. Thompson, Chattanooga
Dr. Michael D. Thompson is a UC Foundation Associate Professor of American History and has served as the head of the History Department at Chattanooga since 2018. Appointed to UTC's history faculty in 2009, Thompson is a scholar and teacher of the American South and slavery, and the early national and antebellum United States. His first book was an award-winning study of waterfront labor and laborers in Charleston, South Carolina, between the American Revolution and the Civil War, and he now is working on a book that interrogates the historical nexus of essential labor, racial presumptions, and disease in urban environments, as well as a history of enslavement in and around Chattanooga and Hamilton County, Tennessee. As the History Department's internships coordinator from 2015-22, Thompson cultivated approximately 25 partnerships through which over 90 student interns served the community for more than 12,000 hours. Thompson recently completed a decade of service on UTC's institutional review board, and he currently serves on the undergraduate petitions committee. Thompson is a member of the Southern Labor Studies Association's executive board and a member of the editorial board for the University of South Carolina Press' Carolina Lowcountry and Atlantic World series.

Will Watson, Chattanooga
After obtaining two degrees from Chattanooga, Will Watson now serves as the Workforce Development Specialist in UTC's Center for Professional Education. In his role, Watson developed healthcare certification programs and removed barriers to train and prepare adult learners to enter healthcare occupations, such as Certified Nursing Assistant and Clinical Medical Assistant. In less than five years, Watson has overseen the training and certification of roughly 750 adult learners, while providing them with direct pathways to meaningful employment through employer partnerships. These partnerships cover the cost of tuition for students, provide them with pay while in training, and guarantee them full-time employment once they finish. With the recent strain on the healthcare system and labor market, these training programs are a vital piece in supporting the Chattanooga healthcare system, as well as the community members striving to identify new career pathways. As a board member of the Howard High – Erlanger Institute of Healthcare and Innovation advisory board, Watson played a key role in assisting the school in obtaining NCAS status. Further, Watson integrated the CNA program into the school day for Howard High students at no cost to them or the school system, while also offering the same opportunity at the school in the evening for adults and family members. Watson was recently selected to be a part of the Chattanooga Chamber of Commerce's Protégé Chattanooga 2022-23 cohort. He enjoys supporting all things Chattanooga and UTC, while spending time with his family, girlfriend, and dogs.

Col. Tom Timmes, VMI
Col. Tom Timmes, a 1992 VMI graduate, is a professional engineer who served for over 25 years in the U.S. Army Medical Service Corps and is a professor in the VMI Civil and Environmental Engineering department. His academic and research interests include water quality, electrocoagulation, military field drinking water, water treatment plant optimization, and water system vulnerability assessments. As an Army Environmental Engineer, he conducted extensive drinking water and wastewater system characterizations and public health threat assessments throughout the U.S. and overseas. He commanded the Headquarters Company of the U.S. Army Chemical Activity-Pacific on Johnston Atoll during its closure as a chemical agent demilitarization site and served as a Jumpmaster with the 82nd Airborne Division. He taught a variety of academic subjects on the faculty at the US Military Academy (West Point) for six years. Timmes commanded the U.S. Army Center for Environmental Health Research in Fort Detrick, Maryland, and served as the Director for Environmental Health Sciences and Engineering at the Army Public Health Center before retiring from Active Duty to join the VMI Civil and Environmental Engineering Department. As a volunteer diving coach, Timmes has helped the VMI men's and women's teams grow in number and skills and provide critical points to the swim/dive team scores. Timmes dove for VMI during the 1988-89 season and finished the season as the Tri-State Champion for both the 1-Meter and 3-Meter diving boards. His "rat" year total score for 11-dives on the 1-Meter board remains in the VMI record books.

Sergeant Major Tom Sowers, VMI
Sergeant Major Tom Sowers retired from the United States Marine Corps in June 2018 and assumed his duties as the Institute and Corps Sergeant Major for VMI. The 30-year veteran of the Marine Corps assumed much of the day-to-day oversight of the Corps of Cadets and is responsible for administering the New Cadet Military Training Program and overseeing cadet leaders, among many other duties. Sowers came to VMI after having served as 1st Marine Division Sergeant Major at Camp Pendleton, California, a position he held since 2015. He served five combat tours: one in Operation Desert Shield/Desert Storm, one in Operation Iraqi Freedom, and three in Operation Enduring Freedom. His awards include the meritorious service medal, the bronze star medal with combat distinguishing device and one gold star, the Navy and Marine Corps commendation medal with combat distinguishing device and two gold stars, the Navy and Marine Corps achievement medal with three gold stars, and the combat action ribbon with two gold stars.

Dr. Cyndy Caravelis, Western Carolina
Dr. Cyndy Caravelis, a professor of criminology and criminal justice at Western Carolina, merges her teaching, research and service in ways that have benefited on-campus and off-campus communities. An award-winning teacher, she has led students on study abroad classes to Europe, South Africa and New Zealand. A certified victim advocate, Caravelis serves on the Board of Directors for the local Center for Domestic Peace and provides legal and emotional support to domestic violence victims. Such work drives her on-campus commitment "to educating all students on issues of interpersonal violence with a focus on destigmatization." Her peers note that "perhaps her greatest impact to the betterment of student life comes in the form of the creation of the Peacekeeper training program," which helps "all faculty, staff, and students learn how to respond to trauma and victimization on campus."

Brian Boyer, Western Carolina
As a residential case manager at Western Carolina, Brian Boyer has shaped the lives and enhanced the experiences of countless students. His impact stretches across campus and beyond, as he has promoted athletic events, organized community and civic oriented learning programs, and provided immeasurable support to students throughout their four or more years in Cullowhee. According to one of his many fans, Boyer "creates a great sense of community amongst the on-campus students," giving them the resources and instilling in them a confidence "to help them succeed." Others have noticed that in addition to all his other duties and responsibilities, "Brian is always throwing together informal meetings and gatherings, things that are not part of his job requirements, but play a role in our students experience as Catamounts."

Dr. Cecile Nowatka, Wofford
Dr. Cecile McAninch Nowatka is professor and chair of the Department of Psychology at Wofford College, where she has taught since 1999. She is a licensed clinical psychologist. Nowatka teaches courses on child development, abnormal psychology and statistics. Until Covid, she had been the volunteer therapist at St. Luke's Free Medical Clinic for many years. She has involved her students in service learning in numerous ways, including sponsoring a blood drive, raising money for multiple sclerosis, creating a reading garden at an elementary school, and working with infants and toddlers at a child development program. She has served on numerous Wofford committees and was a fellow in the year-long Teach.Equity.Now program.

Dr. James Stukes, Wofford
Dr. James Stukes, a proud first-generation college graduate, serves as the Assistant Dean for Student Success and College Access within the Office of Student Success and the Center for Community-Based Learning at Wofford College. For the past 10 years, Stukes has worked in various areas of higher education, including TRIO programs, all while serving in capacities related to creating welcoming and affirming spaces for students, faculty and staff. In 2018, he created the Wofford Firsts initiative to serve as a resource for first-generation college students; this initiative led to the college being initiated into the 2022-23 cohort of First-Gen Forward institutions with the National Association of Student Affairs Professionals (NASPA). Stukes is currently a member of the Black First-Gen Collective steering committee. His work with college access reaches into the local community through current Wofford students who serve as near-peer mentors for high school students seeking college entry. Stukes serves as the vice-chair of the Executive Board of the Citizen Scholars Institute, which is a local non-profit dedicated to the elimination of barriers to college access through various programming and initiatives. At Wofford, Stukes has taught several courses focused on the first-year experience, community sustainability, and self-identity. He also serves a mentor for the Level-Up program within the athletics department that provides direct support for athletes as they prepare for postgraduate success.