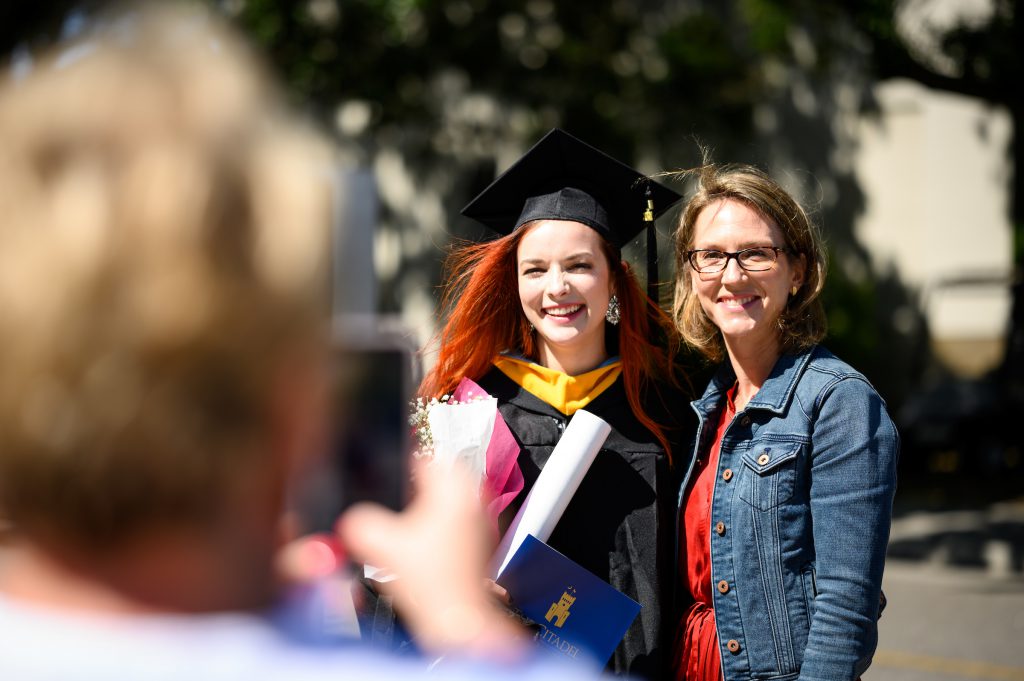 We celebrate the achievements of our extraordinary graduates of the Class of 2021. They stand strong sharing the common bonds of honor, duty and respect – the Core Values of a Citadel graduate.

Sally Selden, Ph.D., SMP
The Citadel Provost and Dean of the College
May 9, 2021
The Citadel Graduate College Class of 2021 celebrated commencement in McAlister Field House on campus during two ceremonies on May 9. More than 230 undergraduate transfer and graduate students participated in the spring commencement events.
Awards
The Citadel Graduate College Class of 2021 awards ceremony held May 6 at the Holliday Alumni Center on campus.
The Citadel Graduate College kicked off commencement with an awards event. Students and faculty were celebrated for exceptional achievements on Thursday, May 6, with the following individuals being recognized:
Faculty Award for Outstanding Contributions to the Graduate College
Dr. Kevin Skenes
Graduate Student Award for Academic Excellence and Leadership
Addison Dame

College Transfer Program Award for Academic Excellence and Leadership
Catherine Brooks

The Veteran Student Success Center Award for Academic Excellence in Leadership
Ashley Towers
Hirshey Awards
Glenda Levine
Molly O'Reilly
Stephanie Fye
Elizabeth Ceccoli
Ferhana Shah

Aline Mahan Award
Department of Psychology, Ed.S., Class of 2021

J. Patrick Leverett Award
Shawnte Posley

Lt. Gen. John W. Rosa Award for Outstanding Achievement in Graduate Leadership Studies
Aliènne AJ Salleroli
Lindbergh Awards
Brianna C. Rice
Parker L. Bass

MBA Faculty Member of the Year
Dr. Jeremy Bennett
MBA Student of the Year
Timothy Jones

Business College Transfer Program Faculty of the Year
Theresa Strong
Business College Transfer Program Student of the Year
Steven Turano

P. Michael Politanto Graduate Research Award
Nathan Adams
Citadel Graduate College legacy students
The cherished tradition of legacy diploma presentations continued in 2021. There were eleven Citadel Graduate College graduates who were joined on stage by a grandparent, parent or a child who were alumni of The Citadel.
The special presenters included:
Dr. Mark A Bebensee, Honorary Member, '83
Catherine Diane DeMers, '04
Lieutenant Colonel Gregory Wegner Dyson Sr., USA (Ret.), '69
James Steven Gaskins, '05
Kimberly Joseph, '12
Andres Eduardo Lorduy, '18
EOD3 Nicholas J. McKenna, USN, '17
Daniel J. "Jim" Rieker, '99
Major J. Stephen Veyera, USA, (Ret.), '13
William "Bill" Lewis Yaeger Jr., '83
Norman Seabrooks, '73, presented with honorary degree; provides commencement speech on resilience
Norman Seabrooks graduated as a member of The South Carolina Corps of Cadets in 1973, eventually becoming a market president for the Fortune 500 company, Aetna.
During his time as a cadet, Seabrooks was a three-year starter at defensive tackle for the Bulldogs and the first African American co-captain of the football team.
Seabrooks was presented with an honorary degree from The Citadel, just prior to addressing the graduates.
For his legacy of ethical leadership, sportsmanship, and service to his community, The Citadel Board of Visitors is proud to award Norman Seabrooks the honorary Doctor of Leadership and Ethics in Commerce degree.

Gen. Glenn M. Walters,
The Citadel President
May 9, 2020
Seabrooks shared some of his life story, including successes and failures, and provided sage guidance on building and sustaining a successful career and life.
Watch Norman Seabrook's commencement speech below.
Congratulations to all of The Citadel Graduate College Class of 2021 graduates
Bachelor of Arts in Criminal Justice
John Daniel Del Barrio
Sara Nicole Parris
Bachelor of Arts in Intelligence and Security Studies
Kenneth Powell Harwood

Bachelor of Arts in Political Science
Michael Carey Shirey
Willis Charles Smith
Darius Denzel Warren

Bachelor of Science in Business Administration
Katelyn Marie Arnold
Tommy Barfield Baker
Alan Leroy Barker Jr.
Jonathan Paul Boxx
David Franklin Braun Jr.
Carla Lynn Bryan
Jennifer Lynne Byrd
Michael James Fewell
Margaret Chandler Fowler
Olivia Bailey LaRoche
Jessica Ann Simmons
Brandon Allen Welch
Bachelor of Science in Civil Engineering
Joseph Peter Arnold
Bryan Robert Bocock
Matthew Bolick
Jose Victor Contreras
Joshua Thomas Leming
Colby Alexander Poplin
Brianna Cheree Rice
Jonathan Andrew-McCarty Strobel
Bachelor of science in Construction Engineering
Parker Lee Bass
Bachelor of Science in Electrical Engineering
Brittney Marie Deckard
Joseph Raymond Demelis
Travis Tremaine Eldell
Michael Ryan Greco
Emma Rae Bevins Hefner
Andrew Jacob Hinson
Matthew Shawn Mullinax II
Tyrone Malik Richardson Tanco
Eric Edward Smalls
Matthew James Stallings
Kenwell Richard Stoll Jr.
Lily Ann Wald
Bachelor of Science in Mechanical Engineering
Taylor Blanton
Steven Buckwalter
Stephen Jack Channell
Christopher Durphey Clifton
Luis Humberto Garcia
Cameron Thaddeus Jordan
Leinyuy Veradzem Laisin
Daniel James Ludwigsen
Denny Lamar Middleton
Benjamin Thomas Perry
Grant Sullivan Ritter
Stephen Sanada
Inez Gisela Shapiro
Sara Ann Chester Surrett
Bachelor of Science in Nursing
Melissa Anne Bell
Drexyl Blair
Vivian Marie Delgado
Ariel Domke
Jacqueline Shealy Gorrin
Courtney Huskey
Leah Ann Kibler
CheVonne Whitley Lindsey
Courtney Marsh
Addie Elizabeth McCracken
Allyson Suzanne McRae
Logan Ivy Nelson
Meghan Elizabeth Nyers
Kali Elizabeth Potes
Abby Rovick
Claire Seabrook
Catherine Brooks Sexton
Kathleen Durst Talbert
Hugh Davis Von Meding
Master of Arts in Biology
Elena Ann Burgess
Rian Derek Burris
Claudia Berry Sams
Marian Cristina Smith
Master of Arts in English
Olivia Anne Guillet
Master of Arts in History
Anthony John Kniffin Jr.
Betty Sterling Sadler
Master of Arts in Intelligence and Security Studies
Craig Randall DuBose
Sarah Ann Fink
Cole Edward Huffman
Megan Elizabeth Kasprzak
John Christian Lines
Corey Alexander Neal
Master of Arts in International Political Science and Military Affairs
Brett Alastair Honeycutt
Cornelius Peeler
Anna Eloise Sandgren
Timothy Richard Vrastil
Master of Arts in Military History
Betty Sterling Sadler
Martin Gregory Valles
Master of Arts in Sport Management
Bradley Tejohn Frasier

Master of Arts in Psychology
Ricco Gabriel
Ashley Nicole Harris
David Edward Johnsen
Clyde Talmadge Padgett Kahn
Emilio Jose Lopez-Powers
Kelsey Lynn Mazzocco
Gabrielle Mooneyham
Lesley Pena
Emily Dawn Sizemore
Virginia Blake Stallings
Caroline Beth Whitlock
Master of Arts in Social Science
Eramis Nicole Gethers
Master of Arts in Teaching in Secondary Education Biology
Katherine Lee Dumont
Connor Elexander Macko
Master of Arts in Teaching in Secondary Education Social Studies
Katherine Lee Dumont
William Alexander Kay
Jessie Elana Mintz
Ferhana Shah
Master of Arts in Teaching in Secondary Education English
Elizabeth Grey Thomas

Master of Business Administration
Arne Albin Anderson
Katrina Elaine Billie
John Alexander Castleberry
Jonathan Chang
Christian Edward Cochran
Alexander Stephen Cosper
Bradley Diggins Costello
Kenneth Tyler Denison
Gregory Wegner Dyson Jr.
Zari Ebadeh Ahvazi
David Haynie Fant Jr.
John Alfred Fludd Jr.
Marion Terrell Foxworth Jr.
Ryan Farrell Graham
Daniel Jonathan Harrison
Nicholas Dillon Heffner
Hayden Gordon Hollinger
Stephen Matthew Holton
Samantha Mary Kolpak
Jin Ju Lee
Kelly Diane Linderman
Adriana Belen Lorduy
Seth William Malek
Katherine Anne Malloy
Michelle Love McDonald
Christopher George Melonas
Christine Anne Miller
Latoya Montgomery
Brandon James Mulier
Kavin Samy Panneerselvam
Coleman James Parler
William Bradley Pond
Jon-Paul McKinnon Ramsing
Elizabeth Devoll Rogers
Trevor Raymond Speelman
James R. Thompson
Jennifer Anne Veyera
Sean Ward
Brandon Matthew Watt
Benjamin Eugene Womick
Quintin Fitzgerald Wright Jr.
Lauraie Ann Zealy
Master of Education in Counselor Education
Elizabeth Ann Bassetti
Lorraine Marie Bebensee
Laurel Clark
Addison Dame
Caitlin Elizabeth DeMers
Vanessa Yvonne Kopp
Kileigh Michelle O'Brien
Molly O'Reilly
Elsie Cassandra Schloegl
Kimberly Nettles Sfreddo
Nicole Gabrielle Snow
Patricia Szczygiel
Master of Education in Educational Leadership School Administration
Kayla Paige Baker
Master of Education in Literacy Education
Elizabeth Ceccoli
Lauren Elizabeth Roche
Katherine Marie Warren
Master of Science in Civil Engineering
Jonathan Eric Pinto
Master of Science in Health Exercise Sport Science
Ramsha Shams

Master of Science in Leadership
Carey Dawn Gorden
Christopher Micah Peyton
Alienne Ashley Jessica Salleroli
Albert Wayne Walling Jr.

Master of Science in Mechanical Engineering
Michael William Scullin

Master of Science in Project Management
Emily Morgan Peters
Matthew Edward Rushing
Suzanne Virginia Tully
Specialist in Education in Education Leadership School Superintendent
Deitra Lynn Clegg
Ashley Dominique Grech
Glenda Gibson Levine
Graduate Certificate in Cybersecurity Daniel Patrick Ryan
Graduate Certificate in Higher Education Leadership – Stephanie Anne Fye, Rochelle Roper Johnson, Ryan Jeffrey McGill, Jacob Christopher Pilarski, Wayne Anthony Wright
Graduate Certificate in Intelligence Analysis – Jeffrey Scott Hoel, Joseph Netzel, Clark Alexander Roberts
Graduate Certificate in Leadership – Alexis Camille Bradfieldm Charles Robert Forsythe, Carey Dawn Gorden, Zachary Jones, Christopher Micah Peyton, Tara Jane Spencer
Graduate Certificate in Literacy Education – Elizabeth Ceccoli, Lauren Elizabeth Roche, Katherine Marie Warren
Graduate Certificate in Sport Management – Bradley Tejohn Frasier
Graduate Certificate in Student Affairs – Jamie Samantha Cannady, Jessie Colleen Cannon, Andrew Robert Nyser, Joshua Luke Simon
Graduate Certificate in Technical Project Management – Jonathan MJ Cain, Melissa Delaney Nenninger, Emily Morgan Peters, Matthew Edward Rushing, Suzanne Virginia Tully
Watch a brief recap of The Citadel Class of 2021 commencement ceremonies below.
The Citadel Graduate College students from December 2020

The names of the people from all sections of The Citadel Graduate College who graduated in December 2020 are as follows:
Abigail Stevens Best
Adam C. Raynor
Adrienne Louise Busch
Alden Moinet Hathaway III
Alexandria Marie English
Alexis Noel Ayoub
Alison Katherine Milz
Allyson Elaine Burrell
Alyssa Muraoka
Amy Marie Baldwin
Amy Michelle Paparozzi
Andrea Gaskins Carlton
Andrew B. Phelan
Andrew Lewis Dolan
Anna Rose Nelson
Annalise Joy Boisvert
Ashley Elizabeth Rutherford
Aubrey Carson
Aveus Cierra Johnson
Benjamin Manuel Dacoba
Blake Cody Mallett-Fuina
Braiden Leigh Burdette
Brandon Lee Rainey
Brenna Rene Prince
Brian Joseph Monk
Brian Paul Scarborough
Carolyn Claire Gutshall
Chandler Marie Dodds
Charles Wood Benton
Chase Edward Hyland
Chelsea Scott Keyes
Clarence Ray Bocook Jr.
Crystal Lashay Cochran
Curtis Jerome Capers Jr.
Dana Morales Kozak
Dean Stanley Haggerty III
Dimitra Michalaka
DiplomaName
Donald Charles Buzanowski II
Douglas Henry Gudenburr
Edmund Jevon Gilchrist
Elizabeth McLaurin Uptegrove
Emanuele Giogli
Emanuele Giogli
Gregory Richard Djoboulian
Gregory Richard Djoboulian
Harley Lauren Murphy
Heather Lauren Studer
Holly Thompson
Hunter Cassidy Helms
Ian James McCormack
Ian Quin Russick
James Caleb Robinson
James Curtis Tingle
Jason Alan Scott
Jason Alan Scott
Jason Alan Scott
Jason Marc David
Javonna Michelle Perry-Moultrie
Jeremy Joseph Carrick
Jessica Baynes
Jessie Montel Townsend III
John Michael Ray
John Patrick McKenna
John Paul Semones
John Thomas Welch
Jonathan Meyer Workman
Jordan Joseph Bradway
Joshua Davidson Trac
Julia Mae Luzon
Kaila Xiomara Smith
Kenneth Abram Wright Jr.
Kevin Christopher Swain
Kevin Joseph Dougherty
Kimberly Ellis Waters
Kimberly Larissa Palomo
Kyle Robert Dickerman
Leslie Arlen Cotter III
Linnea McAnaw Parker
Lisa Marie Calhoun
Marei Martin Draper
Matthew Douglas Brock
Matthew Stephen Bonham
Megan Elizabeth Yaeger
Michael Sharpe
Nathan Adams
Nathan Jamar Haggwood
Nicholas Edward Paramore
Nicholas Erickson
Nicholas Kollias
Norris Aubrey Moore
N'taallyah Wilder
Orianna Isabella Baham
Phillip T. Sexton
Rebecca Leah Marazita
Robert Gasque Howe II
Ross Ian Caterino
Russell Hunter Griffith Louis Jr.
Salondra Marie Griggs
Shannon Nicole Turner
Shasta Marie Rieker
Sims Brooks Dozier
Stephanie Darian Childers
Stephanie Rose Clinevell
Sumerlyn Cate Carruthers
Thomas Scott Tezera
Timothy Bryan Beckham
Timothy Douglas Jones
Victoria Rodriguez
William Henderson Arnette
William Jasper Lucas
Zachary Andrew Hanchin