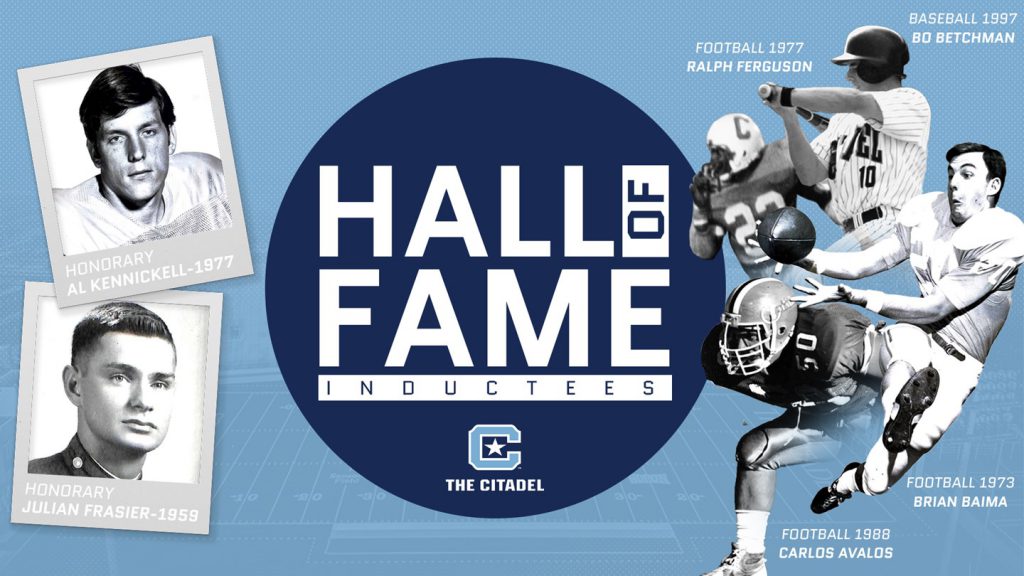 Record-setting performers on the field and distinguished alumni highlight The Citadel's 2021 Hall of Fame class that was announced last week.
The six inductees include Carlos Avalos (Football), Brian Baima (Football), Bo Betchman (Baseball), Ralph Ferguson (Football), Col. Julian Frasier, III (Honorary) and Al Kennickell (Honorary)
Al Kennickell, Honorary, Class of 1977
From his time as versatile player for the Bulldog football team coached by Bobby Ross, Al Kennickell was committed to the concept of team first. Although a starter at center for two seasons, he was listed on the offensive depth chart at every position except quarterback and tackle during his four years playing for the Bulldogs. He utilized the leadership skills learned as a cadet and football player to purchase his family's printing business and turn the Kennickell Group into an internationally recognized company doing business worldwide.
 
Kennickell has continued to give back to The Citadel and was honored as The Citadel Alumni of the Year in 2016. He is a lifetime member of The Citadel Alumni Association, the Legacy Society, the Star of the West Society, and past president of the Citadel Brigadier Foundation. While president of the Brigadier Foundation, he ushered in several changes that led to a major increase in dollars raised for athletic scholarships. "My goal was to pay back The Citadel for the football scholarship they gave me many years ago, and to do it as many times as possible," said Al Kennickell. "I am grateful for what I learned as a cadet and player; it really had a huge impact on my life. I love The Citadel and owe a great debt."
Al has also given back to his hometown of Savannah GA and the low country area, having served as the Chairman of the Savannah Area Chamber of Commerce, the Savannah Executive Association, the Savannah Sports Council, the National Museum of the Mighty Eighth Air Force, the Liberty Mutual Legends of Golf (PGA Champions Tour), and the RBC Heritage (PGA Tour).