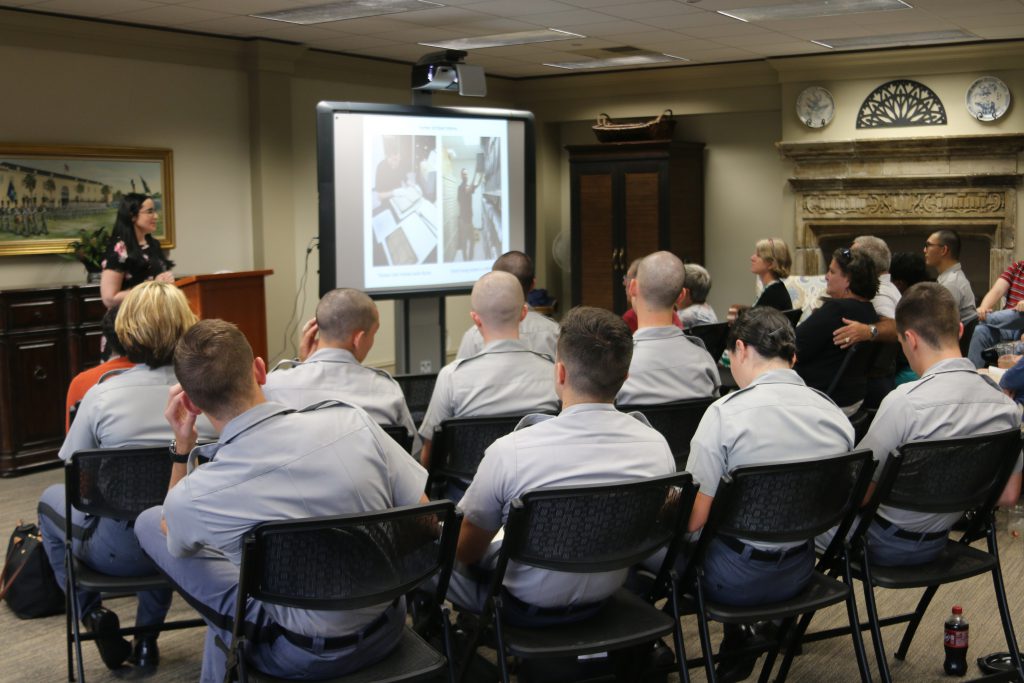 Much of the history collected from The Citadel's 175 years is preserved behind a door on the third floor of the Daniel Library in The Citadel's Archives.
On Tuesday, Oct. 10, Citadel archivist Tessa Updike gave faculty, staff, students and the public a presentation and an exclusive behind-the-scenes look at diaries and letters of Citadel notables at A Night in the Archives.
"Letters and diaries give us a unique glimpse into the past and make history a bit more personal," said Updike.
Updike has her Master's degree in Library and Information Science with a concentration in archives management from Simmons College in Boston.
The Archives holds more than 300 collections that tell the story of The Citadel's past. Holdings include Citadel records and publications, manuscript collections including letters, diaries, and scrapbooks, photographs, audio/video materials, and much more.
At the presentation, Updike displayed images and read selected passages from five collections. The audience saw letters and diary entries from the Civil War collections of Ellison Capers (Class of 1857) and John B. Patrick (Class of 1855), the illustrated diaries of Oliver J. Bond (Class of 1886) from his time as a cadet, a letter from Charles P. Summerall to his son from 1918 and diary entries and photographs from Mark W. Clark's secret mission to North Africa in 1942.
After the presentation, cadet Museum Club members shared the actual letters and diaries with attendees.
A Night in the Archives part two (featuring photographs from the archives) will take place in February 2018. For more information on the archives, please visit the online guide to the collections here.